Here on Into The Wild we love to speak to people with inspiring and envy-inducing jobs linked to wildlife or travel. As a filmmaker for the BBC Natural History Unit, Elizabeth White certainly fits the bill. Having worked on the incredible Frozen Planet, we thought it would be nice to speak to her and ask her all about it...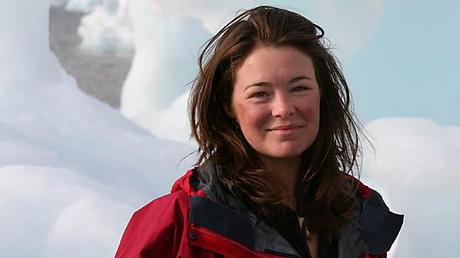 Into The Wild: When did you first become interested in animals and photography?
I have always been interested in animals - I was an avid rock-pooler as a kid and loved summers holidays for it!  I did a lot of art growing up and studied art at A-level.  I remember having a 'happy snap' camera in my teens, but my first proper camera was a 21st birthday present. I signed up to a City & Guilds course at the same time and never looked back - I really love the way a picture can tell a story, capture a moment or bring back memories in an instant.
Into The Wild: How did this lead you to the BBC?
I studied zoology at Bristol University and joined the SCUBA diving club where I first learned to dive. Friends in the club new people who worked for the BBC Natural History Unit and I thought it sounded a great way to bring together a range of my interests.  After University I was offered some unpaid summer work on the series Blue Planet which confirmed it was the sort of job I'd really enjoy, but it wasn't until after my PhD that I got a 'break' and landed my first researcher role.  That was 9 years ago and I've been at the BBC ever since...
Into The Wild: What did your role for Frozen Planet involve?
On Frozen Planet I was an Assistant Producer for the shows about people ("The Final Frontier") and climate change ("On Thin Ice") and then I directed a number of shoots across the whole series - particularly those focusing on marine things, like the ice whales (bowhead, beluga etc), killer whales and the majority of the shoots to the Canadian Arctic. I spent about 5 months in Canada / Alaska / Svalbard / Russia over the whole series and did 2 trips to the Antarctic Peninsula.  Directing is the fun bit - you get to go out into the field with the camera teams and decide what stories to shoot and how.  The Assistant Producer role is more to support production - budgeting shoots, working on the script / story ideas and research - also fun, in a different way.
Into The Wild: What was your best moment of being part of the series?
There were loads of great moments being in the field - waking up in Antarctica for the first time (and almost every day after...!), diving under the ice, being in a real igloo - but probably the most emotional moment of all was the night the series aired for the first time on BBC TV.  It was wonderful, after 4.5 years of hard work, to finally see it on the big screen and to show friends and family the 'thing' we'd been working on for so long.  It was a fabulous team of people who put the series together, and the culmination of that was really special.
Into The Wild: What do you think makes someone a great wildlife series director?
I think the key things are being able to tell a story visually, patience, and the ability to work well in a team.  As a director your primary job is to keep the team together, communicate the mission and make sure everyone is happy and can do their jobs safely and effectively.  Once that is all in place you can start to think about getting the pictures!  Of course animals do not always read the script(!), so there's also a big need to think on your feet and adapt to changing circumstances quickly.
Into The Wild: How did you cope with the conditions whilst filming on location for Frozen Planet?
There were lots of 'tough' things about working in the poles - the weather, which could be very variable, and the long periods in the field - which are hard.  It's tough to keep up energy and morale, especially if weather and animals aren't behaving and you know that back home you're missing birthdays, weddings, Christmas!  But at the end of the day it's an experience of a lifetime - I will probably never get to spend so much time in these amazing wildernesses ever again and I feel really privileged to have had the chance to see them before they change.

Into The Wild: Did you prefer working on location or back at the BBC Bristol offices?
I love the variety the job entails - it's really exciting to be out in the field, meeting new people and seeing amazing things... but I also love putting the sequences together and seeing the pictures through to the end.  I guess that's the great thing about being director / producer is that you get to experience both worlds!
Into The Wild: What would be your advice to someone planning on traveling to an extreme location?
Take a good sense of humor :-)
Into The Wild: What's your essential item for taking with you when travelling?
An eye mask for the polar regions.  It's really hard to sleep when it's 24hr sunlight!
Into The Wild: What is the favorite place you have visited?
Oh lots - Antarctica is and always will be 'up there' but I love tropical places too. I adore the color and vibrancy of Cuba, and filming with a Bajau sea gypsy tribe in Sulawesi, where very few Westerners had been, was certainly an experience of a lifetime.
Into The Wild: Is there a particular country or creature you'd love to see?
There are lots of deep ocean creatures I would love to see - though that would require a lot of searching, luck and ROV time!  Country-wise, I'd love to spend time in Asia - Cambodia, Vietnam especially, and I'd also like to see more of Europe. Most of my work has been oceans and islands and it's easy to miss out the places nearer to home.
Into The Wild: What are you working on at the moment?
I am working on a 4-part series for BBC One for next autumn (2013) about the way that the seasonality in Britain shapes its wildlife and landscape. It's working title is 'Seasons' and I'm making the film about the last quarter of the year (October-December).  It's a wonderful time of year to document - autumn colours, animals going into hibernation, big waves, surf, auroras... alas I don't have a lot of time to film it in (3 months basically!), it's a small team, and the weather is rather unpredictable so it's quite a challenge....!
Into The Wild: If you hadn't ended up in Wildlife Directing what do you think you would be doing now?
I used to be a scientist but I think my heart has always wanted to do something more creative. I thought about costume design for a while - a chance to study fashion and design but with the added twist of history / culture / tradition.  I would also like to be a full-time photographer - I love capturing 'moments' and telling a story by pictures.
Quick fire questions:
Into The Wild: Window or aisle seat?
Aisle for overnight flights, window for day time...
Into The Wild: If heaven and hell were places on earth where would they be?
Ooooh.... that's a good one!  Hell would have to be the inside of a volcano but heaven... white sand beach, waves, sun on your skin - could be anywhere as long as you're with the right people/person :-)
Into The Wild: Carnivore or vegetarian?
Omnivore........
Into The Wild: Dogs or cats?
Definitely dogs - unconditional love all the way....
Into The Wild: If you could have one super power what would it be?
The ability to fly.  I have a ropey head for heights and that would help!
By Jenny Collins