Everywhere you turn pumpkins are all over the place- small, big, engraved as Jock-o-Lantern or as Joanna serves it – roasted and mixed with goat cheese and baby spinach. 
Here's what you need.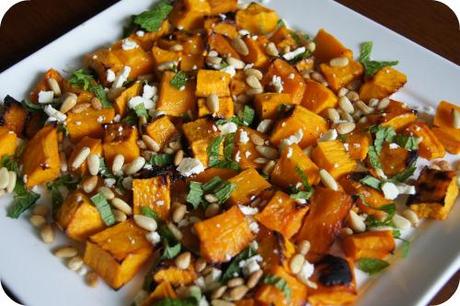 Ingredients
50gr Goat Cheese
5 Butternut Pumpkin Slices
1 Bunch of Baby Spinach
1 tbsp Pine Nuts
1/4 Cup Honey
2 Tablespoons Balsamic Vinegar
1 Tablespoon Olive Oil
Method:
Preheat oven to 250°C. Place pumpkin in a single layer on a tray. Spray with oil and turn to coat. Season with salt and pepper. Roast pumpkin slices, turning once, for 20 minutes or until it becomes golden and tender.
Place the cheese in the oven until it melts.
Make honey and balsamic dressing:
Combine honey, vinegar and oil in a jar.
Shake well to mix.
Place spinach and pumpkin in a large bowl.
Top with goat cheese.
Sprinkle with pine nuts.
Drizzle with dressing.
Season with salt and pepper.
Serve & Sahtein!
VN:R_U [1.9.20_1166]