For my final piece of the J.Lo musical puzzle…I've chosen a song that isn't even J.Lo's. Yes, she is that powerful that she takes over songs that she is merely featured on.
'Follow the Leader'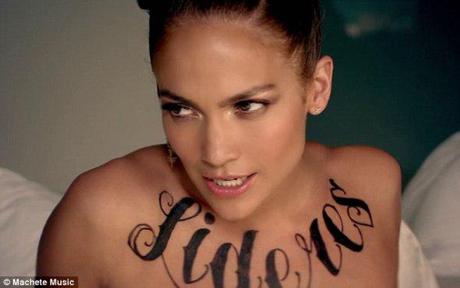 Photo Courtesy: dailymail.co.uk
In real life…this is Wisin & Yandel's song and it features J.Lo as a guest. Since J.Lo does not play second banana to anyone, many people (myself included) probably assume that this is solely a J.Lo jam. After I watched the video, I pondered the following thought: Who the hell are those two weirdys next to Jenny (from da Bronx)?
Those weirdys are Wisin & Yandel and they are described as a Puerto Rican reggaeton duo. These two have been around for years…since 1998 to be exact. Surprisingly, I have a personal experience with these two gentlemen.
When I was a freshman in college, one of my friends told me about this new song she just had to play for me and my roommate. The song was called "Noche De Sexo" and once I heard four seconds of it…I was in love. Along with being in love, I had no idea what the song meant until…now.
Anywho, J.Lo stars in Wisin & Yandel's song/music video for "Follow the Leader" and kills it. Who knew J.Lo could do parkour and look so cool with a chest piece? Yet another reason she is my almost spiritual goddess.
Okay, let's recap…
Do not challenge J.Lo to any sort of anything…she will always come out on top.
Get a chest piece that contains a Spanish word to impress others.
When you follow the leader…the leader is really J.Lo.
Learn Spanish in order to break into Spanish rap game.
J.Lo and I do have one thing in common…when we are both on the floor, our hips are in charge.
J.Lo – See you (and your boo Casper) in AC aka the Vegas of the East Coast. Love, your bodiqua.