April 25, 2014
Via Baltimore Sun: Orioles shortstop J.J. Hardy said Thursday before the game against the Toronto Blue Jays at Rogers Centre that he will no longer comment on anything having to do with contract extension talks until there are developments in the matter.  Hardy, 31, who is set to become a free agent at the end of the season, has said that he wants to remain with the Orioles. He has fielded constant questions about an extension since the offseason, and he doesn't want to make his lingering contract status a distraction on the field.  "There's nothing to discuss," Hardy said Thursday about extension talks. "I don't want to make stories that don't need to be made. There's been no discussions, so I do not want to talk about it anymore until something changes."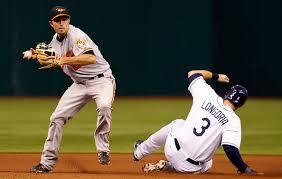 If I had to guess, Hardy is as good as gone.  He's been a rock at shortstop for the O's for the past four years and provided a decent amount of offensive value and WAR if you're into that sort of thing.  He's 31 and while he's technically past his prime, Hardy's skill set doesn't look like it's going anywhere.  He's a solid defensive shortstop who can hit for power and Fangraphs doesn't expect his offense to decline that much over the next few years.  So why haven't the Orioles extended him?  More than likely Jhonny Peralta and his contract this off-season threw a wrench into the Orioles plans for Hardy.  Their the same age, same skill set and Hardy DIDN'T get suspended for using PEDs last year.  That means he's probably in line for a similar contract; a contract the Orioles probably can't afford.  Every dollar is going to matter when trying to re-sign Crush Davis and (maybe) Matt Wieters.  Plus there's Machado and the extension that the Orioles will most likely want to sign him too before he gets to expensive.
And Machado is the X-factor in all of this.  If he can return healthy and potentially take over shortstop then their need for Hardy isn't as heavy as it is right now.  Jonathan Schoop looks like a guy who can play either 2B or 3B in the future and if that means finding someone else to fill that third infield position, then they probably can do it for cheaper than what it's going to cost the Orioles to retain Hardy.  Local fans like to dig into Schoop for his early season struggles at a position he's not familiar with but he's only 22 and seems to have adapted well to major league pitching.  He's a valuable piece that can develop as he ages.  Another deal like the one he signed three years ago would be a steal at this point but don't expect Hardy to take that number again.
Maybe Hardy isn't as good as go as I stated earlier but the O's have options and Hardy at $12+ million dollars a year over 4-5 years seems like a steep price to pay when there are potentially more pressing needs in Machado and Davis.  Still he's a pretty good player who looks like he'll age well and could make their infield one of the better ones once Machado returns and Schoop shifts back to second.
Thoughts…
Post navigation
← Michael Pineda Cheating At Baseball Once Again Confirms That Bud Selig Is A Clown.