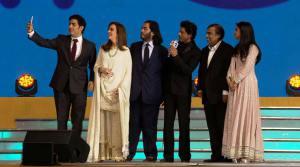 Everyone is facing major issues of call drops, data charges,voice call charges from the phone service providers. Reliance Pvt Ltd has announced their exclusive 4G services Reliance 4G with other money saving takeaways.
Today, at RIL annual general meeting the chairman himself & his son Akash Ambani spoke about the latest announcements about Reliance Jio 4G services. The announcements include free 4G services for 4 months, free domestic voice call & roaming calls. Reliance Jio is working on cheapest data tariffs starting from Rs 19 per day to Rs 4,999 according to the usage.
Mukesh Ambani began the event with his whole family. Shahrukh Khan was the celebrity face for the event.
Mr. Ambani said they are targeting to cover over 1.25 billion of Indian population by early 2017 including 18000 cities & 2 lack villages.
Their strategy is to provide free services to connect with over 100 million users while working on the improvements of networks until paid services start. India is welcome to enjoy their unlimited 4G data for 4 months starting from 5th September to 31st December. The Official launch will be done at 5th September.
These new announcements seem to have shattered all the upcoming targets of other telecom providers in India. Reliance Jio will surely affect the whole telecom industry with heavy customer fall.
Reliance is the initiator of a dream in which every Indian could own a mobile phone & now they are the initiator of best services to the most places of India. Now, India is blessing Reliance Jio as " Jio Reliance Jio ".
Reliance is also launching their affordable handsets under Lyf brand pricing INR 2,999. Reliance "kar Lo Dunia Muthhi me"