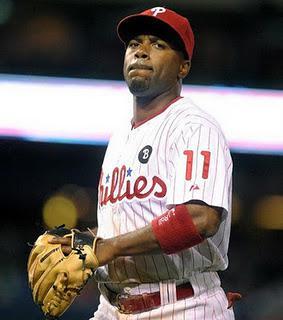 Photo: Express-Times, Matt Smith
- Troy Ballard
The Philadelphia Phillies and Jimmy Rollins have reportedly agreed to terms on a new deal, bringing back the longtime short-stop and Philly sports icon for three-years, with a fourth-year vesting option.
Rollins, who became a free agent at the end of last season, was attempting to land a five-year deal with any team that would send him an offer. Earlier in the off-season, Rollins stated that he would love to stay in Philly, but he wouldn't be giving the Phillies any sort of 'hometown discount.' However, as free agent shortstops started to sign with respective teams, there was hardly any noise surrounding Rollins.
Last week, Rollins agent, Dan Lozano, reported that
he was having 'dialogue'
with another team that was rumored to be the Detroit Tigers. Needless to say, Ruben Amaro Jr., the Phillies general manager, didn't bite. It became obvious that Lozano was trying to drum up interest and hopefully pressure the Phillies into handing Rollins the five-year deal he was seeking.
But in the end, Rollins ended up sticking with less cash and staying in his hometown. The three-year deal that Rollins signed to
stay with the Phillies
is reportedly worth $33 million, with the fourth-year option adding on another $11 million.
The decision that Rollins made to take less money and re-sign in Philadelphia does not really come as much of a surprise. The 33-year old Rollins has been a life-long Phillie, has a deep connection with the fan base, and loves the city of Philadelphia.
The idea that Rollins was actually considering leaving and playing somewhere else was more than likely a ploy to get him a bigger contract with the Phillies. To an extent, his plan worked, and it could be said that Amaro Jr. may have overpaid for Rollins, who will be either 36 or 37 at the end of his deal.
Combined with the fact that Rollins numbers have been statistically decreasing since his MVP season in 2007, and he has been hit by a series of nagging injuries, his new contract will raise some eyebrows. Maybe not immediately, but down the line three seasons, it will be easier to judge the value based off of Rollins' production.
Re-signing Rollins means more than just money or locking in just any shortstop to play in Philadelphia. J-Roll is a Philly hero, and he is one of the most popular sports icons of all-time in the city. His exuberant and friendly attitude have meshed perfectly with the city of Philadelphia, and the idea of Rollins playing in any other uniform than a Phillies was a painful thought.
Amaro Jr. may take some heat down the line financially, but the re-signing of Rollins was necessary to the Phillies success in 2012. Rollins is a leader, a great defensive talent, a spark in the lineup, and a fan favorite. The former MVP and three-time Gold Glove winner may not be the same as when he was younger, but he is still the same J-Roll Philadelphia loves.
Congratulations, Jimmy. As a Phillies fan, I can't imagine any other place I would want you playing than in the middle of Citizen's Bank Park donning the red and white. Thanks for everything, and we look forward to the next three-years!
Be sure to follow Beard and Stache on Twitter @BeardAndStache, and also Troy @TroyBallards, Like our Facebook page HERE!