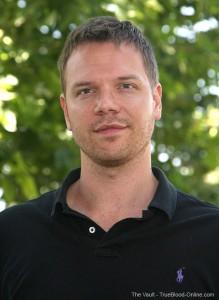 True Blood's Jim Parrack has been added to the Broadway revival for "Of Mice and Men." Jim has been hired to play the part of the wise mule driver of the ranch. James Franco, Chris O'Dowd and Leighton Meester will also star in Tony-winner Anna D. Shapiro's Broadway production of the John Steinbeck classic.
Parrack, who also starred in Battle: Los Angeles, will reunite with James Franco, having appeared in the filmmaker's Child of God and his adaptation of William Faulkner's As I Lay Dying. He also has a role in Franco's next Faulkner project, The Sound and the Fury.
On the big screen, Parrack will next be seen in David Ayer's World War II thriller Fury opposite Brad Pitt, set for a November 2014 release, as well as A Night In Old Mexico, opposite Robert Duvall, which is premiering at SXSW. He is currently directing the independent supernatural thriller Black Curry, in which he also stars.
Anna D. Shapiro, a Tony winner for Tracy Letts' August: Osage County, will direct the Steinbeck adaptation, which marks the first time the play has been seen on Broadway in 40 years.
Produced by David Binder, it begins previews March 19 at the Longacre Theatre, with official opening set for April 16. Tickets go on sale Jan. 11 for the limited engagement, which runs through July 27.
The Of Mice and Men revival adds further luster to a starry Broadway lineup for the second half of the 2013-14 season.
source: hollywoodreporter.com