The most popular wildlife reserve in India, Jim Corbett National Park is located in Nainital district of Uttarakhand. It is the most ancient national park which is home to more than 650 endangered species of wild animal, birds, elephants, and others. Spread across an area of about 520 kilometers which is comprised of marshy land, large lake, grasslands, hills, and reverie belts. The national park was built in 1955 and known as "Hailey National Park" which was later renamed as Ramganga National Park and then finally known as Jim Corbett National Park. Wildlife Tours India includes wildlife safari in Corbett National Park which is one of the most notable wildlife reserves in India.
Wildlife Safaris in Corbett national park
Jeep Safari in wildlife reserve –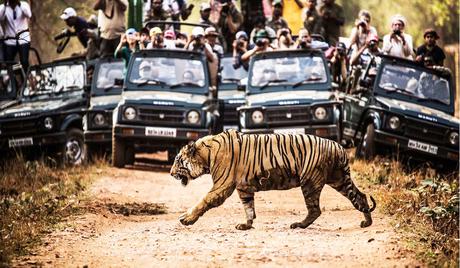 Discover the wildlife national park with jeep safari services of the Corbett National Park Safaris. With the Jeep Safari, you can explore the national park comfortably and capture the wild animals in your cameras. The jeep safari covers various zones of Corbett national park like Bijrani, Sitabani, and Jhirna. To explore Durgadevi zone the charges differs as INR 4000/ Jeep. Jeep safari can be enjoyed from 6:30 AM to 10:00 AM in the morning and another safari is conducted in the afternoon from 1:30 to 5:30 in the evening.
Charges of Jeep safari-
Indian: INR 3600/ Jeep approximately
Foreigner: INR 7000/ Jeep approximately
Canter Safari in a wildlife reserve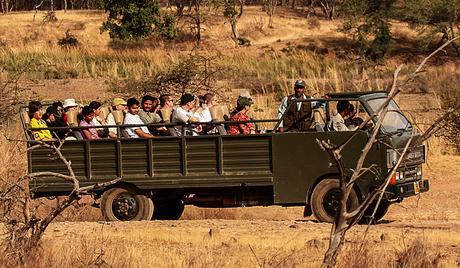 For exploring Dhikala Forest of the national park, Canter Safari is the best option that you can avail for wildlife safari in Jim Corbett National Park. There are two canter safari services which are available in a day one is from 0600 hrs (sunrise time) and another one is at 1200 hrs (afternoon). Canter Safari has 16 seats and covers Dhikala forest in the wildlife safari tour. You can enjoy safari from 6:00 AM to 11:30 AM in the morning and another one is from 12:00 PM to 5:30 PM in the evening.
Charges for Canter Safari-
Indian: INR 1500/ person approximately
Foreigner: INR 3000/ person approximately
Safari Timings
Park entry: Morning 06:30 to 17:30 in the evening
Safaris: Morning batch starts from 6:30 AM to 09:30; Afternoon batch starts from 01:30 PM to 05:30 PM.  
Best time to visit Corbett National Park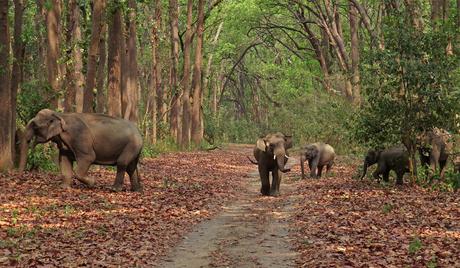 Foggy winters are considered to be the best time to plan your tour under Jim Corbett Tour Package, as the weather remains moderate with a temperature of 50c to 300c. It is the best time to capture wild animals in the wildlife reserve. Corbett receives heavy rainfall during monsoon season and summers are very hot when the temperature rises to 400c.
According to the weather conditions of Corbett, you can plan your wildlife tour in the months of October to March during winters which are perfect for capturing the best wildlife photographs of distinct fauna species. One has an interest in wildlife photography and plan their Wildlife Photography tours India to capture the exotic range of wildlife species of India during winters.
How to reach the national park?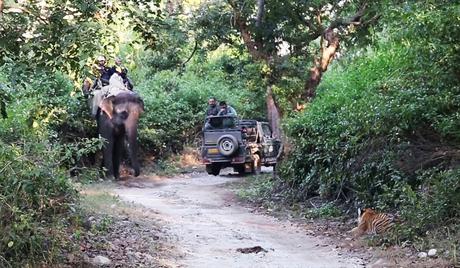 The Jim Corbett National Park is located near Ramnagar, a small city which is easily connected through road and rail network from major cities of India such as Delhi, Moradabad, Nainital, and Bareilly. Further, you can reach the national park in one half an hour as it is located at a distance of almost 15 kilometers from Ramnagar.
Distances between the major cities of India to Corbett National Park
Delhi is  260 kilometers away from Ramnagar

From Nainital, Ramnagar is just 62 kilometers away

From Lucknow, it is 436 kilometers away from Ramnagar

From Dehradun, Ramnagar is located at a distance of 232 kilometers away.
Embark upon the diverse land of India and explore the rich fauna species of India at Jim Corbett National Park. You can also plan your Wildlife holidays in India with your kids to make the best utilization of their holidays.