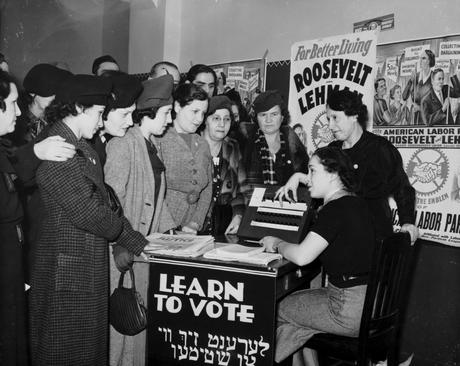 Welcome to a new series on Star of Davida, Jews and Suffrage! As you may have surmised from the title, this series will be dedicated to discussing the history of Jews in the American women's suffrage movement, from 1848-1920. Enjoy the first installment!
Many Jewish organizations actively lobbied for women's right to the ballot. Women's groups were particularly vocal about their support. Hadassah was proud of the fact that women who attended Zionist congresses and lived in Palestine had the franchise, and sent a telegram to President Wilson informing him of this and pressing him to support the suffrage amendment while it was being voted on in Congress in 1918. To avoid stirring up controversy, the National Council of Jewish Women (NCJW) never passed a resolution in favor of suffrage, but NCJW founders Hannah Greenebaum Solomon, Nina Morais Cohen, and Sadie American were ardent supporters of suffrage; most of its constituency was devoted to feminism; it supported feminist issues throughout the early 1900s; and even hosted pro-suffrage speakers at its conventions.
Although the Socialist Party was not a Jewish organization by any means, its Jewish membership was significant. The Party originally avoided engaging with what it perceived as a suffrage movement dominated by wealthy white women, but did support women's enfranchisement as part of a general agenda of equality. As the first decades of the 1900s progressed, it became friendlier to suffrage. When the Jewish Pauline Newman ran on a symbolic campaign for secretary of state of New York on the Socialist Party ticket in 1908, her platform had a suffrage plank. By the 1910s, the Socialist Party established suffrage clubs run by Theresa Malkiel, who wrote a suffrage column in Yiddish for the Forverts and campaigned throughout Jewish neighborhoods like the Lower East Side to garner support for the cause.
Jewish socialist organizations had varying, often fluctuating attitudes on suffrage. For example, the Jewish Socialist Federation's Harlem chapter had an entire committee dedicated to lobbying for women's suffrage throughout the 1910s. However, the Workmen's Circle did not come out for women's right to vote until 1917, and earlier in the decade had actually discouraged its members from supporting suffrage because of the movement's dedication to maintaining the economic status quo.