There are many houses which have a rich history behind them – in the intersection of Car Street [Theradi Theru] and Singarachariar Street is this building which in my school days had 'Mysore lamps' advertisement …… which in fact was hiding most of the name
'Jaganmohini'
………. [nothing to do with the Jayamalini starrer of the same name]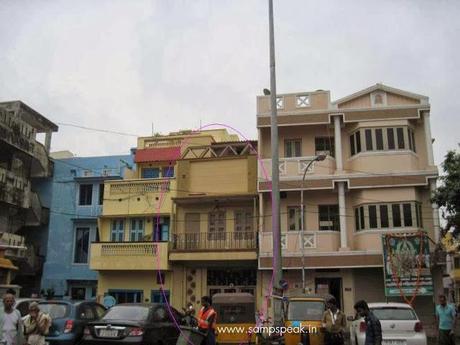 Thiruvallikkeni aka Triplicane is a famed land… The name "Triplicane"  pronounced Tiruvallikeni by natural laws of linguistics, was crudely rolled and twisted out of shape by the English tongue as Triplicane.  It is a place where religion, nationalistic fervour, patriotism, sports, education and the individual dignity have interspersed for the benefit of the State and the larger interests of the Nation.
The place acquired its name from the famed temple pond 'Kairavini' – the pond of lilies – thus becoming 'Thiru Allik Keni' – the pond consisting of lily flowers.  Our lives dwell around the Great Sri Parthasarathi Swami which has existed for thousands of years, sung by  Sri  PeyAzhwar, Thirumazhisai Azhwar and Tirumangai Azhwar ~ with inscriptions  of Pallava King - Danti Varman dating (779-830).
Triplicane houses some best historic educational institutions driving home the point of scholastic excellence for decades.  There is Presidency College (probably one of the first colleges in the province) There is – Hindu High School, Kellet High School, NK Thirumalachariar school for Boys & Girls, Lady Willington School to name a few.  It has the Vivekanandar Illam in Marina, where Swami Vivekananda  stayed in  February 1897, and delivered seven electrifying lectures revealing his plan of campaign to restore India to her pristine glory. 
Triplicane was the seat of freedom struggle – Balagandhara Thilakar and very many patriotic leaders had delivered powerful lectures in Triplicane (Thilakar thidal at Marina beach)  and inspired people in the freedom struggle. Mahakavi Subrahmanya Bharathi lived in Triplicane and from this place freedom struggle germinated. Another jewel in the crown from Triplicane was Freedom fighter -  Theerar Sathyamoorthi, who represented Chennai and also was a Mayor.  The greatest Mathematician – Srinivasa Ramanujam lived in this great place. The patriarch of Tamil language – Shri U Ve Swaminatha Iyer taught at Presidency college and lived in Triplicane
Have read that 'Anadhai Penn' had MK Radha as the hero chosen for the role with the concurrence of the writer who insisted on knowing from time to time how her novel was being dealt with on celluloid. It reportedly was the story of an orphan girl (Sundarambal) who falls in love with a rich, handsome young man (Radha) ~ and this film reportedly had a good comedy line too…..  can you imagine that it was based on a novel  - of a woman, who had a role in freedom struggle too……
Vaithamanithi Mudumbai Kothainayaki Ammal
(1 December 1901 – 20 February 1960) – popularly known as 'Vai Mu Kothainayaki' was a Tamil writer, novelist and journalist who is remembered as the first woman to occupy the editorial board of a Tamil magazine. She wrote 115 books and she published monthly Tamil magazine,
Jaganmohini.
  The house where she lived was named
'Jaganmohini'
.. her descendents still live there – one could observe the name engraved in the grill of the house.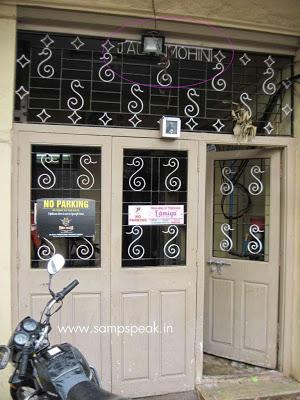 She was the first female writer in Tamil, to write a detective novel. She was a multifarious personality who excelled  in fields of public speaking, social service, fiction writing besides being a Freedom Fighter.  She was born in a devout  Sri Vaishnava family in the village of Nirvalur in the then Chengleput District - named Kothai after the great child Saint Andal. Child marriage being then customary, five year-old Kothai was married to a nine year-old, Parthasarathy.  She reportedly  had no formal schooling and she could not read or write at the time of her marriage. Her husband Sri VM Parthasarathy encouraged her and her first novel was dictated by her and written by her friend DC Pattammal.  She later excelled in Tamil, English  and Telugu as well.
It is inspiring to read that so many decades ago, she raised and supported issues like, Women's emancipation, Social reforms, patriotism and more.   Her  first play-Indira Mohana was published by Noble Press in 1924 and received rave reviews in newspapers like The Hindu, Swadesamitran (Tamil) and New India.  Her second Novel "Vaidehi" was published by Vaduvur Doraiswamy Iyengar in his Magazine, Manoranjini. On his advice, Kothainayaki purchased the rights of the (then defunct) magazine Jaganmohini in 1925 and resumed its publication, and her Novel Vaidehi was serialised in this magazine for over a year. Her novel 'Padma Sundaram' was translated to Malayalam and brought her acclaim there also.
Her finesse, in public speaking came to the fore with her participation in many political meetings along with renowned leaders. She was a front line speaker  of the  Congress Party and leaders like  Sarojini Naidu, Dheerar Satyamurthy, Rajaji appreciated her skills and fervour.  She was a talented singer too and sang many patriotic songs in Congress meetings. The famous song of Mahakavi Subrahmanya Bharathiyar 'aaduvome pallu paduvome' was sung by her in meetings in the presence of Barathiyar also. She sang for All India Radio and also released several gramophone records.
She  participated in the satyagraha agitation against Toddy and Liquor shops and was arrested by the Police and received a prison sentence  and participated  in the agitation against Lodhi Commission and the stir for the boycott of foreign clothes. To add to these traits, she was good in mid-wifery too.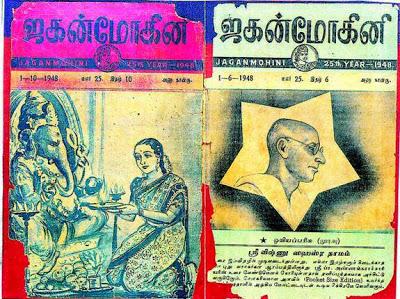 wrappers of Jaganmohini issues...


To commemorate memory of Mahatma Gandhi,  she started an association called

Mahatmaji Seva Sangam

to help the poor and orphaned children which is in North Tank Square street, Thiruvallikkeni -  now none resides there. [I have some personal connection to this place and perhaps would make a post on it some day …]




She also ran a school in Triplicane exclusively for women where she taught among other subjects, music, tailoring, handicrafts, embroidery and languages.  In her 115 novels, she dealt with socially relevant issues of the day like the dowry menace, ill-treatment of women, women's education, ills of the Devadasi system, untouchability and many more. Three of her novels were filmed. `` Raj Mohan", ``Anathai Penn'' and ``Dayanithi".  A pioneer feminist, a Carnatic music composer  and a great writer – perhaps never received the recognition that she richly deserved.  To understand her true greatness, tell yourself once that all these the orthodox lady did almost  a century ago, and then read the entire post again…..




In  Mar 2002 – SYMA provided the platform for a book titled 'Kaliyuga Kothai' on Vai Mu Kothainayaki by Ms Geetha Venaktakrishnan.  Her centenary year was celebrated by SYMA together with Soundarya Rathinamala as 'Women's day'




With regards – S. Sampathkumar

20th Nov. 2013.

~ a long time resident of Triplicane and Secretary of SYMA




~~ with inputs taken from the article of Vai.Mu. Geetha Venkatakrishnan as it appeared in SYMA Silver Jubilee Souvenir