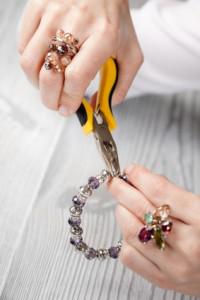 Having a fun and eclectic jewelry wardrobe is almost just as important as your clothing wardrobe. Jewelry can really change an outfit, and help you showcase your style in a whole new way. As they say, accessories make the outfit. Shopping for jewelry and keeping up with jewelry trends can be exhausting though, so more and more women are starting to make their own jewelry to save money and exercise their creativity with this exciting craft.
If you're new to making jewelry, or you just want to brush up on some new skills and techniques, there is no better way to learn than by signing up for jewelry courses online. With online jewelry classes, you can learn everything from the basics of picking out material to how to finish your products to make them look store-bought. Jewelry workshops by DIY jewelry experts will make learning the jewelry craft easy and fun.
Learn At Home
One of the major benefits of taking jewelry courses online is that you can learn everything you need to know to craft excellent jewelry pieces without even leaving your home. Online jewelry courses give you all the information that you would receive in an in-person class workshop, but take up a fraction of the time. In as little as 30 minutes a day, you can learn how to work with jewelry finishes, embellish your jewelry, make knots and finish products ranging from charm bracelets to dangly earrings.
Refer Back Any Time
Another huge benefit of jewelry courses online is that, most times, once you sign up for the course, you can access the material at any time. This means that if you happen to forget how to use a headpin when wire wrapping, or need a refresher on photo etching, you can simply access the course to go over any information you need. This is a major advantage over once-and-done class workshops.
Jewelry courses online can either come as separate lessons that really go in-depth on certain skills and techniques, or be broken down into multiple lessons that cover a broad range of topics. Lessons will normally build up in skill level, with the basics being presented at the beginning of the course and the more advanced coursework coming at the end. This makes online jewelry courses perfect for a jewelry maker with any experience level.
Save Money & Have Fun
While some women will spend hundreds or even thousands of dollars a year on jewelry, you can easily save money and develop a new hobby by creating your own jewelry at home. Jewelry making courses will teach you how to work with different material like pearls and chain maille, as well as techniques that will save you time and money when finishing your products. With just a few lessons, you'll be able to confidently make earrings, brooches, necklaces, pins, bracelets and more.
If you've ever wanted to try jewelry making, now's the time. Signing up for jewelry courses online can jumpstart your passion for creating unique, handmade jewelry pieces that you can wear yourself or give as gifts to friends and family. An online course can also also make a great gift for that 'hard to buy for' person who just loves crafts of all kinds.
To find out more about a cool online jewelry course, that you can refer to again and again, please click here.