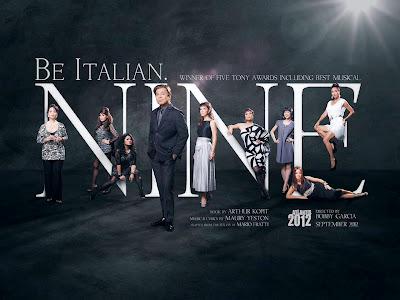 Atlantis Productions has pulled a casting coup for its upcoming star-studded production of the Tony Award Winning musical "Nine," opening Sept. 21 at the Carlos P. Romulo Auditorium, RCBC Plaza, Makati City.
The once-in-a-lifetime cast of movie stars, musical theater icons, recording artists and rock stars is led by Jett Pangan as filmmaker Guido Contini, a role originated on Broadway by Raul Julia, played in the revival by Antonio Banderas and in the film version by Daniel Day Louis.
Menchu Lauchengco-Yulo, known as the First Lady of Philippine Musical Theater, is Contini's devoted wife, Luisa Contini. She reunites with Pangan after their much-praised turns as husband and wife in the critically acclaimed musical "Next to Normal", for which Lauchengco-Yulo won an Aliw award for Best Actress in a Musical.
Multi-awarded film, TV and stage icon Cherie Gil takes to the stage once again as the fabulous film producer Liliane Le Fleur, who gets to sing the showstopping number "Folies Bergeres".
Eula Valdez, one of the country's finest film and TV stars, takes on the role of Claudia Nardi, film star and muse to Guido Contini. She sings one of the loveliest songs from the show, "Unusual Way".
Acclaimed musical theater performer Carla Guevara-Laforteza plays Carla Albanese, Guido's neurotic mistress who hopes for a more permanent place in Guido's life. Carla has appeared with Atlantis in Manila and Singapore as Kate Monster in "Avenue Q" and Olive in "The 25th Annual Putnam County Spelling Bee".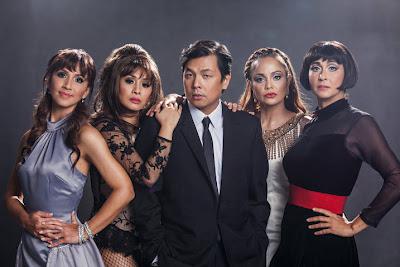 Returning to the stage after her acclaimed performance as Vanessa in "In the Heights" is international stage star Ima Castro, who now plays Saraghina, the prostitute who teaches young Guido the ways of the world. The former "Miss Saigon" star sings "Be Italian", one of the show's most famous songs.
Bosa nova siren Sitti Navarro returns to musical theater as our Lady of the Spa, who narrates Guido's stay at Italy's most luxurious spa where he tries to hides from the world. Sitti was last seen on stage in Atlantis' staging of the rock musical "Spring Awakening".
The very promising Yanah Laurel, who plays Stephanie Necrophorus, film critic-turned-associate producer to Liliane Le Fleur, has appeared in a number of Atlantis productions, among them "Hairspray", "Spring Awakening", "Legally Blonde" and "Disney's The Little Mermaid".
One of musical theater's most accomplished performers is also in the cast. Jay Glorioso returns to the stage after her triumphant turns as Abuela Claudia in "In the Heights" and Mme. Armfeldt in "A Little Night Music" (in Manila and Singapore) for Atlantis Productions (she won an Aliw Award for Best Supporting Actress for both shows). In "Nine", she plays Guido's mother, who visits him from beyond the grave.
Also featured in the cast as Guido's many admirers are Mikkie Bradshaw, Reg Claraval, Princess Virtudazo and Japs Treopaldo. Warren David Saga and Ethan Paras alternate as Little Guido.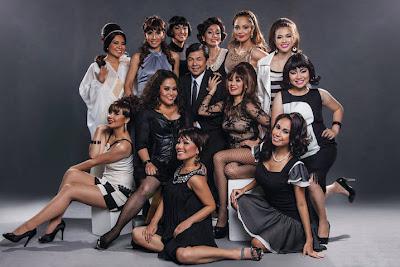 Based on Italian director Federico Fellini's comic masterpiece of biographical filmmaking "8 1/2", Maury Yeston's sultry and enchanting musical "Nine" follows the life of world-famous film director Guido Contini as he grapples with a midlife crisis that threatens to affect his film work and throws a light on his relationships with the many women in his life.
"Nine"'s original 1982 production won five Tony Awards, including Best Musical.
The Manila production's set design is by Tony Award-winning designer David Gallo, who has designed sets for Broadway's "The Drowsy Chaperone", "Memphis", "Xanadu", "Company", "Thoroughly Modern Millie" and, most recently, "The Mountaintop" with Samuel Jackson and Angela Basset. He will be assisted locally by Lex Marcos and Lawyn Cruz.
Costume Design is by New York-based Filipino designer Robin Tomas, choreography by Cecile Martinez, lighting design by Jay Aranda, musical direction by Ceejay Javier and vocal Direction by ManMan Angsico.
PLUS: From Rob Marshall's film version, Nicole Kidman as film star Claudia Jenssen (Nardi in the stage production) singing Unusual Way--

And Fergie as Saraghina in the sensational Be Italian number (the early black-and-white scenes a direct quote from Fellini's 8 1/2)--

"Nine" runs September 21-October 7, 2012 at the Carlos P. Romulo Auditorium, RCBC Plaza, Makati City. For tickets, call Atlantis Productions 8927078 or Ticketworld at 8919999.