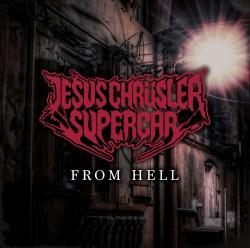 Be prepare,JESUS CHRÜSLER SUPERCARare fast-approaching in supersonic speed! The Swedish Death 'n' Roll trio signed a record deal with the well-known German labelRodeostar Records. With their new album "35 Supersonic" shouter and bass-player Robban Bergeskans, drummer Nicke Forsberg as well as new guitarist Christopher Sirén hit the perfect sound between the 90s' dirty rough Rock 'n' Roll and the up to date Death 'n' Roll mace! JESUS CHRÜSLER SUPERCARS's second output, again produced by Tomas Skogsberg (i.a. Entombed, Unleashed, Backyard Babies) in the legendary Sunlight Studios sounds like an audiophile hell-ride, on which the driver apparently won't take his right foot off his tanklike supercar's gas pedal, which is covered in flames and skulls, until the last exit. Down-tuned guitars, precise use of fuzz and overdrive pedals, soaked grooves and smooth lyrics determine the rough sound of the eleven tracks. "35 Supersonic" will be released worldwide on 18th March as a Digipak CD, as a valuable vinyl edition and of course digitally.
«The uncompromisingness of the eleven tracks absolutely blew me away»described Rodeostar Manager Thorsten Harm his hearing impression, after he was able to listen to the album for the first time. "35 Supersonic", that means 35 minutes of full throttle without caring about any conventions.«These guys have balls and I'm proud to release this cool band through my label!»Here's what the three Stockholmers have to say about the cooperation:«We are very thrilled to tell you that we are joining Rodeostar Records. We are very happy about the deal and looking forward to a great collaboration! Cheers JESUS CHRÜSLER SUPERCAR»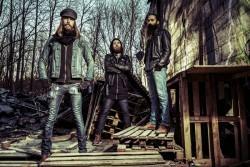 Those who can't wait till the album release and who want to continue the Death 'n' Roll road cruiser's journey over the local graveyards as soon as possible, should immediately get the first single "From Hell", which is, alongside with the proper stylemusic videofeaturing Tomas Skogsberg and The Hellacopters bass player Kenny Håkansson, beforehand released today through Rodeostar Records. For the stroll through Stockholm of the harder kind go this way: https://youtu.be/1g3sKkhR7y0
Follow the diabolic path to the new single "From Hell" at the following shops and streaming portals: Amazon | iTunes | Google Play | Spotify | Deezer
In March and April JESUS CHRÜSLER SUPERCAR will go on tour with Warrior Soul as well as for three dates with Spiritual Beggars and for one show with The Carburetors and Psychopunch. For summer the German festivalsWacken Open Air(Iron Maiden, Arch Enemy, Clutch and many more) and Dong Open Air(i.a. Amorphous, Testament, Suidakra) are already confirmed. Further dates will be announced soon.
19.03.2016 SWE-Stockholm, TBA
25.03.2016 NL-Kapelstraat Uden, Live Pul (w/ Warrior Soul)
26.03.2016 NL-Den Haag, Musicon (w/ Warrior Soul)
27.03.2016 DE-Lichtenfels, Paunchy Cats (w/ The Carburetors, Psychopunch)
28.03.2016 DE-Cologne, Club Bahnhof Ehrenfeld (w/ Spiritual Beggars)
29.03.2016 DE-Aschaffenburg, Colas-Saal (w/ Spiritual Beggars)
31.03.2016 NL-Tilburg, Little Devil (w/ Warrior Soul)
01.04.2016 NL-North, Schaff City Theatre (w/ Warrior Soul)
02.04.2016 DE-Essen, Turock (w/ Spiritual Beggars)
15.07.2016 DE-Neukirchen-Vluyn, Dong Open Air
04.-06.08.2016 DE-Wacken, Wacken Open Air
Get more details about JESUS CHRÜSLER SUPERCAR and the new album "35 Supersonic" on their band profile at www.dr-music-promotion.de. For the latest news also check outwww.jesuschruslersupercar.comas well as www.facebook.com/jesuschruslersupercarorwww.instagram.com/jesuschruslersupercar!