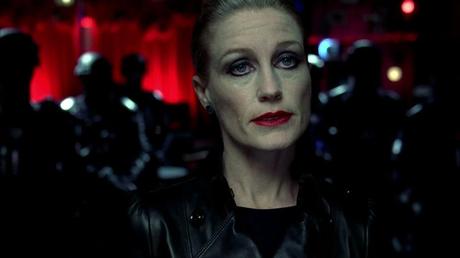 Life for the vampires in True Blood is very tough in season 4. As fans saw last season, Russell Edgington played by Denis O'Hare ripped the spine out of a human news anchor on national television. Since then, humans have been less than trusting.  But someone has to start building the trust that was lost back and who better than Nan Flangan? Recently E! Online's Jennifer Arrow of Watch with Kristin sat down with Nan's portrayer Jessica Tuck, who became a series regular this season, to discuss what a post- Russell Edgington world means for our characters, how she relates to her fellow vampires, and what happens when you piss Nan off. (Not recommended by the way.)
Like her fellow cast mates, Tuck was very careful not to reveal anything spoilery. But she did give a good indication of what we can expect to see from her character this season. Nan is coming after Edgington's stunt on TV which effectively pushes back the vampire cause quite a bit. So what is the "Post-Russell Edgington World?" Tuck explains:
"We have to regain the trust of the human population and just make people understand that Russell Edgington (Denis O'Hare) was truly one bad apple and that all vampires are not like that. It is possible for us all to be mainstreamed. It's a world that is not as trusting as it was before. We have to make up some ground that we lost. It's safe, Russell Edgington has disappeared, and we can all move forward from it"
When asked about what Nan's background is, Jessica says that she isn't really sure what it is. She believes that as the character has evolved, Nan has been put into stories and that wasn't something that the writers had anticipated originally. In fact, there is no Nan character in the Southern Vampire Mysteries, the Charlaine Harris based series on which the show is based. And Tuck was only supposed to do a few episodes in the beginning, having ended up being put into existing story lines. She says she feels very grateful for this.
But when asked about what her relationships are to her fellow vampires Eric (Alexander Skarsgård), Pam (Kristin Bauer van Straten), and Bill (Stephen Moyer) past or present, Tuck remained mum on the subject, saying that we'll have to see how she's worked in. But in terms of how she'll relate to them, she tells us:
"I think for Nan it's—what's that expression?—"her way or the highway." I think she likes to have things go her way. I don't know that she's necessarily very flexible. When the vampires do what she wants them to do she's very happy and when someone strays from the plan, she's less than happy about that. At times she feels like she's working with these vampires, and sometimes she feels likes she's working against them."
So what happens when people don't listen to Nan and she gets upset?:
"She does get angry, she uses the F-word quite a lot. [Laughs.] You can tell I'm a mother, can't you? I call it the F-word. Nan has a temper, she likes to have things done her way, and she's not afraid to bark out an order and scream and yell. That's sort of the way she loses her cool. It's such a contrast to her controlled self, her on-camera self, which seems very approachable and reasonable. She will unleash if needed."
When asked about whether we'll be seeing Jessica strip down for the sexy vampire show, she says that you won't see Nan getting involved in any of that. However, she does cite how the character found out about Russell Edgington (Nan was feeding from a young female dancer's inner thigh) so she knows how to have fun.
Now that Jessica is on the show full time this season, she says that she is most looking forward to showing fans what Nan is like off camera after she drops her spokesman personality. She says that:
"I'm much more the Nan everyone loves to hate. I spend a lot more time in my black leather than I do my nice suits. Let's put it that way."
Sounds quite delicious Jessica! Only 18 more days until True Blood premieres Truebies! To read the interview in its entirity click here.
Source: E! Online- "True Blood's Vampire League Leader "Will Unleash" This Season—It's "Her Way or the Highway"
Image Credit: HBO, Inc.