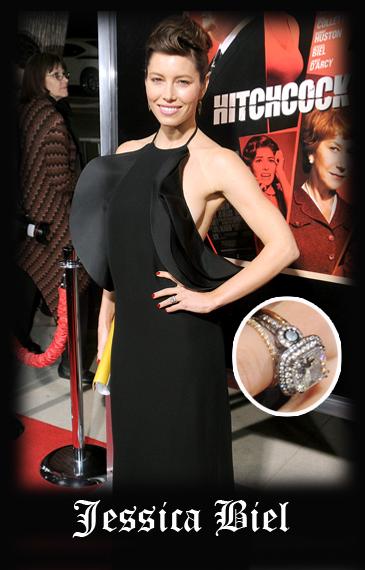 The newly wed Jessica Biel looked stunning at the Hitchcock Premiere at the Academy of Motion Picture Arts and Sciences Samuel Goldwyn Theatre in Beverly Hills, California earlier this week.  Not only was she showing off some serious skin but also her giant rock coupled with her wedding band.
Helen Mirren got a bit handsy at the Premiere as she greeted her co-star Jessica Biel on the red carpet, it sure looked like Dame Mirren, 67, copped a feel, checking out the newlywed's sexy side boob in a black backless Gucci dress.
Jessica's Black Gucci dress which looked simple at first but when she turned around and gave a side look it revealed her sexy side. Though all eyes were on her skin and dress, her massive engagement ring and the new add on diamond wedding band were just as distracting.
Her engagement ring is a diamond studded ring. The centerstone seems to be Cushion Cut or AsscherCut with a double halo of diamondson a diamond studded shank. Her wedding band is a rather simple yet elegant band studded with diamonds.
The talk is that her diamond wedding band is barely visible. While her engagement ring was huge, perhaps Jessica didn't feel the need for a huge wedding ring. The actress and her husband, Justin Timberlake, may have simple and elegant taste in jewelry. The size of the ring does not symbolize how much they love each other or how strong their marriage will be.
While posing for the shutterbugs, it was evident that the newlywed had decided to strut the new trend that has become the slightly classier, much sexier version of regular bustin' out cleavage.
Her outfit choice was definitely a more glamorous look than her two-piece Oscar de la Renta ensemble at the New York premiere.