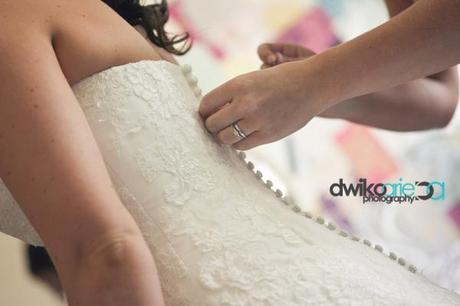 Especially in the light of the blog post on Hindsight Bride last week, I'm already enjoying sharing this perfect fairytale wedding with you. There are tons of details. There is everything you could see in the very best wedding magazine. Because everyone is different, and for Sally and Gareth this meant a very personal wedding with bells, whistles and a cherry on top. With photos by Dwiko Arie, this really is a dream wedding day.
In two parts – today, the wedding and just the tiniest hint of Sally's fabulous DIY details. Tomorrow I'll share the bells and whistles: the knicker bunting, jam jars, table settings and loads more.
Grab the tissues: you're about to cry happy tears along with Sally's wedding report.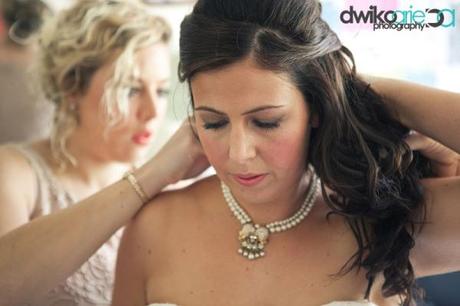 I wanted some unusual wedding jewellery as I tend to wear lots of vintage jewellery and love big gold (usually tacky) statement pieces, however I was aware that it was my wedding day I it had to be something that would fit with the look of a bride and so could not be a gold leopard etc…Two weeks before my wedding I went to Bath for a girly weekend with one of my bridesmaids and it was there that I found my wedding necklace in a gorgeous vintage shop. It was a reworked vintage necklace with pearls and gold and I loved it immediately and knew it was the one! I later found some old pearl earrings in the a vintage jewellery shop in London and they matched the necklace perfectly!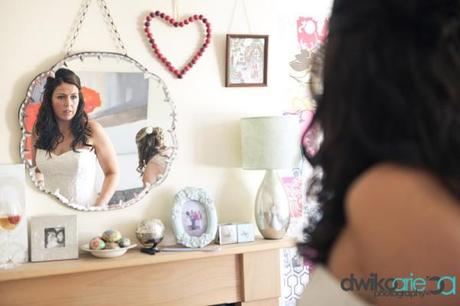 My dress was by the wedding designer Enzoani and the dress name was 'Fatima'. I searched high and low for my perfect dress and originally thought I would end up with a vintage wedding dress but struggled to find one. Luckily, as vintage and lace dresses are in fashion, I found that many of the wedding dress designers were designing vintage style lace dresses. I searched lots of bridal shops in London and having seen Fatima online my mum found it in a bridal shop in my hometown, good old Wolverhampton! Having searched high and low numerous bridal shops in London, Manchester, Bournemouth and Birmingham, I never thought I'd find it in Wolverhampton!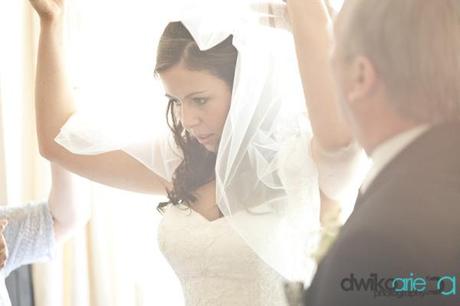 Once I had got the dream dress and gone all out on the big wedding dress, I knew I needed the veil to complete the look. I found a two-tier cathedral length veil with a lace edge, which was so romantic and something that my mum hopes will be passed down the family for years to come.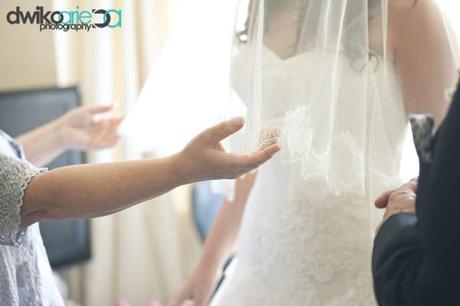 On the day of the wedding, I was given my late paternal Grandmother's (who sadly died a month before our wedding) ring that was her mother's (my great grandmothers). I was very close to my Grandma, who always had such class and style and I was over the moon to have been given it on my wedding day and I had always admired it and told my Grandma how much I loved it! It is something that I now only wear on special occasions as it is so old and fragile, but I will cherish it forever more.
One of my oldest friends and bridesmaid lent me, for my something borrowed, a gorgeous pearl beaded bag with a jewelled clip. I put my lipstick and tissues in the bag, just in case!
Inside my dress I wore a antique diamond horseshoe brooch which was my great, great maternal grandmother's and my Auntie, who inherited the brooch, lent it to me for my something old to wear as a good luck charm on the day. She had worn it on her wedding day, as had my mum and other family members.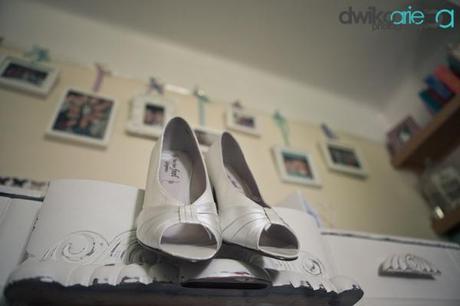 I decided to budget on my shoes as nobody would see them under my dress and as I had spent more on my jewellery, I knew my shoes would have to compensate! They were from New Look £19.99 and they were cheap and cheerful, the perfect heel height, comfy and were a vintage style shoe and most of all for that price it didn't matter if they got trashed from the grass and partying on the big day!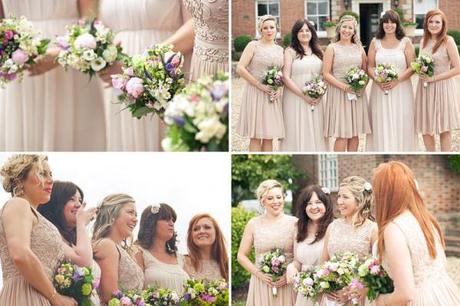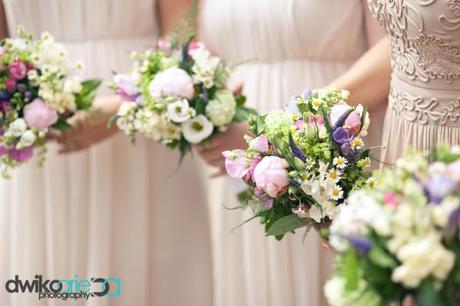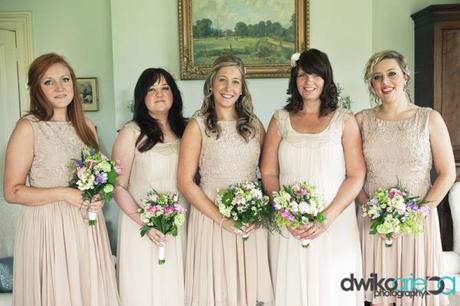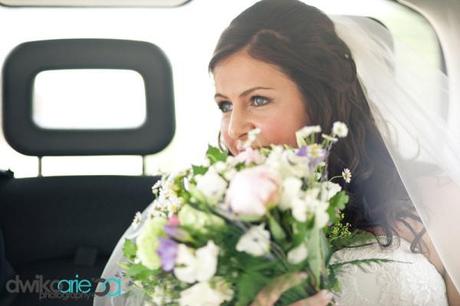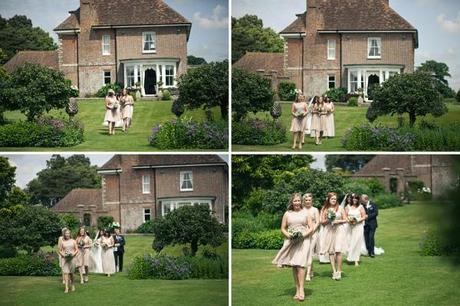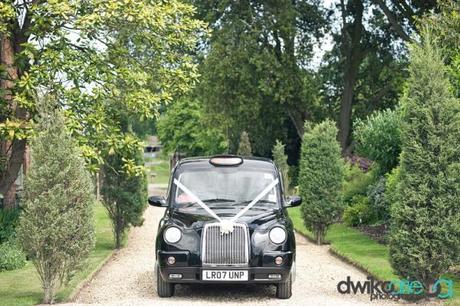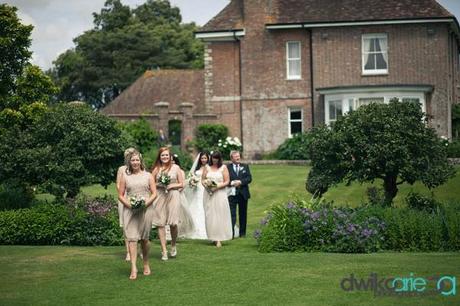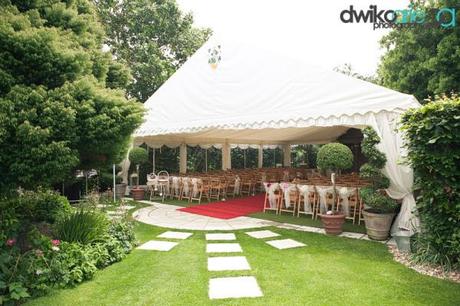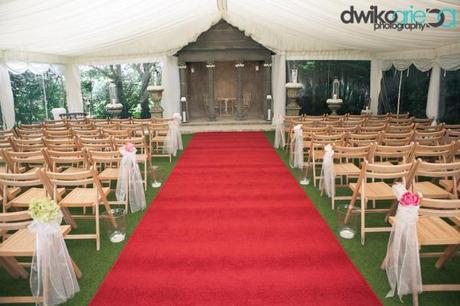 Gareth's suit was from Reiss and he looked gorgeous! It was a navy blue suit but was not a dark navy. The best man and ushers wore navy suits from Marks and Spencers and as there was not a waistcoat to match the particular suit, we searched around and found the waistcoats in Matalan! They were the perfect match and were very smart. The men all wore navy and white spotty ties, something I had decided right at the beginning of the whole 'dressing the men' process.
We knew that we wanted some kind of vintage pattern for the men's handkerchiefs, however I was struggling to find them and at the right price. I have always loved the store Liberty and I remember going there as a child on my first visit to London and being in awe of their fabulous fabrics. We visited the store and chose from their vast range of fabrics one that we both loved and felt went well with the men's overall 'look'. We brought one metre of the chosen fabric at £19.99 and then cut it, with pinking shears, in to squares for the groom, best man and ushers and popped it in their top pockets, it worked a treat! This meant that we could have such a lovely fabric but that we did not have to spend £40 plus on each hankerchief….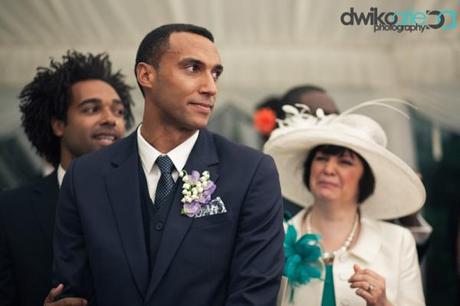 Gareth has always loved watches, he has so many but his particular favourite are old, vintage/antique watches of all kinds of styles. As I had been given such a beautiful engagement ring, I decided I wanted to spoil him and knew that he would love an old gold pocket watch. I hunted high and low and went to both Birmingham jewellery quarter and Hatton Gardens in London but could not find what I was looking for and then I remembered that the Antique shop where Gareth brought my engagement ring from (in Bridgnorth, Shropshire) had pocket watches and so I made a visit there and found the perfect pocket watch. I wanted to get it engraved but as it was so old, the engraver advised me not to and so I had a plaque engraved and put on the box in which I put the pocket watch. It read "To my wonderful Husband, on this our wedding day…happy ever after" – The best man gave it to him on the morning of the wedding and he wore it on his waistcoat on the wedding.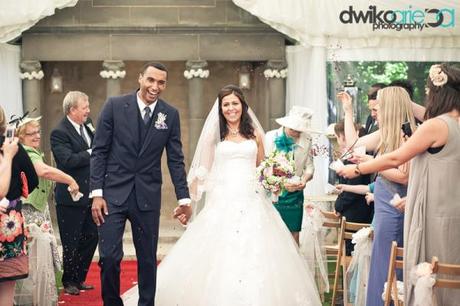 The most memorable moment of all was us actually getting married, all of our guests singing 'cant help falling in love' to the steel bands- it sounded so lovely, happiness, sunshine, lots of love felt all day, bringing together all of our amazing friends and family, personal touches……the perfect day!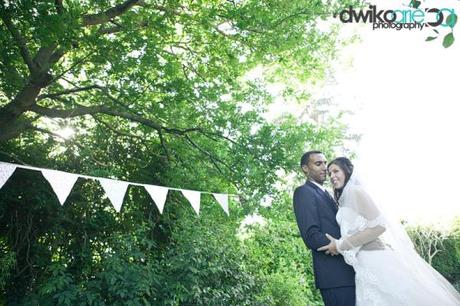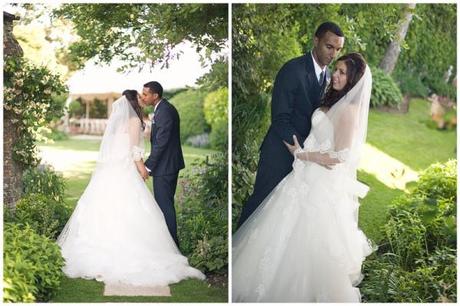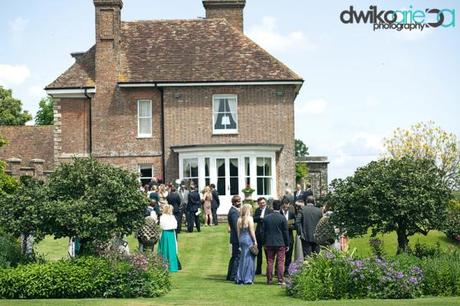 'Jerk and Jam – A vintage English country wedding with a Caribbean twist'…..this was the basis for our wedding. We wanted an informal, fun, happy feel to our day and we wanted all our guests to enjoy themselves and feel relaxed during the day. We also wanted our day to reflect us as a couple and therefore wanted to make it personal. Although we knew we were not allowed hymns during our civil ceremony, we love music and singing and so decided we would ask the steel band to play a couple of songs and hope that our wonderful guests would sing along. We chose 'Cant help falling in love' as our first song, just before we said our vows and after our vows we had 'I can see clearly now'. Both these songs were transferable on the steel drums and sounded lovely and they were also two songs we knew everyone would know. My Auntie Jan read a lovely reading, I belong in these arms…' of which was a surprise reading from me to my lovely husband, read before the vows and just before the first song. Following our vows and exchange of the rings, Gareth's dad read out the gorgeous poem 'These Hands, it was emotional but perfect! The steel band played our guests in to the garden before I arrived and they also played during the ceremony and then in the garden afterwards for the drinks reception – it was perfect!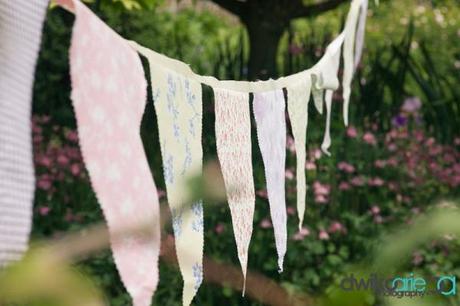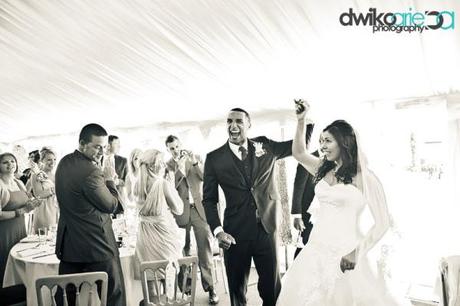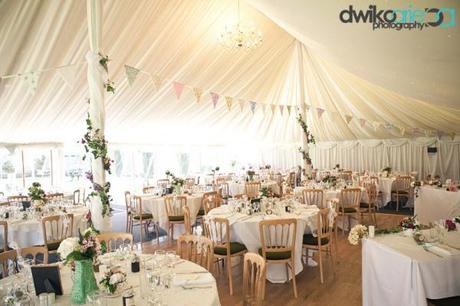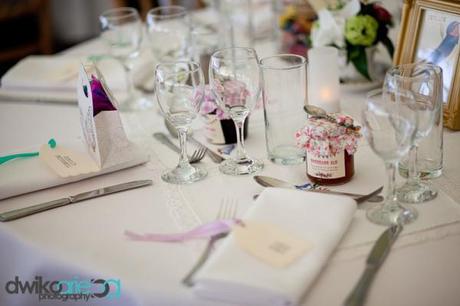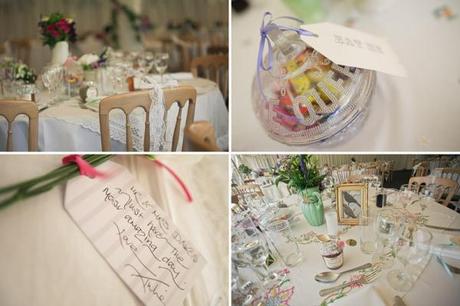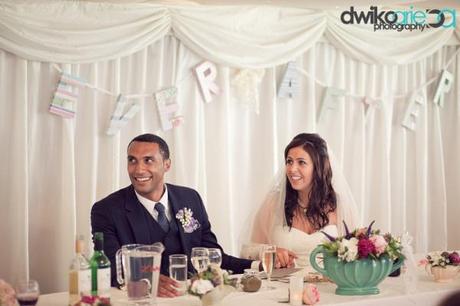 My Grandpa was unable to come to our wedding due to ill health. He has always being and still is a real dapper gentleman, a true character and throughout his whole life has always worn red socks and either a red hankie in his top pocket or a red cravat. My now husband has always loved my Grandpa's style and loves his red socks and a few years ago he decided to carry on the red sock tradition and started wearing them. When thinking about the men's wedding attire, Gareth decided he wanted all the ushers, both his dad and my dad and best man to wear red socks as a shout out to my Grandpa, who sadly could not be there. We had a couple of great photographs with the men lifting their trouser legs up and flashing the lovely red socks – it was a sad but happy reminder of my lovely Gramps x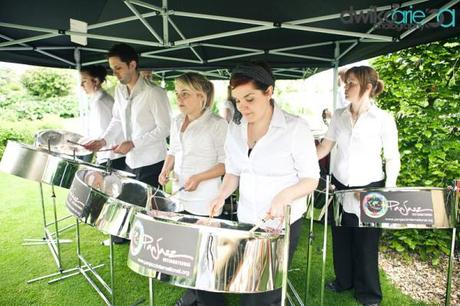 The reception drink was Gareth's Grandma's Caribbean Punch recipe, a secret family recipe that Gareth's Auntie shared with our caterers who made this for our reception drink…it was perfect in the lovely sunshine that we were blessed with.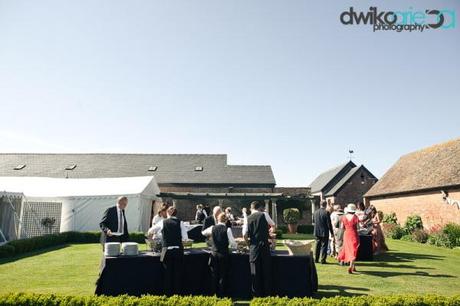 We had a BBQ with jerk chicken and many other delights, banoffee pie, Eton mess or chocolate cheesecake for puddings.
Gareth's Auntie Jackie made our wedding rings (jewellery designer) as well as our gorgeous cake. She used lace off my dress to print the lace on the icing on the fabulous wedding cake – it was amazing – she's a star!!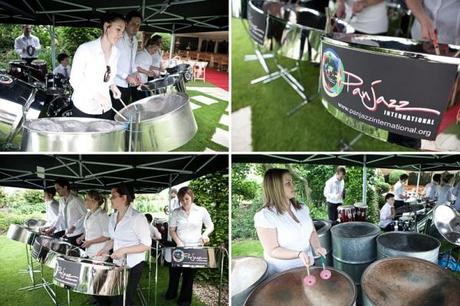 We had a live soul and motown band 'Life and Soul' in the evening – who were fantastic as well as our very good friend Johnny B who DJ'd in between the band's set… Oh and not forgetting the 'dance off' at the end of the night! The dance floor was full from start to finish. Our first dance was Bob Marley 'Is this Love' as we used to dance around our flat together to this song when we first moved in with each other in 2007.
Bacon baps and popcorn in the evening as well as cupcakes, that were on vintage cake stands made by my wonderful sister, displayed with our wedding cake on our rather large cake table! My sister used pretty, vintage plates and glued short glass candlesticks to the bottom of the plates to make gorgeous cake stands.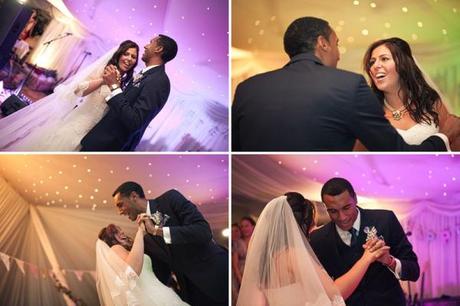 My advice to English Wedding blog readers is that everything always costs more than you think so don't over budget at the beginning! Oh and enjoy every minute of the day and ensure that you steal a couple of moments together to stand back and look at your wedding full of all the people, who you love and cherish, enjoying your special day.
Sally and Gareth's recommended wedding suppliers
My huge thanks to Sally for such a fabulous wedding day report. There's more to come tomorrow with some really inspiring details from Sally and Gareth's wedding day.
Thanks so much also to Dwiko Arie for getting in touch and quite frankly blowing me away with such a fantastic collection of images of such a gorgeous wedding celebration. Please visit Dwiko's blog to see many more photographs from Sally and Gareth's wedding at www.dwikoarie.blogspot.com/2011/05/sally-gaz.html