It's no secret that this blogger loves her job – what could be better than writing about gorgeous jewelry, luxury timepieces, and hot industry trends day in and day out? Well, getting to gush to JCK Magazine about just how much I love it!
In this month's issue, JCK delves into the business side of blogging by interviewing a bevy of talented jewelers who blog and bloggers who drool over jewels.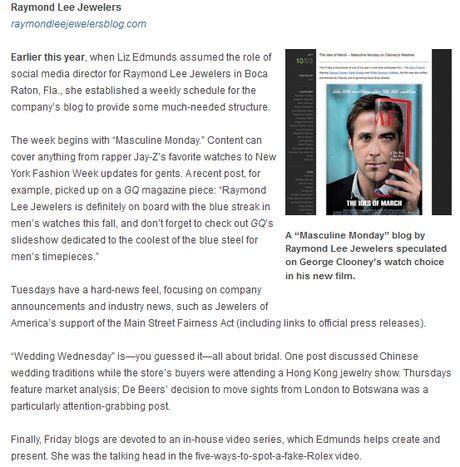 Here's RLJ's segment, starring George Clooney/Ryan Gosling.
Also included in the article are some other jewelry bloggers, all of whom run top-notch sites with tons of information, tips, and trends. Check out these excerpts from JCK's article:
Radcliffe Jewelers in Towson, Md., gives its blog prime homepage placement alongside links to its Twitter and Facebook accounts, making it part of a "social media bundle."
Felicia Ceballos knows the first—and, in some respects, most important—question she needs to ask herself is: Who's my reader? "I try to write for people who don't know anything about fine jewelry," says the director of marketing for Los ­Angeles–based Ziva Jewels.  
Joanne Pittari's posts mostly cover product and celebrity jewelry, such as the engagement ring Paul McCartney chose and the items Oprah distributed in her final show. One regular element is the "Love-It Item of the Week," selected by the staff [of DeNatale Jewelers]. 
Molly Wojcik, of Hyde Park Jewelers has simple advice for any jeweler thinking of getting into blogging: "Have fun." (And have fun they do! We <3 Hyde Park's blog)
Like many jewelers, Lisa Zurillo, owner of Mark Gregory and Co. in Dublin, Calif., tends to blog about topics like fashion and gemology—but with a strikingly personal twist.
"I want people to see me as their authority on jewelry," Ron Hurst, owner of Hursts' Berwyn Jewelers says. But he also wants to connect with readers: "The Internet has become the coffee shop of the 21st century."
Early on, [E-commerce manager for Fink's Jewelers in Roanoke, Va., Denise] Mann asked employees to submit customer testimonials, creative marriage proposals, and news of their charity work.
Jim Sweaney, co-owner of Mardon Jewelers in Riverside, Calif., is a natural-born storyteller. So when it comes to his store, he's eager to share his tales. Thanks to posts that draw on his gemological and appraisal background, Sweaney has turned his blog into a rich source of information for his clients.
James Free Jewelers' blog just got its start last year. At first it was "informational—talking to customers," says digital marketing director Sara Johnson. "Now it's more conversational: a blog that talks with our customers."
These talented bloggers cover everything from the average price of engagement rings to that month's hottest stone. JCK consistently covers the biggest trends in the biz, but it's clear that blogging is more than just a fad. Not only does blogging help our business by directing traffic to our site, it helps us reach out to our customers; it helps us establish a conversation about what we love most, and what we hope to help our customers learn, find, and purchase.
To read the article in its entirety (and crib tips from the aforementioned blogger, visit JCK online to check our Paul Holewa and Rob Bates' feature.