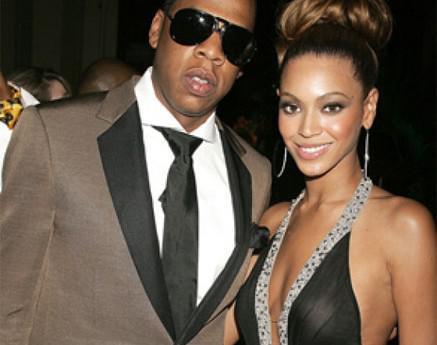 The proud parents.
Most parents with a baby less than a week old are overjoyed, sure – but they're also emotionally exhausted, sleep-deprived, nervous, and more than a little freaked out by the adorable bundle of responsibility that has just landed in their laps. "Busy" doesn't even begin to describe it.
Not Jay-Z, however: Just two days after the birth of his daughter, Blue Ivy Carter, with "Single Ladies" singer Beyonce, the rap impresario released his now chart-topping homage to new fatherhood, "Glory". The song was post to Jay-Z's website on Monday, and was recorded only 48 hours after Blue made her entrance into the world; already, it's climbing the Billboard charts and has gone viral on YouTube.
Terrible: A sign in front of a North Carolina church was vandalized this week with the words "Beyonce had her baby. Satan is on Earth." Wonderful: Jay-Z and Beyonce are donating some of the many gifts Blue received to charity.
"Glory", produced by longtime friend Pharell Williams of The Neptunes and N.E.R.D. fame, is an emotional departure from rap's most chart-topping topics and it is sweet: "The most amazing feeling I feel/ Words can't describe the feeling, for real/ Baby I paint the sky blue/ My greatest creation was you, you: Glory." The lyrics describe, heartbreakingly, an apparent miscarriage – "False alarms and false starts/ All made better by the sound of your heart" – and note, joyously, "The most beautifulest thing in this world/ Is Daddy's little girl". The rap even features a guest contribution from a cooing, crying Blue Ivy herself – or BIC, as she's billed – and that it's now climbing the hip-hop lists makes her the youngest person ever to appear on a Billboard chart.
"Glory" featuring BIC

Jay-Z's most naked. "It's humane and humble, and maybe the most naked Jay-Z song ever," judged Jon Caramanica at The New York Times's ArtBeat blog. But, he noted, "What you hear in Jay-Z's voice on the new song, "Glory," isn't bravado, or arrogance, or even the unchained joy of a new father wanting to pass out cigars to everyone in the room. It sounds more like relief, an earned exhale." Jay-Z pulls the curtain back on the difficulties the hip-hop power couple had in getting pregnant, and though he's not at his "peak flow" here, the spare production allows his emotion to rise to the fore. It's touching.
Rapper 50 Cent's tweeted send-up of the Blue Ivy frenzy.
He's a changed man. "When I pressed play on the sentimental track, I was shocked," declared Jozen Cummings at The Root. Rap has "been here before", to this sort of emotionally raw space, and Jay-Z certainly has on previous tracks, including mentioning a stillborn baby on 2000's "This Can't Be Life" and flirting with fatherhood on "New Day" from this summer's Watch The Throne. But this rap is part of Jay-Z moving away from the "stigmas" of being "just another rapper" and cementing his image as a transcendent legend. Plus, with "Glory", though it comes from a place of love for his daughter, "one-upped" his wife. Said Cummings, "'Glory' isn't a song about Blue Ivy Carter so much as it is a song about Papa Carter, a moment for which Jay-Z has likely braced himself long before he met his wife." It's about a new Jay-Z.
Think "Blue Ivy" is just one of those weird celebrity names? Think again, says Laura Wattenberg at The Wall Street Journal's SpeakEasy blog: American baby names have been skewing towards to the, ahem, creative, for years. From "Gauge" and "Ruger" to "Alucard" (that would be "Dracula" backwards) and "Messiah", Americans are rewriting the baby naming books.
How does it stack up against other newborn odes? Jay-Z is by no means the first parent to express his or her joy in song: Lauren Hill's "To Zion", Stevie Wonder's "Isn't She Lovely" and John Lennon's "Beautiful Boy" spring to mind immediately. But according to a totally unscientific ABCNews poll, those oldies are still the best: "Isn't She Lovely" and "Beautiful Boy" are soundly beating "Glory" in readers' affection. The song's release has also inspired many a media outlet to list other baby odes: Laura Barton at The Guardian rounded up and rated several of the songs, including Radiohead's "Sail to the Moon", Loudon Wainwright III's somewhat bizarre "Rufus Is A Tit Man", about his son and singer-songwriter in his own right, and Ben Folds's "Gracie", a tribute to his daughter. "Glory", she judged, "appears a little dashed off", but that's "part of its charm": "It is in essence the sound of a new father quite delirious with happiness, rather than an assertion of his powers as the king of hip-hop."
"Isn't She Lovely"

"Rufus Is A Tit Man"

More on parenting, celebrity

Beyonce's baby arrives: Welcome, Blue Ivy Carter!
Katy Perry and Russell Brand to divorce
Is the Duchess of Cambridge pregnant? Media hope so
More parenting »