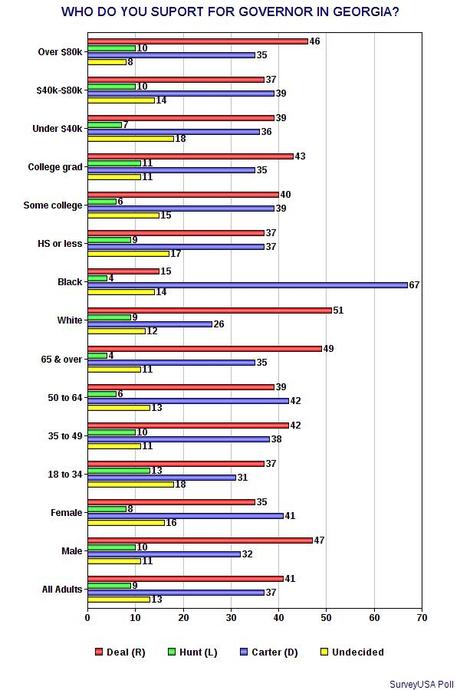 This chart was made using information in a new SurveyUSA Poll, which was done between April 24th and 27th. They surveyed 1,567 likely Georgia voters, and the poll has a margin of error of 2.5 points.
The state of Georgia has started it's early voting for the primaries, and that will continue for a couple of weeks (until Primary Day on May 20th). But we already know who the nominees are going to be, since Republican incumbent Nathan Deal and Democrat Jason Carter have large poll leads and will be nominated -- joining Libertarian Andrew Hunt in the November general election.
Georgia is a red state, and normally the Republican candidate (especially an incumbent) would have a pretty easy time winning. But that is not what's happening, at least right now. Previous polls have shown that Carter is within striking distance of Deal, and this SurveyUSA Poll verifies that. Currently Deal has 41% support, to 37% for Carter and 9% for Hunt (with a significant 13% still undecided).
It looks like Deal's unpopularity has driven some Republicans to support Hunt, who is polling more than twice the support the Libertarian candidate got in the last gubernatorial election. It's also allowing Carter to remain close.
Deal is still the favorite, but it looks like Carter may give him a run for it this time. It won't be easy (and will require a lot of work and a large turnout), but Jason Carter could win this race.