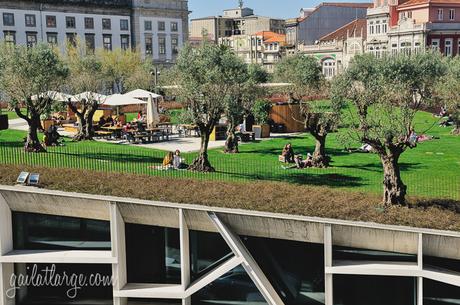 Jardim das Oliveiras is, as far as I know, Porto's largest green roof — an oasis of 50 olive trees and lush grass on top of a semi-open gallery of shops, restaurants, and cafés with an underground parking garage. It's a perfect urban park escape for city workers, tourists, and university students alike. Located on top of Praça de Lisboa, it's my idea of urban planning gone right: green space co-existing with commerce, and vehicles below street level.
When I first visited Porto in June 2011, Praça de Lisboa was under construction and covered in advertising, which you can see part of in this picture. When I returned for a week in May 2013, it had opened to the public but the garden wasn't finished until November, about six weeks after I arrived. The trees had just been planted, the grass and shrubs were still new. Today, Praça de Lisboa is one of the busiest squares in the city, with a pedestrian passage — Passeio dos Clérigos — through the middle of the building, linking Livraria & Lello bookshop to Clérigos Tower.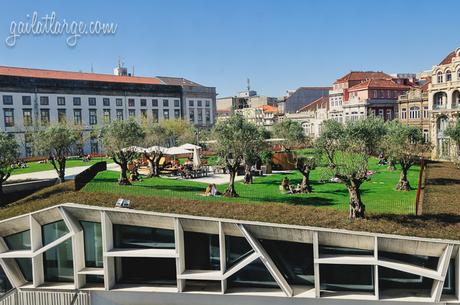 Interestingly, the original plans didn't include the open roof over the pedestrian passage. Project developer UrbaClérigos revised the plan after the anchor store, a book shop called Byblos, went out of business. The retail space had to be divided, causing the whole project to be delayed. Porto architectural firm Balonas & Menanos redesigned the passage and opened it to the surroundings while keeping patrons sheltered from the elements. You can view the plans and project here:
http://architizer.com/projects/praca-de-lisboa/media/429014/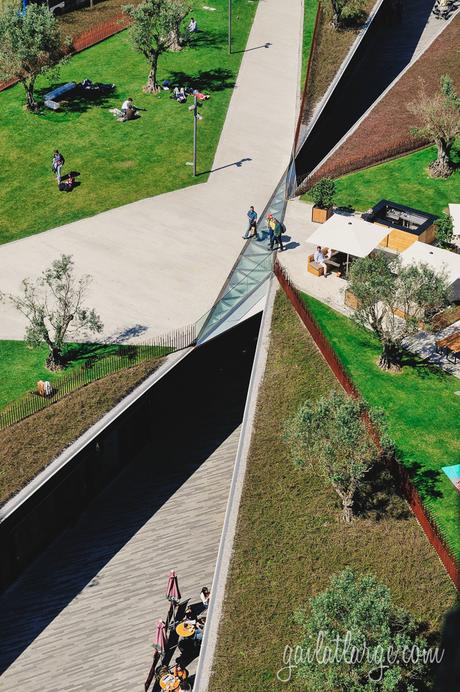 Personally, I always prefer open roofs and skylights because artificial lighting affects people's moods. As a photographer, I'm biased towards natural light. Being able to see Clérigos Tower all the way from Rua das Carmelitas through the passage has given me some of my favourite photos of Clérigos.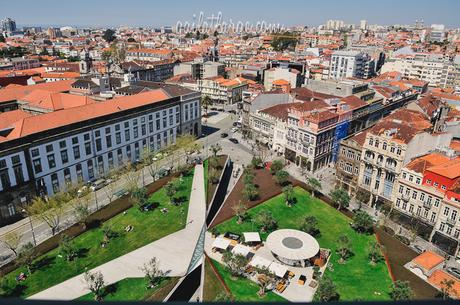 In a previous life, Praça de Lisboa was called Mercado de Anjo. In a previous previous life, it was a garden and one of the city's ancient gates called Porta da Olival, which is a major reason the architects decided to plant olive trees on the green roof. The City of Porto is the square's landlord in charge of the garden lighting and water for irrigation. UrbaClérigos has a 50-year lease from the City for the commercial space and maintenance, including landscaping. Just so you know who to complain to if you see something awry… Jardim das Oliveiras is a treasured space that should last for a long time.
I shot all of these photos on April 6, the first two from the first floor of Clérigos Church, the rest from the top of Clérigos Tower.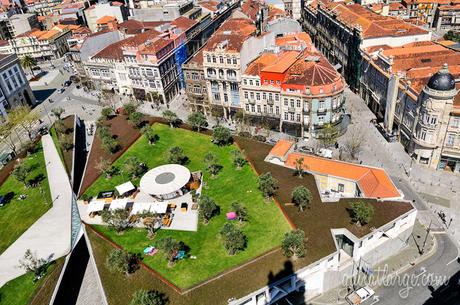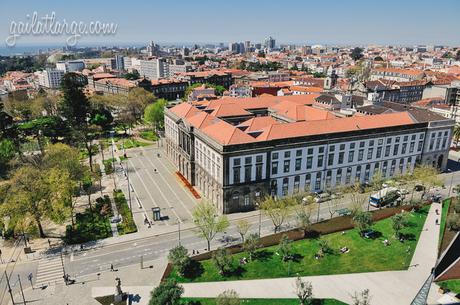 April 6, 2016
Album: Portugal [Spring 2016]