This palette has been out for a few months, but if you don't already have it, you MUST add it to your Christmas list. It is all kinds of awesome. When you first look at it, it doesn't look too interesting or exciting, but that will quickly change when you swatch and use it.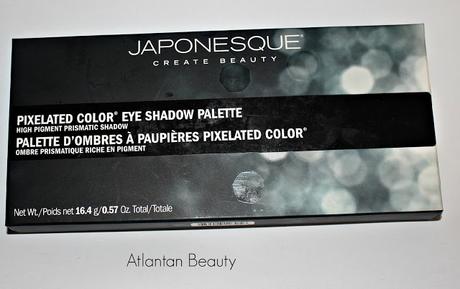 The Shades:
There are 10 shades in the palette. On the left side are "the basics," which are just your everyday neutrals that aren't too exciting by themselves. The six pixelated shades are on the right. I also did two sets of swatches: one set without a base and one with a base.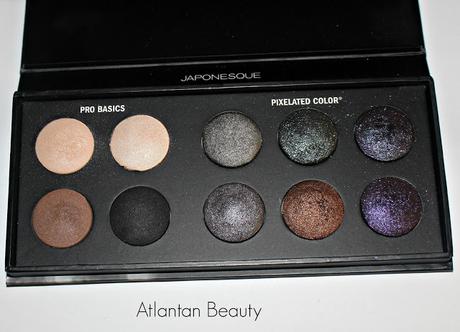 01: satin beige. I would say that this is the shade that kicks up the most powder in the palette.
02: shimmering vanilla with a hint of gold
03: satin, medium warm toned brown
04: matte black
05: metallic pewter
06: shimmering blackened teal
07: shimmering blackened purple. This is my favorite shade. It has blue, pink, and purple shimmer which give it a multi-dimensional look. All of the shades have that to an extent, but it is through the roof with this one.
08: sheer, shimmering grey
09: metallic bronze
10: it is basically a deeper version of 07 without the different colors of shimmer.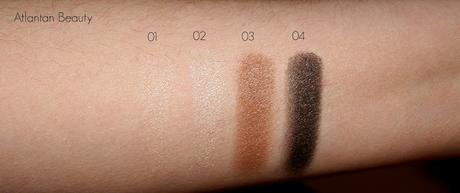 The eyeshadows are so wonderfully pigmented, that you cannot see much of a difference when they are paired with a primer. In person, you can see more of the purple and blue shining through. Pictures will never be able to do this palette justice.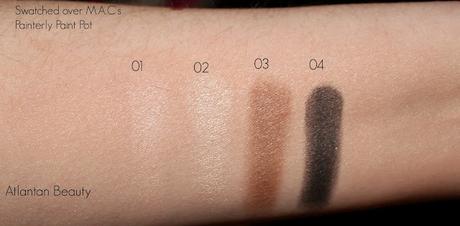 To put it simply, this palette is perfection. The formula is awesome. They have a really soft, smooth texture. But it isn't so soft that you will be worried about breaking them. However, they do kick up a little bit of powder in the palette. Despite the shimmer, I haven't had too much of an issue with fall out. What little bit does fall onto my face wipes right off.
I didn't expect these eyeshadows to have longevity, but boy was I wrong. I have tried them with different primers and even a concealer, and the result is the same. They don't budge. No creasing, no fading, no transfer. They pretty much do whatever you want them to without issue. Application is a cinch because they blend well and you don't have to keep piling them on top of each other to see color payoff.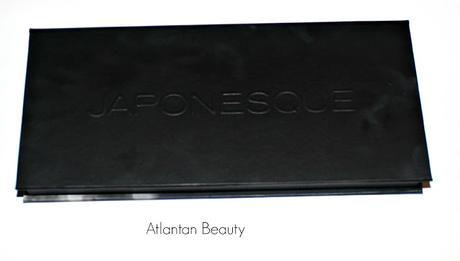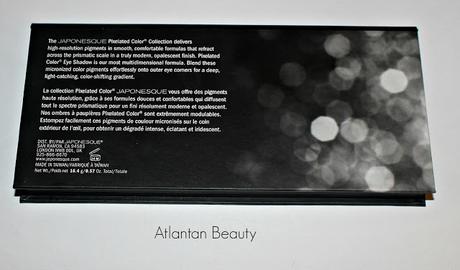 The packaging for the palette is plain and simple. It is actually so simple that it would stand out in your makeup collection. It feels sturdy and I think it would be safe to travel with. The only gripe I have with the palette is that it doesn't come with a mirror. There is a space for it, but nope. No mirror. That is such a minuscule complaint compared to the quality.
This palette is $38 and it is worth every single penny. You can find it in store at Ulta or online. It is permanent, so you don't have to deal with all of the emotions that a limited edition product can bring.
You NEED this in your life. If you don't have it, put it on your Christmas list, birthday list, etc.. Do whatever you need to do to get it.
I feel like I didn't say a lot in this post. It is almost too easy to talk about a product that you really love because the product just speaks for itself. I do have a couple of posts coming up that I will be a bit more verbose on because I just didn't like them. At all.  You will see what those are soon enough. =)
See you soon!