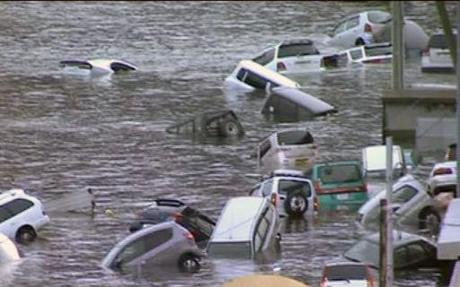 As everyone is well aware, on the 11th March 2011 a tsunami caused by a whopping 8.9 magnitude earthquake hit Japan. This created extreme distruction to the Fukushima Daiichi nuclear power plant and has resulted in the biggest man-made release of radioactive material into the oceans ever.  This has prompted many scientists to question the effect to the Pacific Ocean.
Yes, it is true that isotopes will be diluted once immersed by the ocean, however the majority will sink to the seafloor and get buried. Bioaccumulation of toxins particularly sessile filter feeders and burrowing organisms will affect other species that consume them in higher trophic levels, including humans. Before the accident, caesium concentrations were less than 0.1 becquerels per litre and iodine was not traceable. Scientists believe that benthic sediment could now contain up to 10 million becquerels per kilogram,  whilst all of Japan's sea products are likely to be labelled unsafe.
In the last 2 weeks alone worryingly high concentrations of radioactive iodine and caesium have been collected from sea water samples as far as 30 km from the power plant. This shows its great dispersal and potential threat to other nations seafood. Iodine has a half life of 8 days, however caesium can be present for up to 30 years. Yikes.
A month on from the devastating tsunami, figures are being released on the extent of damage. Radioactive iodine readings taken from seawater samples have reached 7.5 million times the legal limit, whilst caesium was 2 million times higher than the maximum amount permitted. This is before the announcement that further radioactive water will be intentionally dumped into the sea to make room for the storage of severely contaminated water.
Vast marine surveys are to be carried out in the near future to assess the damage to the marine ecosystem. However, for surveys to be undertaken, researchers will be riskig their own lives. That's dedication.
By Agatha Ioannou