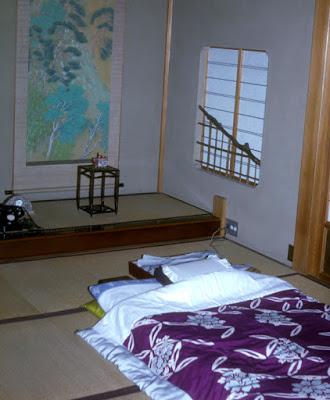 Room at Traditional Japanese Inn
My husband's aunt, Carolyn T. Arnold, traveled to Japan in the 1960's and 70's as the leader of a tour group. Her description of her group's experience staying at a traditional Japanese inn brings back memories of my own experience at a ryokan in the Japanese Alps.
After leaving glittering Tokyo, my groups always spend a few days at the
Fujiya Hotel
in the wooded mountains of
Hakone National Park
. It is very Japanese in architecture but adapted to Western ways of living. An authentic Japanese inn, called a
ryokan
, adjoins the hotel. Janet and Nancy from our group, wanted to stay at the
ryokan
, so arrangements were made for them to do so. The young girls loved it. Each was assigned a hostess who first brought a fresh
yakata
(a cotton kimono) to relax in, and then gave them a cup of green tea. For the night, the maid unrolled several layers of quilts on the floor, and the living room became a bedroom.
The rest of the group preferred more Western ways–a bed, for instance. Our rooms looked out on lush gardens and brilliant azaleas, even a tiny waterfall and goldfish. A
yakata
was neatly folded at the foot of the bed.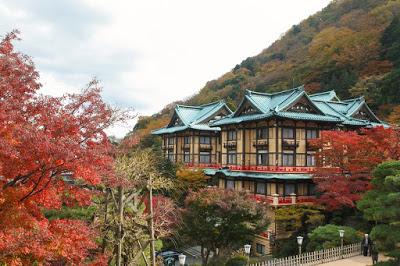 Fujiya Hotel
Hakone Park is noted for its hot mineral springs, so I suggested that those who cared to do so, could reserve a private "bath" and a massage afterwards. Public bathing of both sexes is acceptable in Japan, but I reserved a private "bath" for each of us. We were advised that we must not enter the bath unclean, but we should sap and rinse well with a bucket of water provided beside the pool. What luxury to relax in the warm pool!
I had ordered a masseuse (female), so I was quite jolted when a man appeared at my door after my bath. I repeated "masseuse" several times. He said, "Don't be afraid, missy, it's okay." And, it was.
Janet and Nancy enjoyed their stay at the
ryokan
so much that later in Takamatsu our whole group stayed at one. We were greeted by a matronly hostess who indicated that our shoes were to be left at the door. Then, each of us was led to his/her room, which had rice paper windows and sliding doors. The only furniture was a low table. The maid indicated that I was to remove my clothes and don a fresh
yakata
. Then she served tea and "biscuits". At that moment I was startled by squeals and running noises in the hallway. I rushed out to see Charlie, an eccentric older man in our group, racing down the corridor in his undershorts and shouting, "No girl is going to strip me!" The maid, giggling hysterically, came hurrying after, holding his
yakata
. She finally captured him and dressed him properly in Japanese fashion. I think everyone enjoyed, at least for a few days, our stay at a
ryokan
.
Perhaps the original intrepid tourist was Carolyn Arnold, my husband's aunt.  A single school teacher in Des Moines, she began traveling abroad when she was in her forties, beginning with a bicycling trip through Ireland in 1950.  She went on from there to spend a year as a Fulbright Exchange Teacher in Wales, to more trips to Europe and beyond, and eventually became a tour leader, taking all her nieces and nephews (including Art) on her travels.  When she retired from teaching, she wrote of her experiences in a memoir called Up and Down and Around the World with Carrie.  Today, as I read of her travels and look at her photos, I marvel at her spirit of adventure at a time when women did not have the independence they do today.