Another month has passed, which means it's time for more favorites! I should warn you that the makeup is almost entirely from Drew Barrymore's new Flower line! That's partly because I've been testing things, but I've actually found myself liking the products enough that I seem to grab for them over anything else! I am really quite impressed with the line in general, though there are some products that I feel have some room for improvement. For my initial impressions of some of the products, check out my post
here
. Enough of that, let's get on to the favorites!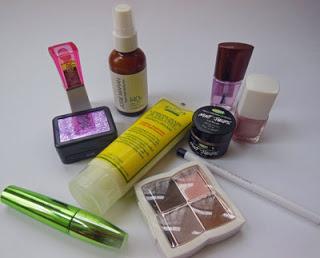 Starting with lips, I've actually been using my Lush Mint Julips Lip Scrub a lot this month. Since it's been nice and cold this month, my lips have been feeling extra dry. Though I love my
Tarte Maracuja Lip Scrub
, I've been feeling like I need something more abrasive lately so I picked up my Lush Lip Scrub and it's been working really nicely! I
love
the taste of the Mint Julips. It has a nice minty chocolate flavor that is kind of refreshing. I tend to use this sugar scrub with a little bit of lip balm already on my lips because I find that it is still a bit too harsh straight from the jar. The combination has been perfect for making extra dry lips into soft and smooth lips!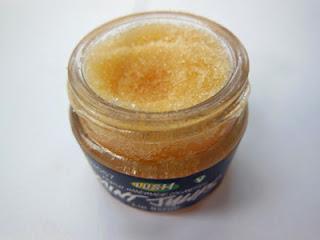 The product I have probably reached for most frequently this month is the Flower Lip Service Lip Butter in "Tempting Tulip." I actually didn't pick this shade up initially, but I went back and decided to try it out and I am so glad I did! It's a very subtle pinkish shade that works perfectly for every day wear! The lip butters are one of my favorite products from the Flower line too. They really feel like they're melting onto your lips and my lips feel soft and hydrated until the product come off – usually that seems to only be after eating. They are super comfortable. The color range is somewhat small, but full of great every day colors with a few deeper shades thrown in for good measure. Love, love, love the Flower Beauty Lip Service Lip Butters!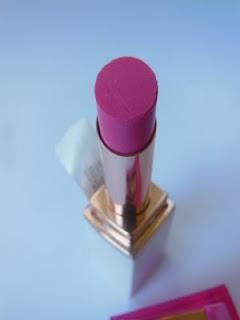 Another one of my favorites from Flower Beauty has been the Eye Shadow Quad in "Foxy Browns." The shades are beautiful and the quality of the shadows is phenomenal, especially for a drugstore shadow quad! The shadows are buttery soft, which does create some kick up of powder, but I just use my brush lightly and try to add any loose powder to the brush by just barely touching any loose pieces. I can't say I know of any great quality, highly pigmented shadows that don't act exactly the same way so I don't consider this a negative. The colors are pretty pigmented and there is a nice mix of matte (the darkest shade) and subtly shimmering shades. The highlight color (the light shimmery pinky shade) is beautiful because it's not too shimmering, nor is it too light. This is a really wonderful quad and I would definitely recommend trying one! I wish they would make even more colors, or maybe even some singles some day!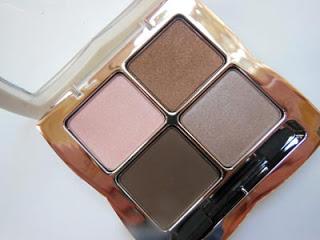 Sticking with eyes, I
love
the pencil eye liner from Flower. I've been using the Easy on the Eyes Eye Pencil in "Navy" pretty much every time I reach for an eyeliner! The color is stunning, but not overly distracting and the formula is pretty much perfect! It glides on so easily and stays put
all
day, even on the waterline, yet it removes completely and easily with makeup remover. I won't go into too much detail since I have a separate review of this pencil
here
. I think it really is one of the best pencil liners I have tried!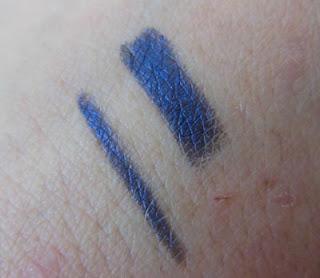 The last eye product I have from Flower Beauty is the Lash Knockout Volumizing Mascara in "Intense Black." Initially, I wasn't terribly impressed with this mascara. It didn't seem like a bad mascara, it just didn't seem terribly special. After using it for a few days, I noticed that it was making my lashes look quite thick and full, while also lengthening them. In addition to basically doing everything you could ask for from a mascara, it does not have a heavy formula, nor is it too wet, which makes it easy to build up with multiple coats. It
never
clumps or causes my lashes to stick together. My lashes always look naturally long and full, never spidery or flaky
and
they don't get crispy and brittle! Flower's Lash Knockout Volumizing Mascara has truly impressed me this month and is definitely one of my all-time favorite mascaras!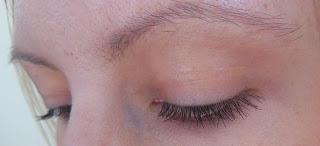 One generous coat of Flower Beauty's
Lash Knockout Volumizing Mascara in Intense Black
My final eye favorite is the Brow Box in "Honey Pot" from Urban Decay. I've had this for ages and go back to it every now and then. I decided I wanted to try a powder for my brows again this month, so I grabbed my Brow Box and I've been loving it! It goes on easily and stays put, plus everything you need is included in the little kit. There are 2 different shades of brow powder, a brow wax, a teeny little angle brush and mini tweezers. Somehow, Urban Decay still kept all of it compact! I hate doing my brows, but the Urban Decay Brow Box has made it slightly less tedious!
J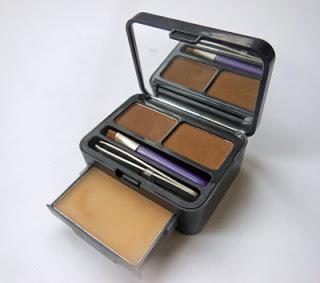 For my dry hands, I picked up a new – at least I don't think I already had this – version of the Nubian Heritage Hand Cream. It's the Lemongrass & Tea Tree Hand Cream and I think it has become my favorite of their hand creams. It has a nice, light lemony scent that doesn't linger and it melts into hands beautifully! No grease what-so-ever. I really love these hand creams and this one is definitely among my favorites. My only complaint with some of them is that the scent is quite strong and it lingers, but the Lemongrass & Tea Tree is not among the stronger scents. For more about the Nubian Heritage Hand Creams, check out my post
here
.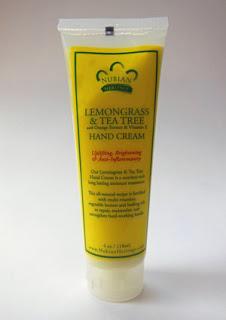 I discovered quite possibly the best base coat this month as well! It is the Mineral Fusion Base Coat and it has completely changed my nails! They have been peeling and flaking, which then causes my polish to come off with the bits of nail. Not with the Mineral Fusion Base Coat! The peeling and flaking has stopped and the residual damage has been sort of "glued" down, preventing my polish from peeling and flaking around damaged areas! The polish in undamaged areas has incredible staying power and doesn't chip, flake, fade or really show any kinds of wear. The Base Coat has a super glossy finish which would make it great as a top coat as well. I actually figured this would be kind of a waste, but thought I'd try it anyway and I am
soooo
glad that I did because it's been a miracle product for my nails!!!
J
Thank you Mineral Fusion for saving my poor, abused nails!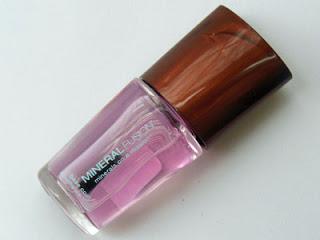 My favorite nail polish this month has been Flower's "Fanatical Botanical." I can't say I've worn it a ton, but it has really stood out as something that I love and would wear often. It's a beautiful neutral metallic. I don't tend to like neutral polishes, but I love that this one has a subtly noticable color and just reflects the light beautifully thanks to the metallic finish. It's a wonderful formula that stays put, doesn't show brush strokes and looks perfect in only 2 coats. All of the Flower polishes I have tried have been great, but this one has definitely been my favorite this month!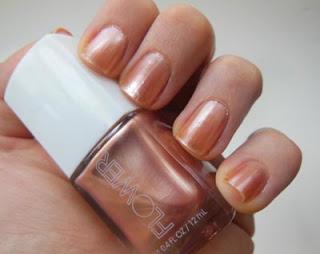 Flower Beauty Nail'd It Nail Lacquer
in Fanatical Botanical
Finally, I've gone back to using the Josie Maran Argan Daily Moisturizer SPF 40. I stopped using it when my skin broke out because I wasn't sure if it might be related. I didn't really suspect it, but I thought it would be best to hold off on using everything I had changed within the few months before the breakouts started. Now that I've been using it again, I'm reminded that I love it! It smells soooo good! It also hydrates beautifully without making my skin greasy and it seems to keep my skin pretty balanced throughout the day. I really love this stuff and so far so good with no horrible breakouts. Granted, my skin has had some pimples here and there, but no major problem areas. For more about the Josie Maran Argan Daily Moisturizer SPF 40, check out my post
here
.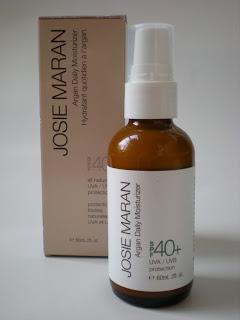 That does it for my January Favorites! It's a pretty long list and, as promised, heavy on the Flower Beauty products! Like I said, I am really quite impressed with the line! It's available exclusively at Walmart and prices range from $5.98 - $13.98. Pretty reasonable, no? If you'd like to learn more about Flower Beauty, I have a post on what information I could find
here
, and if you'd like to see some initial impressions of some of the products, check out my post
here
.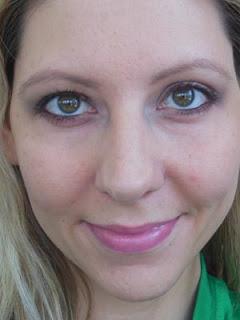 Flower Beauty Face using Eye Shadow Quad in "Foxy Browns,"
Lash Knockout Volumizing Mascara,  Lip Service Lip Butter in "Tempting Tulip,"
About Face Foundation in Shade 4 and Ready, Set Glow! Blush/Bronzer Duo in "Shimmering Goddess."
Brows using Urban Decay Brow Box in "Honey Pot"
What have you been loving this month? I'd love to know!
Disclaimer: I am not affiliated with any of these brands, nor have I been compensated for this post.