AfterEllen talks to Janina Gavankar about her role of Luna. If you were a fan of the L-Word you should read the complete interview here. I loved her as Papi.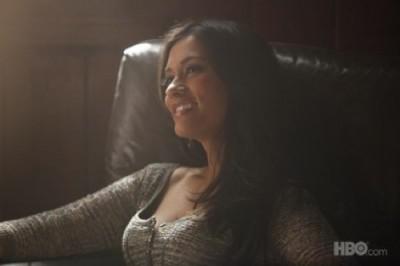 AE: I know you probably can't tell us too much more about the upcoming season of True Blood, but how does a schoolteacher end up meeting a guy that owns a bar?
JG: Hmm. I would say Shreveport and Bon Temps are pretty small places. Everybody knows each other there. It's like high school.
AE: Is Luna new to town?
JG: She didn't grow up there, but she's been there for a while. This is her first year teaching school.
AE: Do we see you teaching children?
JG: You don't see me with my childrens. I think you see me at the high school.
AE: It seems to be a very sexy role for you.
JG: I've never done anything like that before!
AE: Never! [Laughs]
JG: [Laughs]
AE: Is it more risqué than what you're used to or is kind of like "been there, done that, this isn't new to me"?
JG: I would say I'm definitely more naked than I've ever been before. We take off all of our clothes otherwise we'd hulk out of them.
AE: Yeah! Fully nude you!
JG: Yeah I'm definitely showing more skin than I ever had. But my first big career move in my life was on The L Word and I was around some of the most amazing class act women with very long careers and I had access to some really strong women that I respect, and respected even before I met them in real life. And they were unafraid. They were also kind of like "Hey, do it while you're young!