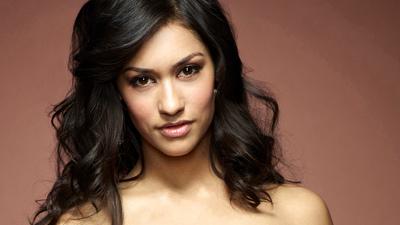 Production on True Blood season 5 is underway and according to Janina Gavankar (Luna) things are getting pretty interesting! The actress spoke to Wet Paint entertainment at a recent store opening for New Era Headwear. In part one of their interview with her, Janina says that season 5 starts out differently than season 4.
Fans may recall that season 4 of the HBO series began a year after the end of season 3. However this year True Blood will be picking up right where it left off and unlike last year things are already tense. Gavankar says that production has only been going for two weeks and craziness has already ensued. That makes getting the scripts all the more exciting!
While she remained tight-lipped about the specifics of season 5, Janina says that things are not going to be very good for Sam (Sam Trammell):
"The wolves are pretty pissed off at Sam (Merlotte) and for what has happened with my ex-husband and you have to remember, it's only the day after he died…So where we pick up is the moment after he died. It's going to be intense and a bit disturbing."
Any thoughts on what else might happen in season 5? Tell me in the comments below!:
Source: Wetpaint.com- "Janina Gavankar: True Blood Season 5 Is "Bloodier, Sexier, and Dirtier" – Exclusive!"
Image Credit: HBO, Inc.