In a month it will be Jane Austen's 237th birthday,  since she was born in Steventon on 16th December 1775. Just like last year I'd love to celebrate this special occasion here at My Jane Austen Book Club inviting all Janeite bloggers to join me in the event. Let's spread the love for our beloved Jane.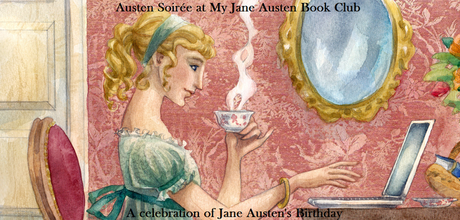 I thought that the best thing we can do to demonstrate our admiration and reverence for her talent is to post Jane Austen's special pages. Special to us.
So,  what do you have to do to join the party? 

- Subscribe your blog through the linky tool below (deadline 10th December    2012)
- Prepare a post containing your favorite Austen page from your favorite          Austen novel (with pictures, videos, links, whatever else your want to make     your
happy birthday post
attractive)
- Add the graphics of the event (you can copy from this announcement post)    or ask me to send them to you via e-mail writing to    
learnonline.mgs@gmail.com
- What about a  giveaway contest to win something Austen-related? (book,     bookmarks, DVDs, gadgets,  etc.)
- Your post must be ready and posted by/at 00.01 a.m. 16th December 2012    (your local time) and the giveaway contest must be closed after 2 days,     that is 18th December 2012 (you can choose the time)
- Each blog will have one or more winners and will post the results of its own    giveaway contest
- Your post should show the list of the blogs participating in the event which     I'll send to you  once the subscriptions are closed (10th December 2012)
"One cannot have too large a party".
JANE AUSTEN, Emma