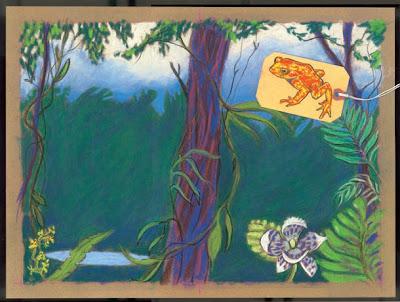 Golden Toad, Illustration by Jamie Hogan for A WARMER WORLD
Illustrations from A Warmer World will be included in "Tell Me a Story: A World of Wonders," an exhibit of children's book illustrations by Maine artists at the Atrium Gallery, University of Southern Maine, Lewiston-Auburn College from June 22 - August 3, 2012. http://usm.maine.edu/atriumgallery
When Boston children's book publisher Charlesbridge Publishing called to ask Peaks Island, Maine, illustrator Jamie Hogan to illustrate another book for them, she didn't know how much it would focus her attention on global warming. Taking up her pastels to depict writer Caroline Arnold's text about the effect of warming on the world's animals made her reconsider her responsibilities as an artist and a citizen.
"It changed my radar," she said.
Hogan's first task in illustrating
A Warmer World: From Polar Bears to Butterflies, How Climate Change Affects Wildlife
(Ages 8-13) was to draw the golden toad, a creature that used to inhabit the cloud forests of Costa Rica. When the weather became too warm in the region, the pools where its eggs hatched dried up and the species was lost.
"I have never drawn dinosaurs, but here I had to depict a similar animal lost to us forever," said Jamie Hogan. "I found photos of them in my clipping file. Just in recent decades, the last golden toad vanished. I was oblivious, as was most of the world. Things are disappearing in our lifetimes."
The golden toad is just one of several species spotlighted in
A Warmer World
, a thought-provoking and informative account of how global climate change has affected wildlife over the past several decades. Species by species, acclaimed nonfiction children's author Caroline Arnold describes how warmer weather alters ecosystems, forcing animals to adapt or risk extinction.
Charlesbridge Publishing suggested the book could be laid out like a nature journal, with the text appearing on torn pieces of notebook paper.
"I hunted down various notebooks and tags. Each animal is labeled with an actual tag collaged over the drawing. Somehow the journal theme helped me see myself as more involved in the reporting of global warming, as if I were in the field taking down these notes or drawing beside the author Caroline Arnold in Costa Rica or on the polar icecap. I wanted kids to pick up a tactile sense of participation, too—that they, too, could study these effects, and their attention could lead to change."
Instead of a traditional marketing approach, Jamie considered how a young reader or classroom teacher would feel after reading the book. Would they want to do something to prevent further warming? All the websites she reviewed advocated reusing and recycling, crucially important tasks. She thought readers might also want to voice their concern for the featured animals and for global warming. Hogan created a website to support the book (
www.awarmerworld.com
), which allows young citizens to send electronic postcards that say they are "worried about a warmer world" and provides links to Congresspersons' email addresses.
"Some see global warming as no more than a fluctuation in our environment and suggest that kids need not care about the effects, but it's their world. Improving our stewardship of the planet can only help."
Jamie Hogan and her fellow Peaks Islanders live almost on a small planet of their own. Trash must be carted off island, and many things are reused, repaired, and even incorporated into artwork by the island's many creators. People walk, bike, and share rides every day to keep car use low on the island.
"Surrounded by a bay full of creatures we see (the brief bobbing head of a seal) and those that we do not makes us aware we are part of the environment, not distanced from it. When you take the ferry to town, you recognize we are simply all on the same boat."
A Warmer World: From Polar Bears to Butterflies, How Climate Change Affects Wildlife
may help young readers become young citizens who see humans and animals as "all on the same boat."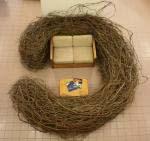 Nesty Nook for Reading at the Atrium Gallery
Jamie Hogan's Website:
http://www.hoganbraun.com/J_home.html
Jamie Hogan's Blog:
http://jamiepeeps.blogspot.com/
With thanks to Kirsten Cappy for this terrific piece about Jamie and news of the exhibit in Maine.  I love the giant nest where children can read books at the Tell Me a Story: World of Wonders exhibit.