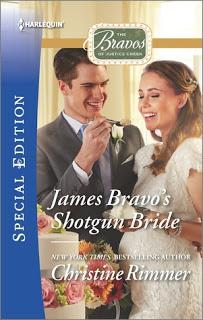 ABOUT THE BOOK:
JAMES BRAVO IS MARRYING HIS DREAM WOMAN. THERE'S JUST ONE CATCH…
Tied to a chair and staring down the barrel of a shotgun isn't how James Bravo planned on proposing to the woman he's secretly longed for for months. He also isn't the father of Addie Kenwright's unborn baby—even if her grandfather thinks he is. James has never stolen so much as a kiss from the beautiful rancher…but all that changes when he and Addie say "I do."
Three times burned is enough to put a single woman off wedlock forever. Addie only agreed to this crazy scheme to appease her ailing grandpa. Now the mother-to-be can't get enough of the hunky, blue-eyed attorney. Are Addie and James ready to take the plunge for real and turn a temporary arrangement into the marriage of both their dreams?
MY REVIEW: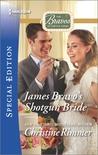 James Bravo's Shotgun Bride by Christine Rimmer
My rating: 5 of 5 stars
James Bravo's Shotgun Bride by Christine Rimmer is a 2016 Harlequin Special Edition publication. I was provided a copy of this book in exchange for an honest review.
This latest installment in the 'Bravo' series starts off with a bang… literally!
Are there real shotgun weddings anymore? James Bravo discovers the answer to that question the hard way after he is tied to a chair and held at gunpoint by Addie Kenwright's grandfather, a man who is tired of seeing the women in his family abandoned by men, left to raise their babies alone. So when he notices Addie experiencing the symptoms of pregnancy he aims to make sure the father steps up and does the right thing by Addie and the baby.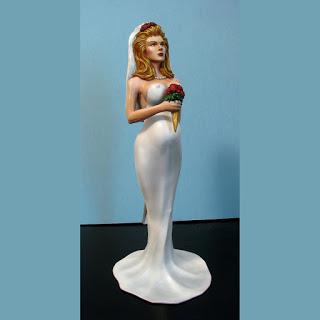 But, is the James the baby daddy?
Addie has sworn off men forever after having her heart broken too many times. But, with her PawPaw dying, she has to do whatever it takes to get him to fight for his life. So, although James is not the father of her child she agrees to marry him, but will they will only be together long enough for grandfather to fully recover.
Will that be long enough for James to convince Addie to give love one more try?
This story is a terrific addition to this series. It's cute, sweet, with just the right amount of spice. I loved James from start to finish. He is SO nice, patient, kind, and absolutely dreamy! Addie? Well, if her grandfather was stubborn, then Addie was cut from the same cloth. She was so obstinate at times, I wondered how James managed to stay so calm. But… love is patient, right?
PawPaw was a hoot, a great character with a big heart, who loved his granddaughters, and only wanted them to be happy, even if his methods of helping them were a little… unorthodox.
The moral to the story is a good one- never give up on love. Everybody plays the fool sometimes, but the right person is out there. Sometimes you have to have a little more faith, but love will always find you.
Overall, I really enjoyed this one, and I think it's one of the best books in the series that I have read.
GET YOUR COPY HERE:
http://www.amazon.com/James-Bravos-Shotgun-Bride-Justice/
http://www.barnesandnoble.com/w/james-bravos-shotgun-bride-christine-rimmer/
ABOUT THE AUTHOR: