JACKSON, TN – Two Beech Bluff siblings were arrested and charged in connection with the 2013 murder of 25-year-old William Joseph Nachlinger, the sister's boyfriend, Jackson Police announced Tuesday.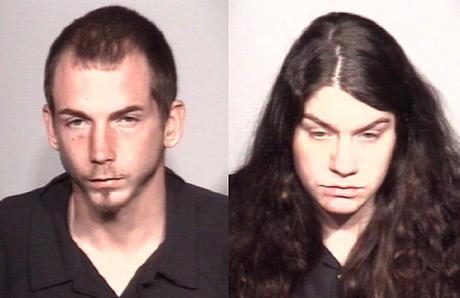 25-year-old Brett Atchison (left) was charged Feb. 9 with 1st degree murder and 22-year-old Meghan Atchison (right) with filing a false report – photo courtesy of Jackson Police Dept.
Officials said investigators obtained arrest warrants on Monday charging 25-year-old Brett Atchison with 1st degree murder and tampering with evidence, and 22-year-old Meghan Atchison with filing a false report.
Both Brett and Meghan Atchison were arraigned in Madison County General Sessions Court Tuesday morning. Authorities said Meghan was released from jail at 11:30 a.m. after posting a $5,000 bond, and Brett remains in custody at the Madison County Jail with no bond.
Police said Judge Hugh Harvey transferred their cases from general sessions court to Jackson City Court, and a preliminary hearing date has been set for Feb. 19 in city court.
Nachlinger's death occurred on March 11, 2013, and his body was discovered inside a car on the back parking lot of Whitehall Pre-K Center, 532 Whitehall Street, when a "citizen was dropping off a child for school," according to police.
Investigators determined Nachlinger's death to be a homicide caused by multiple blunt force injuries, discovering that the victim was killed at a primary crime scene and then transported in his vehicle to the secondary crime scene, at 532 Whitehall Street, police reported. And forensic evidence from the secondary crime scene eventually linked Brett Atchison to the crime.
It was through further investigation that police determined that Brett Atchison was responsible for Nachlinger's murder. Meghan Atchison willfully provided false and misleading information to investigators during questioning about the case, according to authorities.
Police have not provided any further information regarding a possible motive for the homicide or about Meghan Atchison's involvement, if any, with the crime.