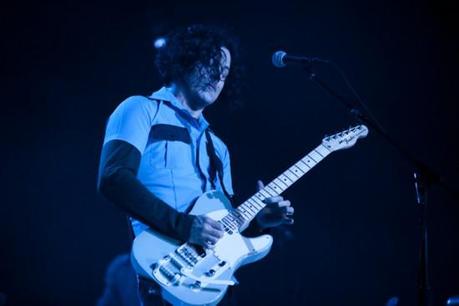 Photo Credit: Hilda Pellerano
After reading about Jack White's (@thirdmanrecords) frustrated exit only 55 minutes into his first performance at Radio City Music Hall, I wasn't sure what to expect from his second night at the venue. I'm sure I wasn't the only one wondering whether he would disappoint his fans again.
I'm happy to report that he certainly didn't leave anyone wanting more. Actually, on Sunday, Jack White reminded us who Jack White really is. From The White Stripes classics to his new tunes from Blunderbuss, he played an incredibly complete and fulfilling set.
The crowd's ecstatic energy was truly a reflection of his mood, as he played and sang every song with his heart on his sleeve. At the end, he threw in and closed the show with a surprise cover: Lead Belly's "Goodnight, Irene".
Setlist:
Missing Pieces
Weep Themselves to Sleep
Love Interruption
Hotel Yorba (The White Stripes)
Top Yourself/Maggie's Farm (The Raconteurs)
Cannon/John the Revelator (The White Stripes)
Screwdriver (The White Stripes)
Rock Island Line
Blue Blood Blues (The Dead Weather)
Trash Tongue Talker
Papa Was a Rascal (James Booker cover)
Dead Leaves and the Dirty Ground (The White Stripes)
I'm Slowly Turning Into You (The White Stripes)
We're Going to Be Friends (The White Stripes)
Hip (Eponymous) Poor Boy
Hypocritical Kiss
Ball and Biscuit (The White Stripes)
—–
Freedom At 21
Sixteen Saltines
Seven Nation Army (The White Stripes)
Goodnight, Irene (Lead Belly cover)