I'll tell you a secret. I fell in love sometime in my 10-day Japan trip in autumn of 2015. I had a quick love affair with Ainokura Village in Toyama Prefecture and I fell madly and totally in love with Kyoto. I fell in love and I promised I'd go back for another visit.
381 days later, I was back in the arms of Japan. This time I made like a gentleman and took it slow; I did not bolt through cities like what my friends and I did in 2015. I stayed in the Kansai Region for nine days, stepping foot in just four (Wakayama, Nara, Kyoto, and Osaka) of seven prefectures (the other three are Hyogo, Mie, Shiga).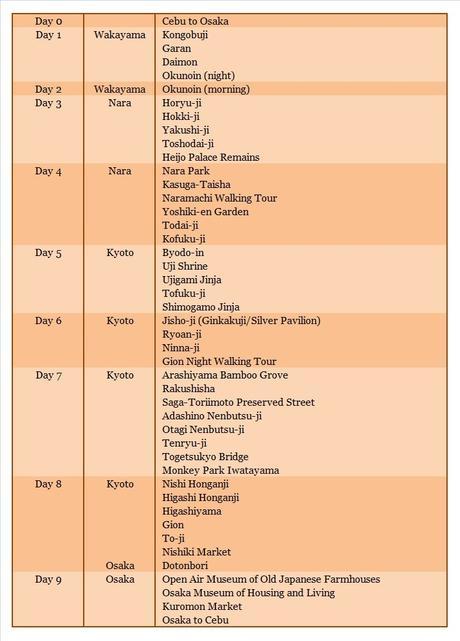 Since I was traveling alone, I went all out in nerdiness, visiting temples, shrines, and historical places, and, most importantly, as many UNESCO World Heritage Sites in the Kansai Region that time and distance would allow.
In planning out my itinerary, I tried to keep within the same budget as my 2015 trip: an average of Php 4000 per day for accommodation, food, transportation, and admission fees.

This trip happened late November 2016 with the exchange rate at 0.465 PHP for every 1 JPY
Accommodation. Like my 2015 trip, I set aside Php 1500 a night for accommodation, for a total of Php 13,500 for 9 nights (about 29,000 yen with an exchange rate of 0.465). In Osaka, the cheapest hostel I found was 1100 yen a night, but I eventually settled for single rooms (though bathrooms were shared) in business hotels, which cost me 2500 yen (less than Php 1200) per night. In Koyasan, I wanted to try the temple stay, but it was way beyond my budget (at least 8,800 yen a night, with breakfast and dinner), so I settled for the only guesthouse in town, Koyasan Guesthouse Kokuu, where a capsule costs 3500 yen a night. Compared to Osaka, Nara and Kyoto hostels were a bit more expensive (dorm beds would cost an average of 2500 yen a night; whereas in Osaka, 2500 yen could already be a single room), but still within my budget.
Transportation. Neither the JR Pass nor the JR Kansai Area pass was beneficial to my route. Instead, to get around, I paid the regular fare using the Kansai One Pass (only for tourists), an ICOCA or IC transportation card that could be used in various train/subway lines in the Kansai area. This was more convenient than buying a ticket every time I had to ride the train/subway. The Kansai One Pass also offered discounts/benefits at various tourist sites. For traveling within the city, I took advantage of unlimited ride passes such as Koyasan World Heritage Ticket, Nara bus pass, Kyoto bus pass, and Osaka Visitor's Ticket (for Osaka municipal subways/buses/tram only). I planned out my route in advance to make the most of these unlimited ride passes.
Food. I spent an average of 2,200 yen a day for 3 meals, snacks, and drinks. It was a good mix of convenience store boxed meals (400 to 600 yen), set meals from donburi shops (meals from 450 to 1000 yen), and restaurants (meals from 1100 to 1500 yen). For Japan, I advice to budget at least 3,000 yen per day for food.
Admission fees. Some passes offer discounted admission fees to some tourist attractions (expenses marked with an asterisk in the above table are discounted rates). The Koyasan World Heritage Ticket came with 20% discount coupons for Kongobuji, Kondo Hall, Daito Pagoda, and Reihokan Museum. The Kansai One Pass offered discounts/benefits to many attractions around the Kansai area, but I was only able to use it at Monkey Park Iwatayama in Kyoto (100 yen discount) and Osaka Museum of Housing in Living (free audio guide rental worth 100 yen). With the Osaka Visitor's Ticket, I was also able to get a 100 yen discount on the admission fee for the Osaka Museum of Housing and Living.
Pocket WiFi. It was important that I had a pocket WiFi for this trip. Luckily, Flytpack let me use their pocket WiFi for free for the entire duration of the trip. If not, it would have cost me an additional Php 3000 for the 9 days rent and courier fees.
Plane ticket. Like all my other posts about trip expenses, I did not include the plane ticket, because the ticket cost would depend on where you're coming from and which international airport in Japan you wish to start/end your journey in. But since this post is about Kansai, I will tell you that I flew in and out of Kansai International Airport in Osaka via a budget airline, with a connection in Manila. Much as I wanted to fly direct to Osaka from Cebu, I found it too expensive. The regular roundtrip ticket for the direct flight would cost around Php 22,000 (on sale it would cost at least Php 13,000).
Japan is the most expensive country in Asia that I have traveled to, but with a bit of planning and research, a trip to Japan need not break the bank. Fewer number of days, of course, will cost less. But, I warn you, once you visit Japan, you will want to keep coming back!
Japan
Know Before You Go
Single Entry Tourist Visa for Japan
Roam Around Japan with a Swagger
An Ignoramus in Japan: Vending Machines
An Ignoramus in Japan: Bathrooms and Toilets
An Ignoramus in Japan: Manhole Covers
I Spy With My Little Eye: Japan's Fashion Contradictions
I Spy With My Little Eye: On the Go in Japan


From Tokyo to Hiroshima (2015)


10D/9N | Tokyo, Toyama, Kyoto, Hyogo, Osaka, Hiroshima
Tokyo Accommodation: Shinjuku Airbnb
Tokyo: Memorable Tokyo Eats
Tokyo: Odaiba
Tokyo: Doing Touristy Things in Tokyo
Toyama: A Hamlet Called Ainokura
Kyoto Accommodation: K's House Hostel Kyoto
Kyoto, Japanecdote: Wisdom from the Road: On exits #2
Kyoto: By the Thousands (Kyoto Imperial Palace, Sanjusangendo, Fushimi Inari Taisha, Arashiyama Bamboo Grove)
Kyoto, Japanecdote: Turning Japanese
Kyoto: Braving the Crowds at these UNESCO World Heritage Sites in Kyoto (Kiyomizu-dera, Nijo Castle, Kinkakuji)
Hyogo, Japanecdote: If Only I Could Speak Nihongo
Hyogo: Day Trip to Himeji: Himeji Castle and Shoshazan Engyoji Temple
Hyogo, Japanecdote: Am I an Alien?
Hiroshima: Strolling and Snacking in Miyajima
Hiroshima: Remembering the Past in Hiroshima
Osaka, Japanecdote: How to Lose Friends
Osaka Accommodation: Osaka Airbnb
Osaka, Japanecdote: Where is Bentencho Station?
Osaka: Osaka Adlaw, Osaka Ako sa Osaka
Osaka, Japanecdote: Learn From Your Mistakes


Concentrate on Kansai (2016)


9D/9N | Wakayama, Nara, Kyoto, Osaka (you're here!)
UNESCO World Heritage Sites in the Kansai Region
Kyoto Accommodations: Guesthouse Wind Villa, Shiori Yado
Osaka Accommodations: Hotel Raizan, Hotel Mikado