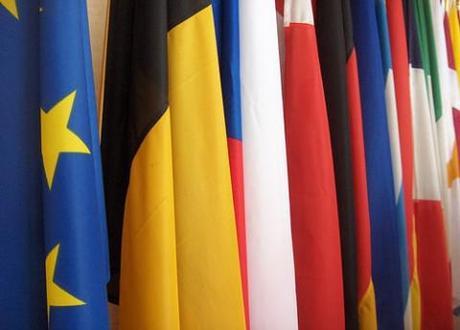 Flags at the European Parliament's Robert Schuman building. Photo credit: Tristam Sparks
The debt crisis shows no signs of abating, with Italy the latest eurozone country to hit the financial headlines. Italy's credit rating was cut this week by Moody's credit rating agency, having already weathered a cut last month by Standard and Poor's (S&P). Prime Minister Silvio Berlusconi criticised the S&P cut at the time as "dictated more by newspaper stories than by reality", according to Dominic Rushe in The Guardian. But as share indexes drop, a general strike begins in Greece and the voices predicting recession get even louder, just how bad is the situation?
Bad timing. According to Robert Peston at the BBC, Italy's downgrade "could not have come at a worse time for the eurozone." Peston suggested that the most alarming potential effect is that Italy's banks would find it more difficult to borrow money, as the Italian government would not be perceived as strong enough to support them in case of crisis. Given the ministers are increasingly recognising the importance of shoring up European banks, he argued, this was a worrying possibility.
Unsurprising. Writing for The Wall Street Journal MarketBeat blog, Mark Gongloff suggested that the effect of Italy's latest downgrade on financial markets may be "muted", due to the fact that the cut had been expected for several months. Indeed, European stock markets have rallied since the announcement.
Who's next? Sam Fleming and Gary Parkinson reported for The Times (£) that Moody's has warned more eurozone governments faced the prospect of downgraded credit ratings. What's more, Goldman Sachs predicted a "mild recession" in the eurozone by the end of 2011.
Same old, same old. Writing for The Guardian, Larry Elliott argued that share prices dropping and teetering banks have become "the new normal" – although at the same time, he said, the uncertainty surrounding the future of world finance means the situation "is not really normal at all." Elliott focussed his attention on Greece's instability, setting out the "doomsday option" that the country would ditch the euro, leading to the end of the monetary union. European governments would have only themselves to blame in this scenario: "It is now the best part of two years since the Greek debt crisis began, two years in which the problem was denied, ignored and downplayed," he wrote.
Politics, not economics. John Quiggin and Henry Farrell insisted at The Daily Beast that Europe's woes are due to politics rather than economics. Quiggin and Farrell suggested that the only solution is to make the continent fully politically integrated, with new institutions including "a new European Senate, with veto power" and "a beefed up European Commission with the power to initiate legislation."