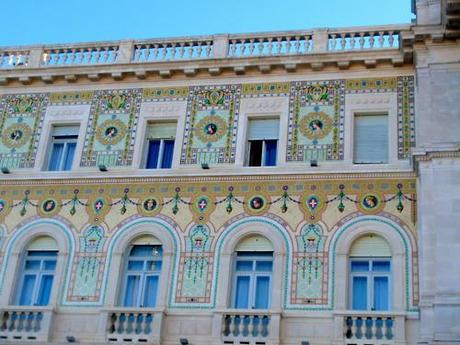 Italy boasts more tourists than any other country on the European continent. Of courses, for reasons of Napolean's Rome, a sinking city, Michaelangelo's Florence, sun-dappled Siena, and Prada's Milan. It has the lakes district, the spiraling Dolomites, and an unrivaled riviera and southern coastline. But its in all the little in-between towns and cities where the multi-layered native Italy resides—in the small fishing villages along the coast, (although the Cinque Terre is stocked with tourists) the Emilia-Romagna region, terra-cotta roofed Bologna—the birthplace of bolognese sauce and tortollini im brodo, and in Tuscan locales where all you need to do to experience the culture is drive from vineyard to vineyard taking stock of all the regional olive oils and wines that make Italy irresistible.
Another such place, is on a long forgotten edge of Adriatic coastline, a short drive from Venice, and only a few miles from the Slovenian border. Trieste, once the home of James Joyce— where he penned Dubliners, Ulysses and Portrait of the Artist as a Young Man—boasts majestic white buildings on bustling streets, populated by local drivers, rather than tourists buses.
It offers a delicious feeling of locality, originality and is sans all pretension, with its small osterias and cafes littering the side streets. In turn-of-the-century Cafe Tommaseo, some of the best espresso in Italy is pulled, and the glistening waters full of fish who speak Italian await you at the exit.
It's important to see for yourself why Rome is great, and why all the carvings and paintings of Florence make it forever bound up in the guidebooks as a "must-see" of Europe—but the towns, villages and cities off the beaten track offer lower cost and authentic alternatives to getting immersed in a different culture. Experiencing Milan and Florence vs. the Dolomites and Trieste require two different mindsets for what feels like two different countries entirely.