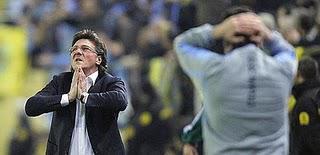 Being a big fan of Italian football, I find it slightly sad watching a constant decline for Italian teams when they play in European competitions. It all started with AC Milan's 1-0 loss to Tottenham Hotspur: an ugly game, with Tottenham deservedly winning at the San Siro. After that, the Roma train-wreck crumbled against Shakhtar Donetsk, conceding three away goals in their 3-2 loss at the Stadio Olimpico. Then came Leonardo's turn at the San Siro, and while Inter Milan played well against Bayern Munich, the Germans pulled off a last minute goal to win 1-0. Finally came Napoli, the culmination of this disaster set of matches in Europe for Serie A clubs. A 0-0 draw in the first leg at the San Paolo against Villarreal seemed like a decent result, yet Mazzarri's team was unable to produce the goods away in Spain. A 2-1 comeback from Villarreal silenced any hope of Italian glory in the Europa League.
The Serie A has become like an old acquaintance, slowly falling behind the pack. Some remember the better days while most don't really care about this decline. While Inter Milan won the Champions League last season, it wasn't a victory for Italian football, it was a victory for a few individuals. A victory for Massimo Moratti, a victory for Wesley Sneijder, and especially a victory for Jose Mourinho. It seems like in the records of time, few will remember as an Italian side won the Champions League last season, most will remember it as, "Mourinho showed he was the best, again".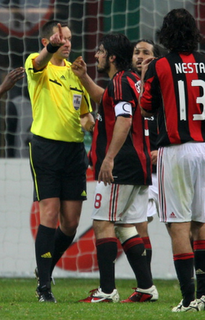 Some say it is the style. They say that the Serie A is too defensive nowadays, and against other European sides this method of play doesn't work. Yet every weekend I see a swashbuckling Roma side, lose 5-3 or 4-3. I see a scintillating Palermo team which plays wonderful football through the nimble feet of Javier Pastore. I see a free-flowing Napoli, with the trio of Hamsik, Lavezzi, and Cavani tearing through defences with rapidity and grace. I see it all in the Serie A, so why don't I see it in Europe?
It seems like fear to me. When a big challenge arises, the Italian instinct seems to be to close up. We don't see Maicon charge up the right wing anymore, instead he (along with the other fullbacks) will be cautious. Instead of seeing passes going towards the opponents goal, we see lateral passes from the defence, too afraid to move forward and maybe lose the ball. Sadly this can eventually become ugly. Tension creeps in as the clock ticks down. After a rough challenge, all of a sudden some Italian pride springs up, and the players argue like madmen with the referee. They yell at him, surround him, tug his shirt, yet the match continues as it was. It continues with an Italian side, too fearful to create anything.
The recent results in the Champions League and Europa League are all very negative. It seems like we could have no Italian teams in European competitions after the return leg of the Champions League. AC Milan need to overcome a spirited Tottenham, Roma need to wake up from their management nightmare to defeat Shakhtar Donetsk, and Inter need to finish the opportunities they create to knock out Bayern. Could it all happen, and three Italian teams progress to the next stages? I doubt it. For fans of Italian football, we'll be lucky if we see one team progress to the next round of the Champions League. A sad demise it has been for the Serie A.