This post may contain affiliate links. Please read my disclosure.
Sweet and tart, this Italian margarita recipe is the perfect cocktail with such a crisp flavor! This orange margarita is made with Amaretto, Tequila, fresh citrus juices, and a little bit of sugar to create the best classic cocktail. This recipe is super easy and made within minutes with such simple steps. Enjoy this Italian version of a traditional margarita whenever you are in the mood for fresh and bright flavors.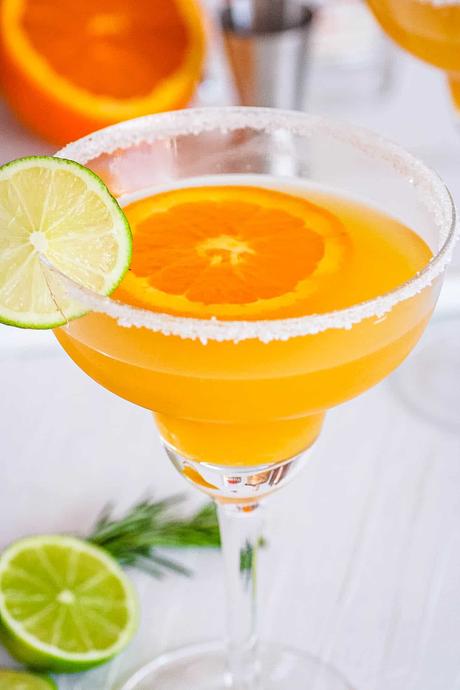 Easily made with limoncello instead of fresh lime juice, this versatile Italian margarita recipe is a classic margarita with an orange twist! Coat the rim of the glass with sugar and relish in the sweet citrus flavors that are perfectly shaken with a shot of Amaretto, orange juice, and a top-shelf brand of Tequila.
Latest Recipe Video!
Unique cocktails are the best! This Olive Garden copycat recipe tastes a little like a traditional margarita but is sweeter, made with orange juice, and can be made with an Italian liqueur.
Add this healthy margarita recipe to your list of tequila cocktail recipes that you need to try the next time you are enjoying happy hour at home with friends and family. This Italian margarita is perfect for the holidays or any time of the year!
👩🏽‍🍳 Why This Recipe Works
Quick: This recipe literally takes 4 minutes to make - and in that time you will have a very fancy looking Italian margarita ready to be poured over fresh ice cubes!
Flavorful: This is not your typical margarita! Made with a natural base that consists of fresh ingredients and served with lime and orange wedges, this cocktail recipe is filled with bright, refreshing flavors.
Easy to Make in a Cocktail Shaker: Cocktail recipes made in a cocktail shaker are simple and fast. All you do is just pour all of the ingredients in the shaker and shake. That's it!
Versatile: Instead of fresh lime or orange juice, make this Italian margarita with orange liqueur or limoncello. You can also use any kind of Tequila for this recipe and even mix up a simple syrup of sugar and water. Brighten things up with a spritz of fresh lemon juice!
🍸 Are Margaritas Alcoholic?
Traditionally, margaritas are alcoholic. But this recipe can easily be turned into a mocktail! Just leave out the Tequila and Amaretto, and add sparkling citrus flavored water to make this a virgin Italian margarita.
🥘 Ingredients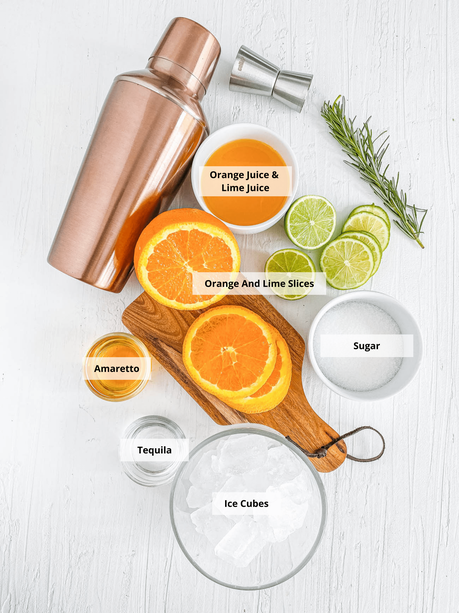 Lime: You will need a fresh lime to coat the rim with and also to mix with the base. If you do not have a whole lime, then you can use bottled lime juice.
Sugar: Granulated white sugar coats the rim of the glass to make this citrus-filled drink tart but sweet at the same time.
Amaretto: Nutty Amaretto is an Italian sweet liqueur that is sometimes made with almonds or apricots.
Tequila: You don't have to use the best Tequila but you definitely want to make sure it tastes good! Use Silver Tequila / Blanco Tequila for a cleaner taste or use Reposado Tequila for a richer and stronger flavor.
Ice: Clear ice cubes are used in the cocktail shaker and also to serve.
Orange: Any variety of orange will work for this recipe. I used naval oranges but you could use clementines or even blood oranges. Freshly squeezed orange juice gives this Italian margarita an extra sweet flavor.
🍽 Equipment
For this cocktail, you will need a juicer, measuring cup, bar jigger, sharp knife, cutting board, and a cocktail glass.
📖 Variations
Instead of freshly squeezed orange juice, use bottled orange juice.
For a more savory flavor, then coat the rim with margarita salt instead of sugar.
Instead of Amaretto, you can use another almond liqueur.
Use 1 shot of Limoncello in place of the lime juice.
Blend the margarita in the blender to make it a frozen Italian margarita.
Add a shot of Triple Sec or Grand Marnier for an orange liquor flavor.
🔪 Instructions
See the complete list of ingredients and detailed instructions in the recipe card below!
Coat the Rim: With a fresh lime wedge, run the lime around the rim of the glass to moisten it.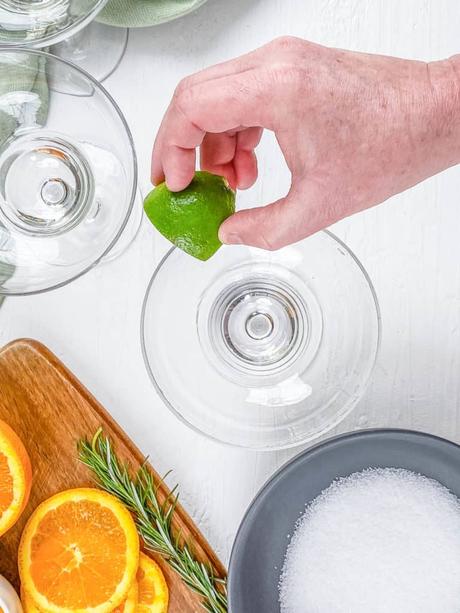 Dip the rim of the glass into a bowl of sugar to evenly coat the edge.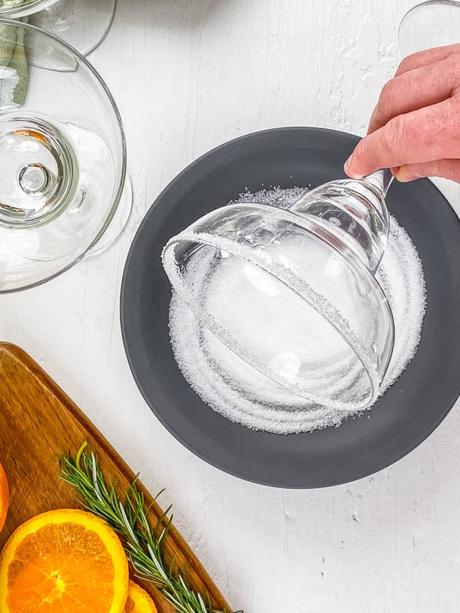 Combine: In a cocktail shaker, add the Amaretto, Tequila, ice, lime juice, and orange juice.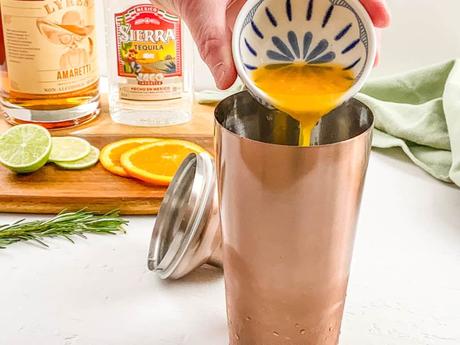 Shake: Cover the shaker with a lid and shake the cocktail very well.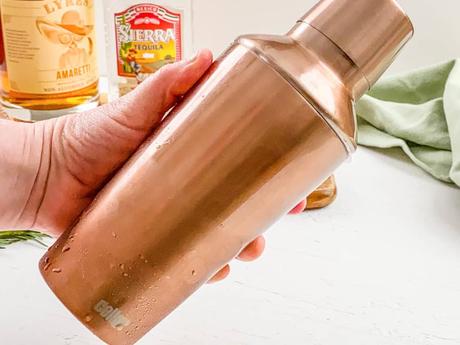 Serve: Pour the Italian margarita in the prepared glass over ice and serve with fresh lime and orange slices. Enjoy!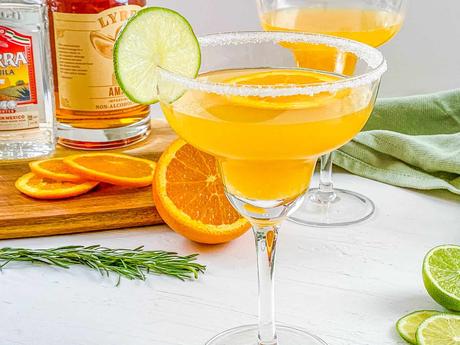 ❓Recipe FAQs
Is margarita Mexican or Italian?
There are various versions and it's not clear exactly where this popular cocktail originated! Mexican margaritas are typically more sour and are made with limes instead of oranges. Margaritas are enjoyed in both Mexico and Italy.
Can margaritas be healthy?
The answer is - it depends! If you make your margarita with minimal fruit juice, lower sugar alcohol (like tequila, vodka or gin) and no added sugar, then it will be healthier than most other cocktails. If you omit the orange juice from this Italian cocktail, then each drink will have about 10 grams of sugar (which is lower than the average cocktail!)
What is a skinny margarita vs a regular?
A skinny margarita is just a low-calorie version of a regular margarita. Skinny margaritas are made with fresh citrus, low sugar alcohols, and sugar-free sweeteners.
In a restaurant, what can I order that isn't a margarita?
There are a variety of Tequila-based drinks to order that aren't margaritas! Enjoy a Moscow Mule, Negroni, Tequila Sunrise, Paloma, and many more types of beverages!
👨‍👩‍👧 How To Serve
🧊 How To Store
If you're making a large batch of this margarita, then store the leftovers in the refrigerator in a covered pitcher until ready to use. It will last in the fridge for up to 24-48 hours. Be sure not to store the leftovers over ice as the margarita will become watered down, instead, serve over ice just before drinking.
💭 Expert Tips
Be sure to use a sharp knife to slice the citrus into even slices for serving.
Since orange juice and Amaretto are already sweet, this margarita does not need any additional sweeteners.
Serve this margarita like a martini in a martini glass for a fancier feel.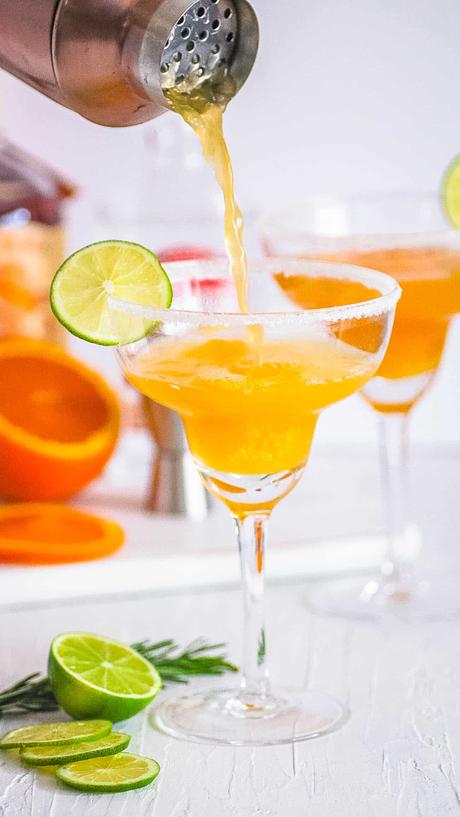 🍝 More Italian Recipes!
📋 Recipe Card
Italian Margarita Recipe With Amaretto