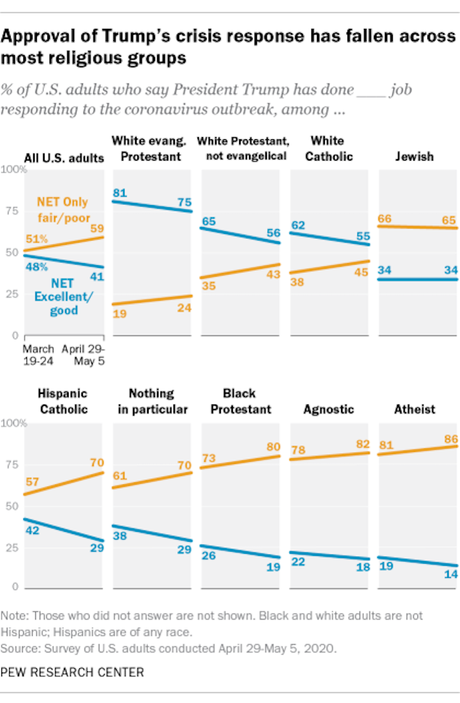 The chart above are from the Pew Research Center survey -- done between April 29th and May 5th of a national sample of 10,957 adults, with a 1.4 point margin of error. Those are the words


"Some governors have deemed liquor stores and abortion clinics as essential, but have left out churches and other houses of worship. It's not right."




"The governors need to do the right thing and allow these very important essential places of faith to open right now. For this weekend. If they don't do it, I will override the governors."


Those are the words of Donald Trump on Friday. At first glance, it seems he hasn't learned from his threat a few weeks ago about going over the governors' heads about opening the economy. He suffered a quick backlash on that threat, and finally realized that he doesn't have the constitutional authority to force the governors to reopen.
Why then would he make that same threat about reopening the religious houses of worship? Surely he must know that same constitutional restriction would apply.
The answer can be found in the chart above. We know that his handling of the COVID-19 pandemic has been falling among the general population. This survey shows that it is also falling among religious groups. And worst of all, for Trump, the approval of his handling the pandemic crisis is also falling among white evangelicals -- the group that gave him the most support in the last election.
Note that those saying his handling was good/excellent dropped by 6 points in the last month, and those saying it was only fair/poor has climbed by 5 points.
Trump is already in deep trouble with women, young voters, and minorities -- and recent polls have shown he is losing the support of those 65 and older. He cannot afford any decline in support from white evangelicals if he hopes to squeak out another win in November.
That short speech by Trump was just political theater. He was trying to stop the bleeding. He knows he can't force religious institutions to reopen (and doesn't want the blame if they do reopen and the virus spreads among their congregations). He was just pandering to the religious right.