Pretty much exactly 2 years ago Silver Linings Playbook premiered at the Toronto Film Festival where it won the People's Choice Award.  Sure, it was kind of odd watching Bradley Cooper and Jennifer Lawrence as an on-screen couple given their 17-year age difference, and those with firsthand experience with bipolar disorder found parts of the film offensive even if its director, David O. Russell, had a son who had struggled with bipolarity and OCD.  However, none of that seemed to matter when it hit theaters, slowly building word-of-mouth and awards consideration, ending up with nearly $240 million at the worldwide box office and 8 Oscar nominations, with Jennifer Lawrence taking home Best Actress.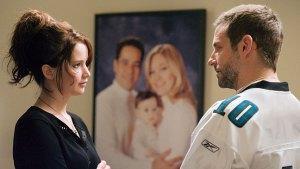 Silver Linings Playbook wasn't the only movie Jennifer Lawrence and Bradley Cooper made together in 2012, though.  In fact, around the time that the first Hunger Games was hitting theaters those two were off in the Czech Republic (doubling for North Carolina) filming Serena, which had been exclusively announced earlier in the year by Vulture:
Based on the 2008 book by Ron Rash, Serena takes place in 1929 North Carolina, where young newlyweds George and Serena Pemberton move to build a timber empire. Their ambition is all-consuming and dangerous — neither is afraid to kill or destroy anyone who opposes them — but they're turned against each other when Serena finds she can't bear children and then launches a deadly vendetta against her husband's illegitimate son. It'll be a juicy role akin to Lady Macbeth for Lawrence.  Originally set up as a Darren Aronofsky film to star Angelina Jolie, directing duties eventually fell to Susanne Bier, winner of the best foreign-language film  for In a Better World (2011).
It wasn't thought to have nearly the same commercial prospects as Silver Linings, but Serena was still expected to hit theaters sometime in 2013.  It was written about as a fun little sidenote in all the love being thrown Silver Lings Playbook's way, kind of like, "If you loved Lawrence and Cooper as an almost-couple in Silver Linings maybe you'll like them as an actual married couple in Serena."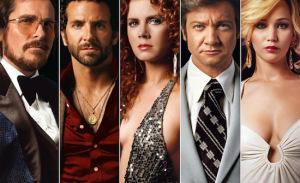 Maybe we will, but still haven't had the chance to find out.  Instead of Serena, the next Jennifer Lawrence-Bradley Cooper project we got to see was 2013's American Hustle, which turned into a commercial hit ($250m worldwide) and awards magnet, although none of its 10 Academy Award nominations turned into wins.
So, Serena wrapped filming May 2012, and has yet to make it into theaters over 2 years later, despite starring Jennifer freakin' Lawrence and Bradley "Hangover" Cooper.  What the heck happened here?  There are usually two guesses in a situation like this:
The film is so terrible nobody wants anything to do with it regardless of the talent involved
It's a troubled production
On that first point, it's not like I can point to Rotten Tomatoes or Metacritic because this film has not yet played anywhere yet.  So, there are no reviews meaning we have no real idea if it's any good.  However, last December The Hollywood Reporter revealed that Serena was being quietly screened for specialty labels like Fox Searchlight and The Weinstein Company around Hollywood in the hopes of securing a distribution deal.  At that time, the plan was to make the festival rounds, with Cannes having expressed interest, if one of the studios picked up distribution.  The fact that no one bit despite the presence of Lawrence and Cooper, and it has bypassed the film festival stage is a very, very not good sign.
As to the second point, they all swear this is not a troubled production plagued with re-shoots and those kinds of things.  Instead, the real culprit appears to be director Susanne Bier's perfectionism, causing her to take 18 months to finish editing.  THR quoted one insider as saying, ""There were no reshoots or anything like that. It was just a real precision edit because the story is about a woman's descent into madness. And Susanne is a total perfectionist."   They were also intimidated by having to follow-up Silver Linings Playbook, not wanting "to be the merely OK version of the Jennifer Lawrence-Bradley Cooper coupling."  However, it's odd that Bier actually already shot and finished another film, the thriller A Second Chance, before finishing Serena.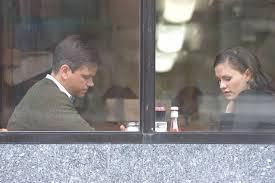 Matt Damon and Anna Paquin in Margaret
These odd "lost movies" starring actors we all know tend to happen from time to time.  The most recent example that comes to mind is Margaret, a drama involving a young woman's guilt and quest for redemption after playing an integral part in the accidental vehicular homicide of an innocent pedestrian.  It was filmed in 2005, featuring a pre-True Blood Anna Paquin in the lead role along with supporting performances from Matt Damon, Mark Ruffalo, Kieran Culkin, Olivia Thirby, and Rosemarie DeWit.  However, an intense power struggle between the studio, Fox Searchlight, and director, Kenneth Lonergan, resulted in multiple lawsuits, causing the initial 2007 release to be delayed until it was eventually dropped in late 2011.  The gist of the struggle was over the final cut, with the studio insisting upon a running time no longer than 150 minutes and the director refusing to cut any footage from his nearly 3 hour film.
Surprisingly, Margaret, which was released in theaters in the studio's preferred 150-minute cut, was actually pretty good, earning a 71% approval rating on RottenTomatoes.  However, it earned less than $1 million in box office gross.  As of this moment, Kenneth Lonergan, who once wrote the screenplay for Analyze This, hasn't had a job in Hollywood since the Margaret fiasco.
It doesn't really seem like anything quite as juicy as all that is happening with Serena.  In fact, maybe a project like this taking its time to arrive is better to give us more distance away from the versions of Jennifer Lawrence and Bradley Cooper in Silver Linings Playbook.  However, surely a movie like this should be playing at the Toronto Film Festival right now.  Instead, it was only recently announced as having secured a distribution deal with StudioCanal, who plan to release it in in the UK on October 24th, in France on November 12th, in Australia/New Zealand on November 27th, and in Germany on December 18th.  There's still no word on when or if it will ever make its way to North America.  This has the look of one of those movies we'll simply catch on Vudu or Netflix down the road, which is most certainly not what we were expecting when we were first heard about it 2 years ago fresh off of Silver Linings Playbook.
Source: Collider