Stop the presses!
There will be 2 Alexander Skarsgård movies being shown at the Toronto International Film Festival! Skarsgardnews.com shared with the masses that both "What Maisie Knew" and "Disconnect" will be shown at the TIFF.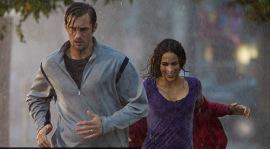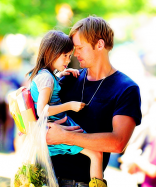 The festival runs September 6th-16th.
Now I know you are all asking if Alex will be attending the festival like he did last year for Melancholia (excellent movie by the way). We are not sure, and our favorite sources (Skarsgardfans, Skarsgardnews, ASkarsgardnet) have not shared a yay or nay yet. So we will see,
That doesn't say Canada will be "Skarsgårdless". The WB tweeted this earlier today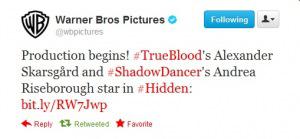 BURBANK, Calif.–(Principal photography is underway in Vancouver on Warner Bros. Pictures' "Hidden," starring Alexander Skarsgård (TV's "True Blood") and Andrea Riseborough ("Shadow Dancer").

Ray (Skarsgård), Claire (Riseborough) and their seven-year-old daughter, Zoe, are an average American family in Kingsville, North Carolina—except they have existed in a bomb shelter since escaping a day of devastation that changed everything.

For 301 days, they have transformed their cement prison into a home, holding on to memories of the past and hope for a normal life someday. And for 301 days, the family has eluded what looms above the surface—the heavy breathing and booming footsteps that punctuate the night, threatening their fragile existence.

All the while, the family has managed to stay hidden. Until now. Now their safe haven has been breached…and something is coming for them.

Brothers Matt and Ross Duffer, who wrote the original script, make their feature film directorial debut on "Hidden." The film also stars Emily Alyn Lind ("J. Edgar") as daughter Zoe.

Roy Lee ("The Departed"), Oscar® nominee Mason Novick ("Juno") and Lawrence Grey ("Hope Springs") are producing. The executive producers are John Middleton, Sebastian Aloi, Jim Rowe and Katterli Frauenfelder. Michelle Knudsen is serving as co-producer.

The behind-the-scenes team includes director of photography Tom Townend ("Attack the Block"), Academy Award®-nominated production designer Jim Bissell ("Good Night, and Good Luck"), editor Jeffrey Werner ("The Kids Are All Right"), and Oscar®-winning costume designer Colleen Atwood ("Alice in Wonderland," "Chicago," "Memoirs of a Geisha"). The music is by Jeff Grace ("Meek's Cutoff").

"Hidden" will be distributed by Warner Bros. Pictures, a Warner Bros. Entertainment Company.

(source Business Wire)
That's all the Skars related news I have for you now! We will update you as soon as we learn more!