Over the past nine years, notloB Music has presented concerts in many venues in Boston, Cambridge, Watertown and Arlington, but we have found a welcoming and pleasant home at Arts at the Armory in Somerville. By the end of June we will have presented eighteen concerts in its intimate cafe:
September 23, 2015 Dick Hensold
October 1, 2015 Mari Black World Band
October 24, 2015 Roy Williams, Eddie Barbash and Sam Reider play The Human Hands Songbook
October 28, 2015 Elizabeth and Ben Anderson
November 3, 2015 Ben Hunter & Joe Seamons w/very special guests Elijah Wald and Sandrine Sheon 
November 25, 2015 Julian Pinelli, Ethan Setiawan, and Noah Harrington
December 7, 2015 The Freewheel Trio & Bronwyn Keith-Hynes and Matt Witler 
December 9, 2015 Wrong is Right and Morgan Weidinger and friends
March 23, 2016 OctoPladd
March 26, 2016 Floyds Row
April 23, 2016 The Gather Rounders
April 27, 2016 Unauthorized Personnel
May 25, 2016 Emily Haviland Baker and Friends
May 28, 2016 Fódhla
June 11, 2016 The Jordan Tirrell-Wysocki Trio 
June 13, 2016 Mari Black and the World Fiddle Ensemble
June 22, 2016 Caroline Cotter supported by Wendy Cody
June 29, 2016 Kathleen Parks and Brad Bensko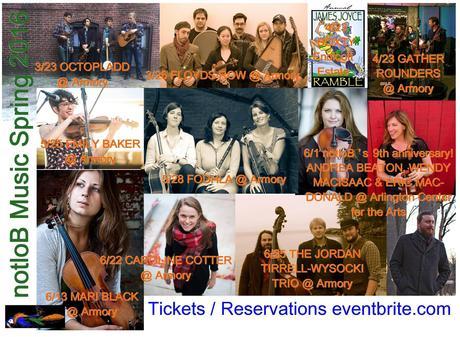 Until June 5, the Somerville Scout is collecting nominations for your Somerville favorites.
notloB Music would be honored if you were to give us your nomination.
Thank you in advance!
Scout's Honored 2016—Nominate Now!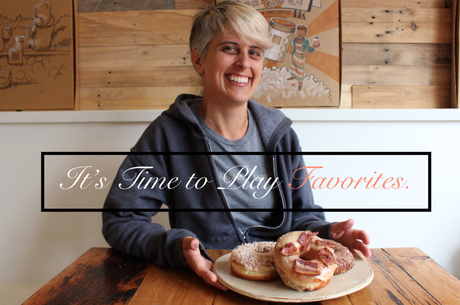 Heather Schmidt of Union Square Donuts, 2015 winner for "Best Sweet Tooth Satisfier." Photo by Emily Cassel.
Now through June 5, we're asking you to shout out the best of the best in Somerville.
The barber who makes sure you never have a bad hair day, the gym that keeps you fit, your go-to restaurant in each neighborhood—we know you know the coolest people and top places in the city. This is your chance to give them the credit they deserve.
Make your voice heard with the 2016 Scout's Honored Awards.
Fine print: You can cast your vote once each week (and yes, we'll check) through June 5. Finalists will be announced in our July/August print edition.