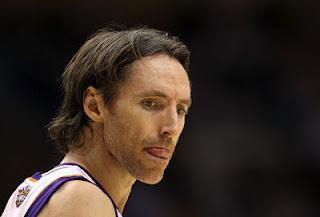 Photo: Getty Images - Christian Peterson
- Troy Ballard
Steve Nash leaving the Phoenix Suns -- how many times have we heard this song and dance?
But this time -- it's a legit possibility.
At the end of this season, Nash will become an unrestricted free agent and will be able to sign with whatever team his heart desires.
That could be with the Suns. It could be with the Dallas Mavericks. It could be with the Orlando Magic. Or, it could be the Miami Heat.
More than likely, if any of our readers were drinking something, that liquid just hit their computer screen in shock. The idea of LeBron James, Dwayne Wade, and Chris Bosh, easily the most talented trio in the NBA, possibly pairing with a future Hall of Fame point guard -- it's a little nauseating.
If the Heat weren't NBA Championship favorites before, imagine what Miami would be with Nash? David Stern might as well just give them the trophy, rings, and banner on opening day. Because that would be the end result. Without question.
Before an interview with the Dan Patrick Show, this idea had only been tossed around in passing, but Nash validated the possibility
when he was asked about going to Miami
, and his response was quite blunt.
Nash essentially made it clear that if the Suns don't make any major improvements, he will be leaving Phoenix without a doubt. Then arose the question of where he would like to go in free agency, and when asked about the Heat, Nash's response was,
"
I would definitely listen."
The question more directly was -- would Nash be interested in the Heat if LeBron James 
personally
 reached out to inquire about him playing in Miami. His response was the same listed above, but after, he touted James' talent and claimed he loved what the Heat were doing.  
Steve, don't paint us as fools. 
If Nash was 21, he'd have no hesitation about staying with the Suns. But the reality is that he is a 38-year-old future first-ballot Hall of Famer with no Championship to his name. It's been a very long 15-years, most of which were spent rebuilding a team that can't get off the ground.
Miami is the contender of all contenders. 
As stated earlier, if Nash were to go to the Heat, (a team conveniently with a massive glaring need at the point guard position), it's almost a dead-lock for an NBA Championship. The best trio of talent in the NBA is already present -- and having Nash facilitate that talent -- would be mind blowing.  
It's a match made in basketball heaven, and Nash above all players, deserves to make a run with a team like the Heat. He's spent his entire career trying to win with nothing but mediocrity surrounding him. Give the man a break. 
He's 38. He's a first-ballot Hall of Famer. And he deserves an NBA Championship. 
We're starting a trend on Twitter: #NashToSouthBeach
Be sure to follow Beard and Stache on Twitter @BeardAndStache, and also Troy @TroyBallards, Like our Facebook page HERE!