Historical Romance/ Adult
by Julia Quinn
(Bridgertons #7)
Published July 2005
368 pages
This review doesn't contain spoilers!
Blurb:

Meet Our Hero…

Gareth St. Clair is in a bind. His father, who detests him, is determined to beggar the St. Clair estates and ruin his inheritance. Gareth's sole bequest is an old family diary, which may or may not contain the secrets of his past… and the key to his future. The problem is–it's written in Italian, of which Gareth speaks not a word.

Meet Our Heroine…

All the ton agreed: there was no one quite like Hyacinth Bridgerton. She's fiendishly smart, devilishly outspoken and according to Gareth, probably best in small doses. But there's something about her–something charming and vexing–that grabs him and won't quite let go…

Meet Poor Mr. Mozart…

Or don't. But rest assured, he's spinning in his grave when Gareth and Hyacinth cross paths at the annual–an annually discordant–Smythe-Smith musicale. To Hyacinth, Gareth's every word seems a dare, and she offers to translate his diary, even though her Italian is slightly less than perfect. But as they delve into the mysterious text, they discover that the answers they seek lie not in the diary, but in each other… and that there is nothing as simple–or as complicated–as a single, perfect kiss.

Read the first chapter here.

About the title:
It's In His Kiss – KISS HER, Garreth!!

What I expected:
Hyacynth finding someone who could stand her for once.
What it was:
Romance and adventure make this one, the perfect Bridgerton book!

My Reactions:
LOL, LMAO, ROFL! OMG!

My Thoughts :
My favorite book! I love it so much..it's such a cute and lovely story!Simply beautiful! The great combination of Lady D + Hyacinth + Gareth is OMFG! They all made me laugh more than I could!

MUST BE READ: Read or die!
TO BE READ: READ OR DIE.
NOT TO BE READ: READ. OR. DIE. I'm serious.
Worth buying? Yes!!!!

Cover Art: 4/5
Plot: 5/5
Setting: 5/5
Writing: 5/5
Dialogue: 5/5
Originality of Plot: 5/5
Characters Development: 5/5
Ending: 4/5
Pacing: 4/5
Likelihood to Recommend: 5/5
Analytical Ratings: 47/50- I can't live without you!


SEXUAL CONTENT – I see fireworks!

SPOILERS AHEAD – Extras:
My Selection of Quotes (From Goodreads):
"Well," he said with an affected sigh, "you have my approval, at least."
"Why?" Hyacinth asked suspiciously.
"It would be an excellent match," he continued. "If nothing else, think of the children."
She knew she'd regret it, but still she had to ask. "What children?"
He grinned. "The lovely lithping children you could have together. Garethhhh and Hyathinthhhh. Hyathinth and Gareth. And the thublime Thinclair tots."
Hyacinth stared at him like he was an idiot.
Which he was, she was quite certain of it.
She shook her head. "How on earth Mother managed to give birth to seven perfectly normal children and one freak is beyond me."
"Miss Bridgerton," he said, "the devil himself couldn't scare you."
She forced her eyes to meet his. "That's not a compliment, is it?"
He lifted her hand to his lips, brushing a feather-light kiss across her knuckles. "You'll have to figure that out for yourself," he murmured.
To all who observed, he was the soul of propriety, but Hyacinth caught the daring gleam in his eye, and she felt the breath leave her body as tingles of electricity rushed across her skin. Her lips parted, but she had nothing to say, not a single word. There was nothing but air, and even that seemed in short supply.
And then he straightened as if nothing had happened and said, "Do let me know what you decide."
She just stared at him.
"About the compliment," he added. "I am sure you will wish to let me know how I feel about you."
Her mouth fell open.
He smiled. Broadly. "Speechless, even. I'm to be commended." "You—"
"No. No," he said, lifting one hand in the air and pointing toward her as if what he really wanted to do was place his finger on her lips and shush her. "Don't ruin it. The moment is too rare."
"And for the rest of the night, he couldn't quite forget the smell of her perfume. Or maybe it was the soft sound of her chuckle. Or maybe it was neither of those things. Maybe it was just her."
"He didn't know where the thought had come from, or what strange corner of his brain had come to that conclusion, because he was quite certain it would be nearly impossible to live with her, but somehow he knew that it wouldn't be at all difficult to love her."
This is a compilation of the material avaliable on JQ's Site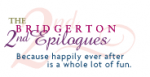 2nd Epilogue for It's In His Kiss

What happened to the diamonds????
If you've read It's In His Kiss, you want to know. Don't miss this charming and passionate addendum, in which Gareth proves that some things get better with age, Hyacinth gains new respect for her mother (with a daughter like Isabella she'd have to, wouldn't she?), and everyone learns that while diamonds are lovely, sometimes tenacity is a girl's best friend

This was actually the second version of the story. Originally, I had been aiming for a romantic adventure, and so I had Hyacinth get (reluctantly) kidnapped by privateers. After sixty pages, however, I realized that the story wasn't working, and I set it aside. Gareth was always Lady Danbury's grandson, though–I knew from the outset that I wanted Lady D in the story!

Eloisa James provided much needed help with Italian. Initially, she was just translating a few passages for me, but then I realized that what I really needed was to give her a passage in English, have her translate it into Italian and then back into English. Hyacinth isn't idiomatically fluent in Italian, so when she translates, the sentence structure would end up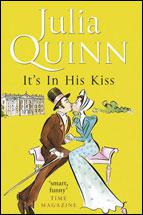 somewhat awkward. And the double translation was the only way to get the full effect. For a more in-depth view of the translation process, visit Pillow Talk at Eloisa's website.

Did you see Jane Hotchkiss, from How to Marry a Marquis? Once I realized that she was about the same age as Hyacinth, and that she was related to Gareth by marriage, I knew I had to find a spot for her.

I had to research Little Bo Peep to make sure it was okay to mention the character in a book set in the 1820s. It turns out that the earliest mention (that I could find, at least) was in Shakespeare. Okay, okay, it was actually my dad who did the research. I was writing in a Starbucks, with no internet access, so I called him on my cell, and he did a web search for me. I told him I should put him on retainer, and he said, "Honey, I've been working for you since 1970."
The UK Cover
Julia Quinn Answers:
Why does Hyacinth's story come before Gregory's?

Gregory is older, but because Hyacinth is female, it makes sense that she'd marry sooner.
What is the deal with the ending of It's In His Kiss? Why did Isabella do what she did?
I'm being deliberately vague here, as I don't want to spoil the story for anyone who hasn't yet read it, but Isabella did what she did because it just seemed to me that that was what she'd do. Seriously, isn't it sweet revenge for Violet that Hyacinth had a daughter exactly like her? I couldn't leave Hyacinth hanging forever, though, so I've wrapped up that little hanging plot thread in It's in His Kiss: The 2nd Epilogue. Hope you enjoy!

Music that inspired Julia Quinn's writing, music that reminds her of her books: "I didn't always realize it when I was writing them, but each of my books has a soundtrack".
It's in His Kiss"History Repeating" by Propellerheads and Miss Shirley Bassey
I couldn't begin to tell you why, except it seems like a song Hyacinth would like, and it was the theme song for So Graham Norton (which Americans can watch on BBC America, even though it was an ITV show) and I know that Hyacinth would love that show.

"Here it Goes Again" by Ok Go
I just think that anyone married to Hyacinth would be heard uttering, "Here it Goes Again," a lot.

"Sitting Still" by R.E.M.
Does anybody know the words to this song? Seriously. Anyone? I can only figure out about 15%, but I am fairly certain Michael Stipe sings "waste your time sitting still" a number of times, and if anyone would find sitting still a waste of time, it would be Hyacinth.

"It's in His Kiss" by Betty Everett
But of course! Plus if you do an iTunes search for "It's in His Kiss," I come up! (for the audiobook.)



It's In His Kiss spent four weeks on The New York Timesbestseller list, making its debut at #7.

Five weeks on the USA Today bestseller list, peaking at #6.

Four weeks as a Publishers Weekly bestseller, rising as high as #6.

Starred review, Publishers Weekly: "the most entertaining romance so far this year!"

Selected by Amazon.com as one of the ten best romance novels of 2005.

A Main Selection of the Rhapsody Book Club, and a Featured Alternate Selection of the Doubleday Book Club.

Available in Large Print paperback and e-book.
Have you read this book before? What did you think?