By Susan Duclos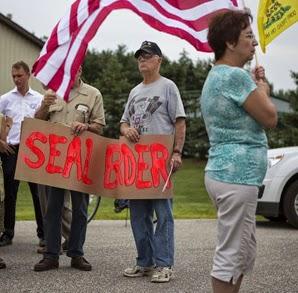 People may not be aware of what is happening all across America because the MSM hasn't been reporting it, but a revolution has begun, Americans are fighting back, pushing against the illegal actions of Barack Obama and others, and it is getting uglier by the day.
A massive protest scheduled for July 18 and 19 across the United States is aimed at stopping the influx of Central American children flooding across the border, and more than a dozen smaller community protests already have played roles in stopping the children from being brought there.
237 communities, with more joining every day, are fighting back against the invasion of the United States of America, of illegal aliens being shipped into their communities.
 Michigan, Arizona, Virginia all the way across the country to California, protests are being organized, local politicians are proposing bills and the federal governments plans to house the influx of illegal immigrants are being stopped dead in their tracks. 
 A list of some of the communities can be found at WMD.
 More bad news for the Obama administration comes from a whistleblower who says that border patrol and police threatened to stand down in the most highly publicized case yet in Murrieta, California, if the FEDS attempted to use illegal force against the protesters.
 While pro-amnesty groups claim "these are just children, watch the first video below of some of these illegal immigrants coming off a bus at Walmart to use "government money"  aka taxpayer funds to go shopping!!!
 Those are NOT small children.
Sign Up To Live Free or Die and Susan Duclos' News Letter! For all our latest articles delivered once a day.
Cross posted at Before It's News