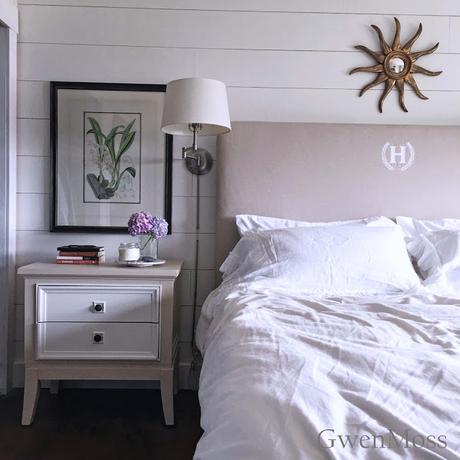 Well, my new monogrammed headboard is done and I love how it turned out.
If you're new here let me remind you.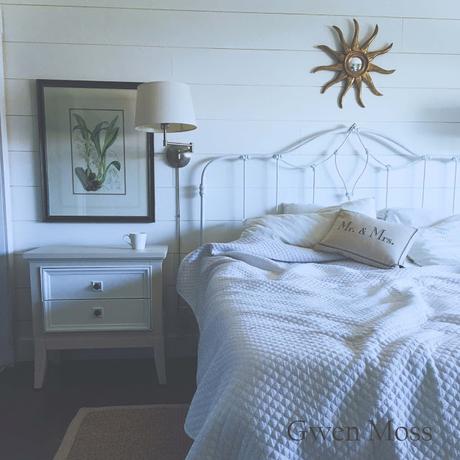 Here is the old, metal headboard we had forever. Nothing wrong with it. But since I was finally giving our poor, neglected master bedroom a make-over, I decided to include a new upholstered headboard that I could make myself.
Just to recap, so far my Classic Cottage Bedroom make-over has included:
1.

  
Painting the entire space with Farrell and Ball Wimborne White
2.

  
Adding plank walls, new baseboards and window trim
3.

  
Re-painting the two nightstands and dresser
4.

  
Adding linen curtains (from our old house), bamboo blinds and new lighting.
5.

  
Re-styling our ugly TV wall by adding a new shelf
Whew. Now I know why I'm still not finished, that's a lot of DIY work isn't it?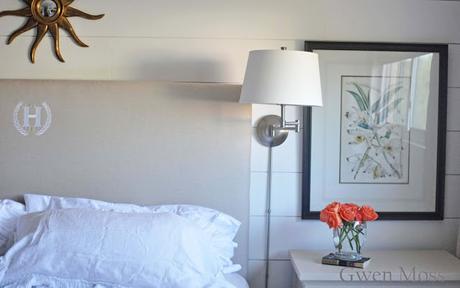 Anyway, back to my FINISHED headboard (woo-hoo!)
Since there's lots of wonderful tutorials all over blogland on DIY upholstered headboards, I don't have much to add, --but I will share a few things I learned along the way.

Tufted or Not?The first thing I did before buying my piece of plywood was deciding on the design/and fabric for my headboard. You can see my fabric tip HERE. I wasn't sure I wanted a tufted headboard because we like to read in bed and I was looking forward to finally leaning against something soft and comfortable.

Except.  I really like the look of a tufted headboard. So…what to do?

Well, my indecision was all for naught because when I asked Mr. Moss his answer was swift and definitive.

"I hate those tufted headboards," he said.

("Hate?" Really? 

 H

mm. I didn't even know you knew what 'tufted' looked like but ok.) Since he's usually so unaware  easy-going about my decorating decisions I definitely wanted to go with his opinion. And it didn't hurt that it would be so much simpler to make too.

After reading a few tutorials online, I got my measurements for the new headboard by using our current metal one that was still attached. It was basically the same measurements minus the curve.

I took the measurements to Home Depot and had one of the guys cut my dimensions from a piece of half inch plywood.

deciding on foam

However when it came to pick my foam I decided to go rogue. 

After reading the post HERE and visiting our local Walmart I felt uneasy about using the foam mattress recommended as a cheaper option. I really wanted a clean look and since I wasn't tufting--is that a word?-- the headboard I worried that using a mattress might look lumpy in spots. Plus I was saving so much money making it I decided to use the foam sold at the fabric stores, and cut it to my own dimensions.

But before paying full-price for the foam at Joann's Fabrics I decided to Google Foam and Fabric stores and at the last minute found a place that would cut my foam with their giant machine. It ended up being a big warehouse that was 30 minutes (drive time) away but the prices were so cheap. Plus—I wouldn't have to go through the headache of cutting through all that foam.

(Plus--I live in SoCal remember? So I'm used to long drives).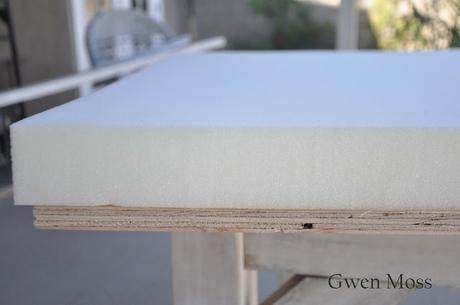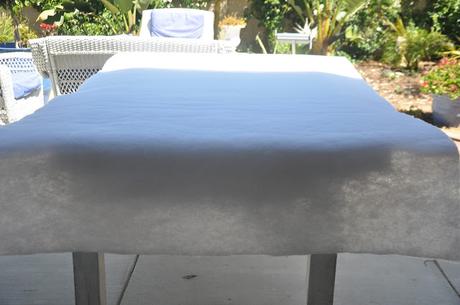 I ended up buying a high quality density foam, along with all the batting plus a can of adhesive (recommended for a professional job) ...everything for only fifty bucks!!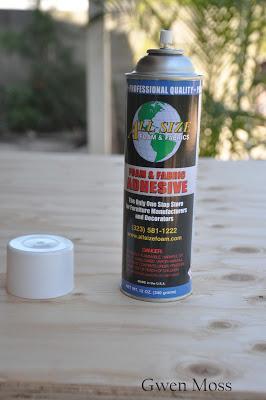 Despite the drive time, I was happy. I got great foam with clean, neat edges.
The rest of the process was pretty similar to the other tutorials.
The monogramExcept for one detail I added to my headboard: the monogram
I decided to add it because I felt like my non-tufted linen-look headboard needed something to make it special. And no, I did NOT embroider this myself.
Here's another easy thing I did. I found a local store that embroidered logos for businesses and sports teams and told them what I wanted to do. After browsing their catalog i found what i was looking for: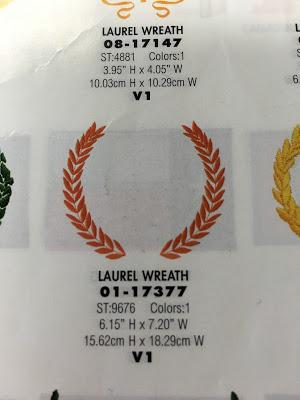 A monogramed letter with a classic laurel wreath and THIS STOREcouldn't have been more helpful. After deciding on the size monogram I wanted on my headboard, they printed the pattern out and I took it home.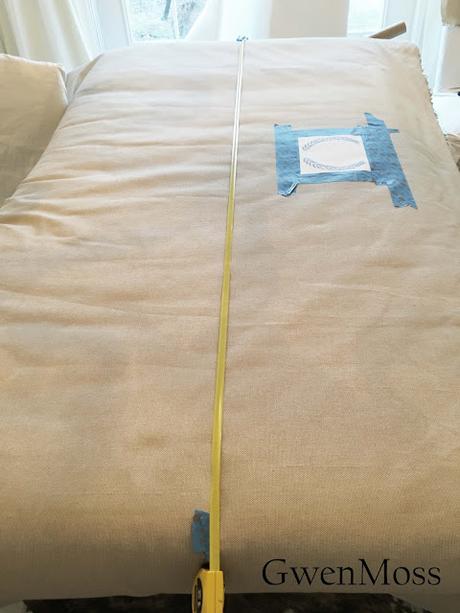 Once I unrolled my fabric, I positioned the pattern where I wanted the monogram to go—basically deciding on the distance of the monogram from the top of the headboard---and I used painter's tape to place the pattern on the fabric.
When I took it back to the shop the owner unrolled the fabric -looked it over, and gave me a thumbs up and one week later I picked up my monogrammed fabric.
Stapling the fabric to the plywood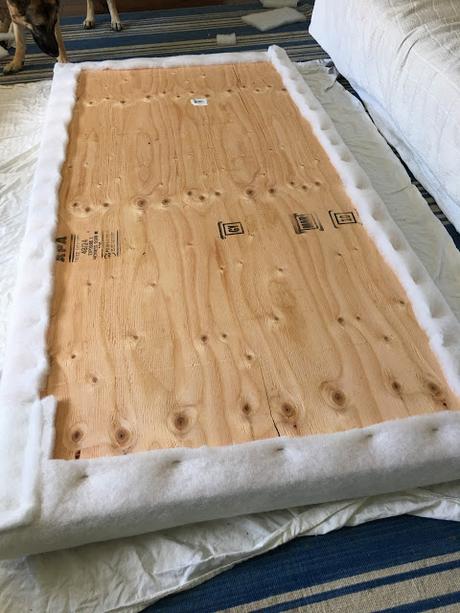 Once I wrapped the plywood with foam and batting I stapled it around the plywood, careful to pull it tight and smooth. I DO think the spray adhesive helped although I didn't read a tutorial that mentioned using it. Next came the fabric.When it came time to staple the fabric onto the plywood, I had to measure and find the center of the headboard and line up the monogram before I began to staple.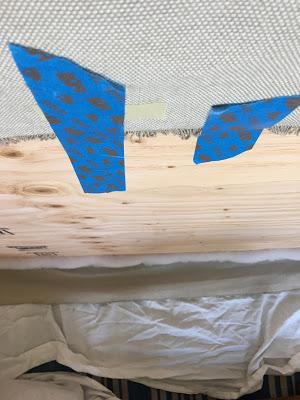 I used tape on the back of the plywood to keep the monogram in position while I began to staple. I know a lot of tutorials recommend being on top the plywood as you staple and pull the fabric, but because of the monogram I kept the headboard mostly upright for the initial stapling. I wanted to make sure it stayed in place.
Then, once the top was secure
I ended up putting it face down while I finished the stapling. I found it really helpful to keep checking the front of the headboard to make sure the fabric was being pulled nice and flat.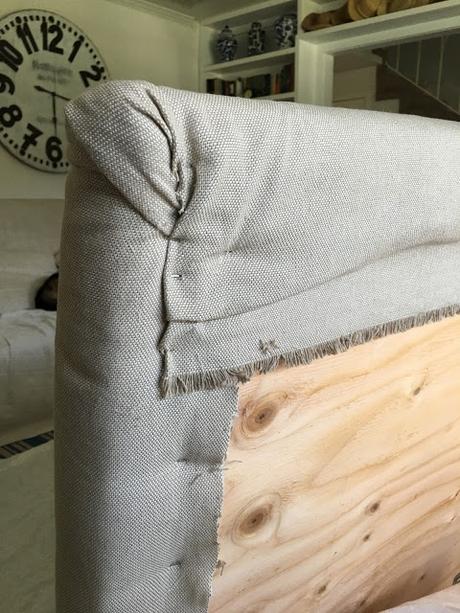 Attaching the headboard to the bed frame
When it was finished we simply attached it to our bed frame by lining up our "legs" which were actually 2x4 pieces I had cut with my miter saw.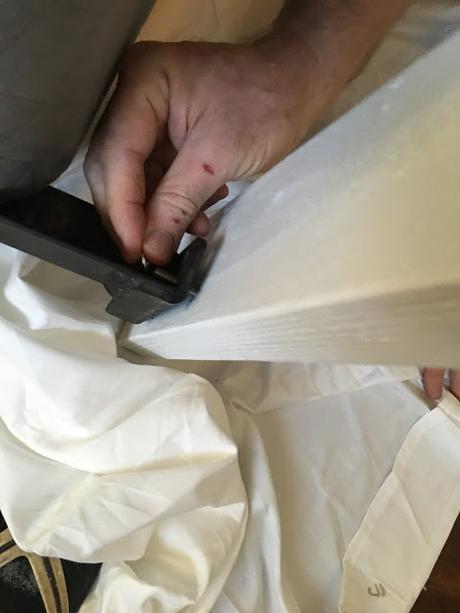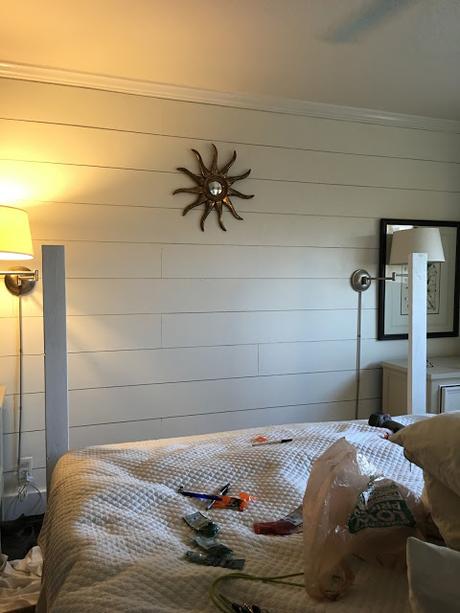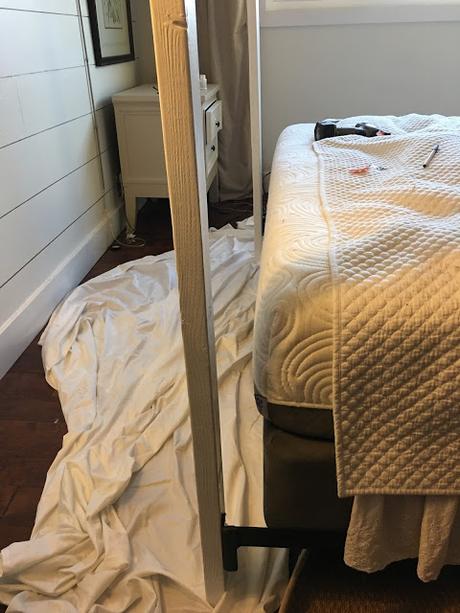 It definitely takes two people the way we did it. I wanted to attach the legs first so I could decide on the height of the headboard by looking at it against the plank wall.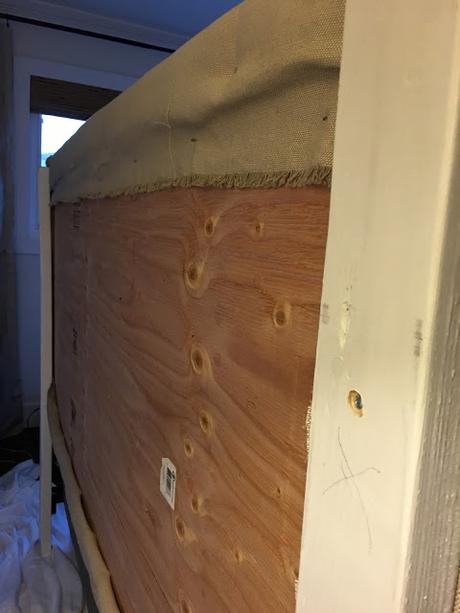 This meant using a level on  the top before we screwed anything together.

Here's another picture with the new linen pillow shams I just bought: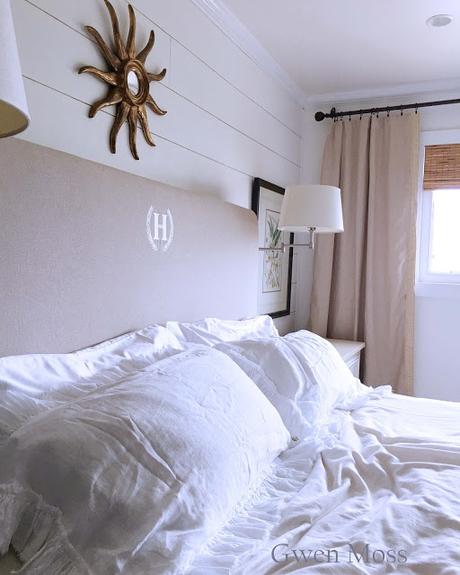 I really love the finished look, I think the monogram on the headboard adds a lot of bang for the buck! ($42)
Just for fun, here's the BEFORE shot: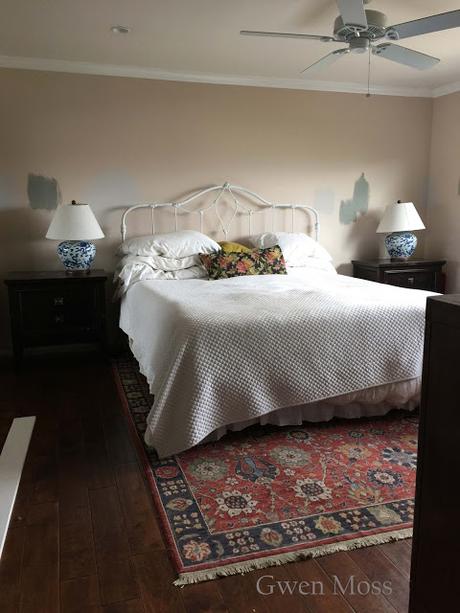 And here's the AFTER: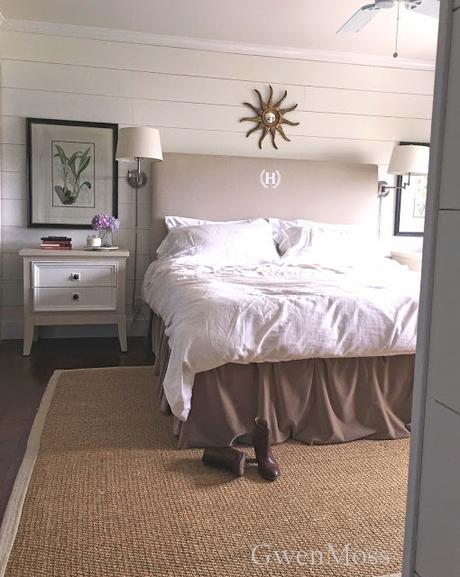 Well, that's pretty much it. Lots of common sense stuff but I hope it helps if you're thinking of making your own headboard. I always say, if I can do it, you can too---and I mean that.
Stay tuned for this room's final reveal ---I've got more details to share in this room…it's almost done. I'm just working on those mirrored closet doors now.
Also---I may be the last blogger to do it, but I'm

finally

on Instagram now as G

wenmossblog

---I just activated my old account so you can follow my updates there too.
Thank you so much for following along...
peace and love
xo
Leslie
I'm sharing this post with friends:
The Scoop #222
Inspire Me Tuesday
Inspire Me Monday