London was the setting for the premier of the new James Bond movie which was held at the Albert Hall. The setting saw celebrities, the usual rows of ecstatic fans and photographers all waiting excitedly to see their favourite stars stepping out onto the red carpet.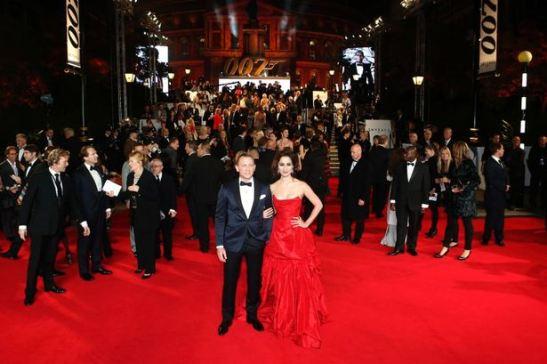 Source: dailyrecord.co.uk
The air was charged with excitement as all the famous names slid out of their limos onto the red carpet to see the premier of what has been called the 'best 007′ film ever to be made.
So who wore the best and the worst outfit?
With so many eyes on this prestigious event it seems natural to assume that all the celebrities, whether female or male, would have carefully thought out out what they were going to wear. You would think the starts would like to impress their adoring fans and look good for the cameras, after all this latest James Bond movie is one of the most awaited films to come out. Unfortunately, some of the celebrities on the red carpet the other balmy evening got it wrong, and might just look back in horror at the photos and comments that are now being bandied about them and their choice of outfits.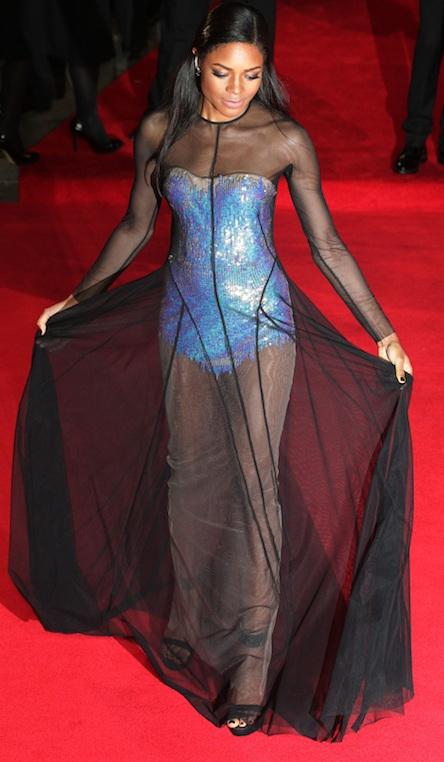 Source: coventrytelegraph.net
The most surprising celebrity to make an absolute hash of her outfit was one of the stars of the new movie.  Naomie Harris plays an M16 agent called Eve in Skyfall and on the big screen comes across as one of the gorgeous 'bond' girls, looking gorgeous, well dressed and fabulous. However, her choice of 'premier frocks' was a complete disaster – leaving her looking rather weird and wearing an outfit that just did not do her justice.
Second in line for a prize for the 'worst' choice of outfits to wear at any premier – let alone a James Bond one, has to go to F1 heiress Tamara Ecclestone. Her emerald velvet gown was to say the least – weird and if she does have a stylist, this rich young lady might want to have words with them about any future designer clothes she might like to wear.
Katie Price's dark locks and then darker choice of revealing outfits was something to gasp at and not in a very positive way. The one redeeming thing about her party frock was her choice of thigh length rather stylish ladies boots which looked great – such a shame about the rest.
Source: Gf/Bauer Griffin
But it was not only the lovely ladies who got it wrong, Bear Grylls' choice of Union Jack trousers certainly raised a few eyebrows! Patriotism is great but surely not at the expense of good taste, style and chic.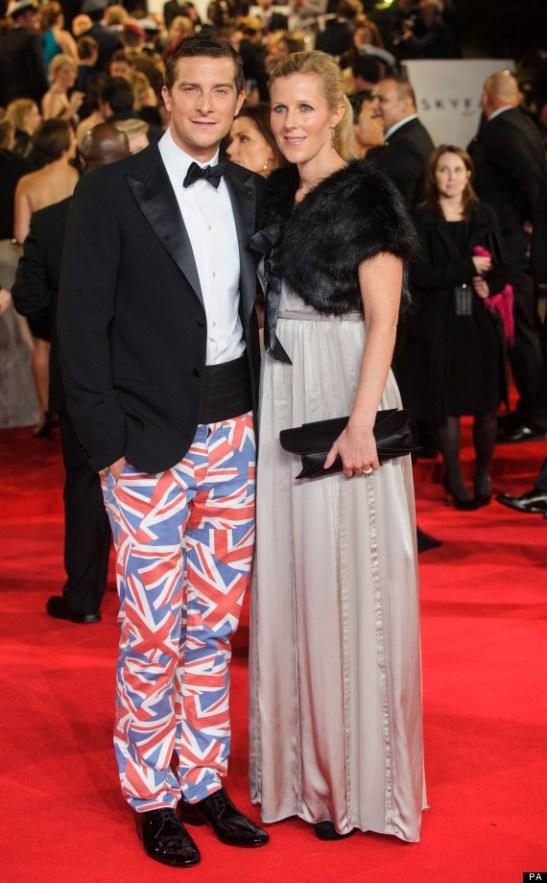 Source: huffingtonpost.co.uk
There were also a few boring surprises too. Naomi Campbell looked great but her outfit was a tad boring.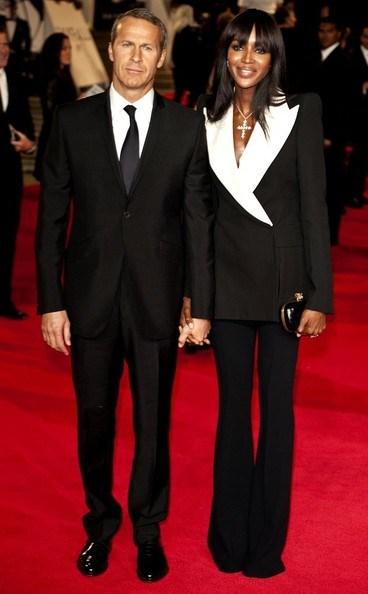 Source: zimbio.com
However, hats off to many other lovely ladies and gents who did themselves proud with their choice of outfits. This includes names like Penelope Cruz and Berenice Marloche. Now these girls looked every inch the stars they are!