TAKEAWAY: The announcement of the much awaited Royal baby will be made the old fashioned, traditional way, on an easel, not on social media. Let's hear it for the old days when breaking news traveled in a slower fashion.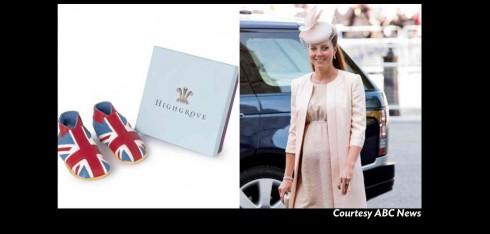 Here is the Daily Mail story:
The birth of the Duke and Duchess of Cambridge's first child - a future heir to the throne - will be announced in exactly the same way as Prince William's to retain 'the theatre' of a genuine royal occasion.
It appears this may be one breaking news that the world will not get via Twitter—-but don't count on it.
While the world—-and especially the Brits—-await the arrival of the new Royal, the baby of the Duke and Duchess of Cambridge, it has been announced that Royal birth announcement will be taken by police escort to Buckingham Palace and displayed on an easel… the same way news of Prince William's arrival was released.
That adds a certain old time class to the occasion, as the Daily Mail tells us, a little "theater".
But, don't be surprised if someone close to the situation can't resist the temptation to reach for his phone and tweet all about it as the police escort hurries from the hospital to the Palace. Or, who knows? It could be the police escort relating text messages to their family and friends.
Still the official proclamation and the easel exhibiting it to the world will remind everyone of a time when breaking news—-whether Royal or not—- took its time.
I know journalists who would give anything to return to those days.
Meanwhile, we all wait curiously for the arrival of the new heir to the throne. Stay tuned.
Of Related Interest:
Twitter not quicker than newswires on breaking news say researchers after studying 51 million tweets
http://www.pressgazette.co.uk/twitter-not-quicker-newswires-breaking-news-say-researchers-after-studying-51-million-tweets
First paragraph:
Twitter is not set to replace traditional newswires as a source for breaking news, researchers have found.
WAN

-

IFRA

The Tablet

&

App Summit, Berlin, Oct. 7-8




It's the WAN IFRA The Tablet & App Summit in Berlin, Oct.7- 8 and I will be in charge of moderating this program that will bring together leading publishers, head of mobile and development and senior newspaper executives to discuss how to best offer mobile services and products within an increasing complexity in news consumption.
Among the speakers confirmed for this Summit:
Guy Crevier,  La Presse+, Canada—
How to optimize the user experience and keep advertisers happy in the competitive digital ecosystem
Thomas Schultz-Homberg, Head of Electronic Media,  FAZ -(Frankfurter Allgemeine Zeitung); Çagri Türkkorur, Digital Media Director, Dogan Gazetecilik;  Dr. Assaf Avrahami, CEO, Yedioth IT; Anna Matteo, Director of Digital Area for Gruppo24ORE
Jeff Moriarty, Boston Globe (US) and Garrett Goodman, Worldcrunch
How to extend your newspapers´experience: Adaptive vs responsive design Q&A session 
Audra Martin, Vice President, Advertising and Operations, Economist Digital
How to win & keep advertisers in the digital environment
Fred Hurkmans, Director Commercial & Marketing, Le Soir (Belgium)
Neil Johnson, Managing Director A&N Media, Mobile and TV, UK
Notes to consider when launching a new product: Daily Mail+, the DMG latest product

Note: Some of the speakers above still to be confirmed
For more information and to register for the Summit, go here:
https://www.wan-ifra.org/registration/world-publishing-expo-2013-registration?nid=78081
TheMarioBlog post 1295