TAKEAWAY:In the US, the Hearst Corporation has just announced that it has signed an agreement to purchase a new press for one of its regional newspapers —the Times Union of Albany, New York. Today the bells are ringing for all of us who believe in the permanency of print as one of the platforms on which readers will be getting information for years to come.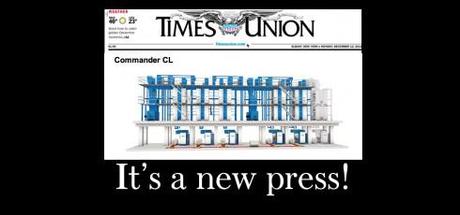 Waking up to the news that Hearst Corporation is signing a contract to purchase an Commander CL offset press from Koenig & Bauer AG, a German company, gives me a great feeling.  The purchase of a new printing press has always been a momentous occasion in the life of a newspaper.  But when that happens in 2011—-a year not necessarily favorable to newspapers generally, and at a time when so many doomsayers predict the quick death of print—- this action by Hearst represents a vote of confidence for the fact that print is here to stay. 
In the case of the Times Union, one of the country's best regional dailies, published in Albany, the capital of New York State, it represents a vote of confidence for the good journalism that those folks carry out daily, under the leadership of Rex Smith, editor, with the great visual accompaniment provided by Tom Palmer (my former Syracuse University student) and design director.
"Exciting news, indeed, for all of us here at the Times Union," Tom writes me. "The plan is for the press to arrive in pieces from Germany in August 2012. The projection for it to be edition-ready is May 2013."
In making the announcement for the new press, George R. Hearst III, the newspaper's publisher, made his company's commitment to print clear:
"The bulk of our revenues are still print-based revenues," Hearst said. "The bulk of our audience is still a print-based audience."
Readers of the Times Union are likely to see changes that will come along with the new press, including the possibility of a size change.  Although this is not specifically referred to, it is likely that the Times Union will reduce its size, a trend that has been present for newspapers globally in the past five years, but which has been slower to take place for newspapers in the United States.
I have no question in my mind that the acquisition of this new press will allow the Times Union to effect changes that may catapult it into one of the most progressive regional newspapers in the United States—-a model for many others to follow.
Until then, today's news is a good reason to raise a glass of bubblies and to celebrate print. I know I will!
Read more: http://www.timesunion.com/business/article/Times-Union-buys-new-press-2397243.php#ixzz1gNpUqgj9
TheMarioBlog post #911