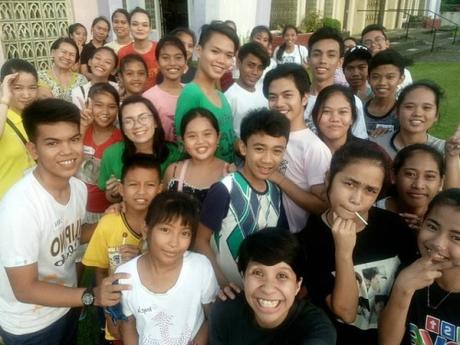 It has been a month since I met a bunch of very promising teens from Hernani, Eastern Samar. I've gone to various cities and provinces to give leadership seminars, but each youth group is unique.
If there's a collective term that best describes the teens of Hernani, then that would be SILENT FORCE. Understandably, most of them were quiet when we started the youth camp. But as we go along, they started to unleash the servant-leader in them. When the time came to present their projects, we were all amazed with their brilliant ideas that spring forth their selfless hearts. At the end of the youth camp, the teens thanked us for all their learnings. As their "ate's", we are just mere instruments who fired them up.
I'm awed by the thought that at their young age, the teens of Hernani have served the Church in their own little ways. Some wake up early to serve at Holy Mass, others go places to teach catechism, while some are prime movers of good initiatives in and outside the parish. Their silent force is a testimony that "the Church will be shaped by the youth". With this experience, I believe my fella volunteers would agree that we are the ones who benefitted most from their zeal.
Of course, the teens of Hernani aren't just the big-hearted ones. This is also a special shoutout to Dra. Socorro De Lira Ponferrada and to her family who welcomed us to their house that became our second home during our weeklong outreach, to Ma'am Annie Abletes Apelado who enthusiastically rallied for the youth camp and who resourcefully extended her logistical assistance, to the parish priest of Our Lady of Sorrows, Fr. Banoy who greatly accommodated us, and to each and everyone in Samar and from Manila who generously contributed to making our Rural Service Project a reality. But more thanks to my fella volunteers - Cha, Mae, Min, Bernie, Ming, Bea, Maedj, Jamie, and Mama Jeanne - who gave their 101% from preparation to execution. #UswagSamar2018 won't be possible if not for your constant "serviam" (I will serve). Indeed, my gratefulness is as deep as the Pacific Ocean! Maraming salamat!
Who's up for another fulfilling experience next year? #SAMARkaulitATBP #SAMARkanasa2019