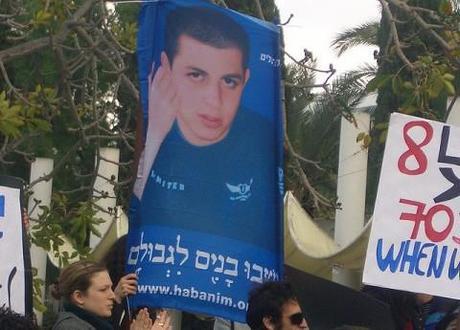 Gilad Shalit has been held in captivity since 2006. Photo credit: Lilachd, http://flic.kr/p/5NANVZ
Israel and Hamas have reached a prisoner swap deal that will see 1,000 Palestinian prisoners released in exchange for Israeli soldier Gilad Shalit. Shalit was captured by Palestinian militants in a border raid in 2006, and is believed to have been held in the Gaza Strip during his captivity. Apart from the prisoners and their families, who stands to gain from this deal?
Power struggle. The BBC reported that the head of Israel's intelligence service said several high-profile Palestinian prisoners, such as Marwan Barghouti, were not covered by the deal. Paul Danahar wrote on the BBC website that the identities of the freed prisoners would prove crucial to understanding which side made the most concessions during negotiations.
Hamas v. Abbas. Writing for Reuters, Tom Perry said that the prisoner swap has allowed Hamas to "score points over President Mahmoud Abbas and steal some of the thunder he generated by pushing for Palestinian statehood at the United Nations." According to Perry, Hamas has suffered a domestic "credibility crisis" after criticising the Palestinian president's recent attempts to secure UN membership for Palestine.
Egypt advantage. Negotiations took place in Cairo with Egyptian officials mediating. After the deal was announced, officials from both sides praised Egypt's contribution; Israeli Prime Minister Binyamin Netanyahu took to Twitter to express his thanks. According to Al Jazeera's Sherine Tadros, Egypt has been "lapping up all the credit and praise", given recent domestic unrest.
Boost for Netanyahu? Joshua Mitnick at The Christian Science Monitor reported that analysts believe Netanyahu was keen to improve Israel's relationship with Egypt, and that collaborating on the prisoner swap deal could only help to achieve this aim. Writing for Haaretz, Yossi Verter argued that the deal will probably boost Netanyahu's popularity in the short term, but that public support could change quickly if there are further serious attacks on Israeli cities.
Reason for optimism. Donald Macintyre argued in The Independent that the deal will have a dramatic political effect: "The accord between Israel and Hamas could presage others, perhaps a durable ceasefire in Hamas-controlled Gaza and perhaps the further easing of the long siege of the territory", he said.
Reason for pessimism. With typical restraint, Melanie Phillips set out in The Daily Mail the potential consequences of the deal for Israel: "So now Israel will have hundreds of terrorists literally just down the road, presumably poised to strike yet again and murder more Israel innocents", she wrote. Phillips did not mention whether the deal would lead to a rise in single mothers and illegal immigrants or cause cancer.
Timing. Ori Lewis and Nidal al-Mughrabi reported for Reuters that recent events in the region may have affected the timing of the deal: Netanyahu apparently spoke of a "window of opportunity" when announcing the deal to his cabinet, and said, "I believe we have reached the best agreement possible at this time when storms are raging in the Middle East."