Doesn't raise any questions for me. Just confirms what I suspected upon seeing the stabber's name.
Fox News: The California college student who stabbed four people last week was carrying an image of the black flag of ISIS according to a report Tuesday, as well as a handwritten manifesto with instructions to behead a student and multiple reminders to pray to Allah, yet authorities continued to insist Faisal Mohammad's motives had nothing to do with radical Islam.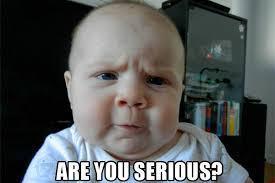 The 18-year-old, who was killed by a campus police officer to end the Wednesday morning attack, was a loner who was incensed at being booted from a study group, according to Merced County Sheriff Vern Warnke. But the extreme way Mohammad dealt with his rage, the presence of the printout of Islamic State's black flag and the deadly plans spelled out in the two-page document he carried could indicate there was more to the attack than simple rejection.
"This fits exactly with what ISIS is looking for, individuals to go and do an act of terrorism unilaterally," said Patrick Dunleavy, former deputy inspector general of the New York State Police Criminal Intelligence Unit and author of the 2011 book "The Fertile Soil of Jihad: Terrorism's Prison Connection. "The fact that he may have been kicked out of a study group does not preclude this being a lone wolf act. It only needs some sort of trigger, which could be totally unrelated to Islam, that causes him to act on his rage and attribute it to Allah."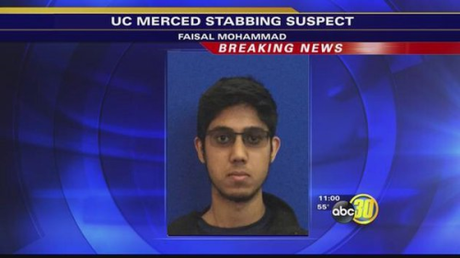 Faisal Mohammad
Dunleavy likened it to the case of Alton Nolen, who allegedly beheaded a former co-worker at a food plant in Oklahoma City in 2014. While he was angry over a workplace issue, his actions were likely the result of radicalization, said Dunleavy. "ISIS is not looking for a few good men; one crazy will do," Dunleavy said. "This is what a lone wolf looks like."
The printout of the ISIS flag was reported Tuesday by the Merced Sun-Star, citing a law enforcement official who spoke on condition of anonymity on Monday. The official also said Mohammad's manner of dress during the attack and some of the websites he may have visited in the days leading up to the incident ultimately led local authorities to hand control of the investigation over to the FBI. Warnke confirmed that decision, saying "new information" had been discovered on Saturday about Mohammad, who was shot and killed by police during the episode.
"I met with the FBI Saturday night and turned over copies of all evidence we've collected to that agency and the UC Merced police department," said Warnke. "As far as any further investigation into any outside influence, the FBI will be handling that from now on."
While the unnamed law enforcement official who spoke with the Sun-Star didn't directly say the flag was related to the attack, the Islamic caliphate is known to be recruiting U.S. citizens directly and attempting to inspire lone wolf attacks within the country. The group's social media savvy is well documented.
None of Mohammad's four victims died in the attack. Two students, a female staff member and Byron Price, a 31-year-old construction worker who was credited with slowing Mohammad's onslaught, were injured as the computer science and engineering major slashed away with a 10-inch hunting knife, grinning demonically, according to witnesses. Only the staffer, who was stabbed outside the classroom as Mohammad fled, remains hospitalized, according to school spokeswoman Brenda Ortiz.
An FBI official confirmed the bureau's involvement but said campus police are in charge.
"The case is an ongoing UC Merced PD case and has been," said FBI spokeswoman Gina Swankie. "We are providing assistance to the UC Merced PD, as requested, which we have from the beginning. We have not "taken over" an investigation but continue to provide assistance as we have been. As this is an ongoing investigation, it would be imprudent for me to comment on any element of the investigation, especially independent from the UC Merced PD."
FoxNews.com reported Friday that the manifesto found on Mohammad included numerous reminders to pray to Allah and a pledge to behead one victim. A backpack carried by Mohammad, who was shot and killed by campus police on a nearby bridge, contained zip-tie handcuffs and duct tape. Authorities later found two pages of handwritten notes on him, detailing his plans in oddly numbered order, according to investigators.
"No. 27 was to 'make sure people are tied down,' No. 28 was "sit down and praise Allah,'" Warnke said. "I remember seeing four or five times, scribbled on the side of the two-page manifesto, where he wrote something like 'praise Allah.' There was a gruesome statement he made about wanting to cut someone's head off," Warnke added.
Law enforcement experts suggested the FBI may have a bigger role in the probe than it claims. "There is no question that the FBI's Joint Terrorism Task Force is leading this investigation," said Steve Rogers, former Nutley, N.J., police detective, ex-military liaison to the Joint Terrorism Task Force, and consultant to Fox News. "The FBI can say they are assisting local law enforcement, but the reason they are involved is because there may be a terrorism link. They don't normally get involved in every stabbing case. The campus police do not have the equipment, technical training or knowledge one needs to track down whether this is terrorism related. The law enforcement involved in this case should just be upfront and honest with the American people. They are not telling us the facts. This is why people are losing confidence in law enforcement."
A Twitter account linked to ISIS praised the act last week. But it is possible Mohammad was inspired by the terrorist group and carrying out its wishes without consciously committing an act of terrorism, said one former FBI agent.
"Terrorism really relates to motive," said retired FBI Agent Jeff Lanza, author of "Pistols to Press," which details his career. "So if the motive is not related to some kind of agenda against our government, or our culture, or some retaliation against acts the Army is doing, or the government is doing, it is properly classified as a non-terrorism event.  Even though he may have been reading about Allah, had been following the activities of ISIS, the classification still has to do with motive," he said.
Warnke said authorities have spoken with the parents of Mohammad, who was from Santa Clara, but did not say where they are. He said they have arranged to have a funeral home pick up their son's body, but it was not clear if that had occurred.
DCG